Resilience Discussion: "Tomato Canning as Protest"
Submitted by

mhagle

on Tue, 08/14/2018 - 5:33pm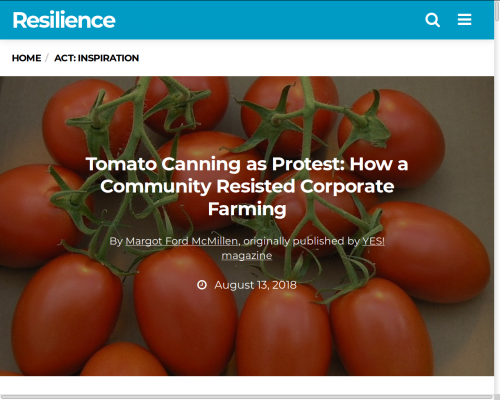 https://www.resilience.org/stories/2018-08-13/tomato-canning-as-protest-...
It's mid-August, about 7:30 in the morning, and it's going to be a hot one, probably in the mid-90s. It's a good day to spend in a basement. A church basement, for example, where our rural neighborhood is gathering.

This is a tomato-canning day, and about 20 of us will pass in and out of the basement kitchen, "working up," as we say in Missouri, tomatoes for the winter.
Fabulous article, actually originally published 18 years ago. I hope my community evolves into this. No hope in the local narrative until last week, I encountered two workers at our local Harbor Freight store who are avid gardeners. One of them a super gardener . . . starts plants using aquaponics!
I look forward to comments, however, this might be an article to simply absorb.