Requiem For Our Dreams: Did my father and I just discover a 21st-Century Broad Street Pump?
Submitted by The Liberal Moonbat on Wed, 07/18/2018 - 2:07pm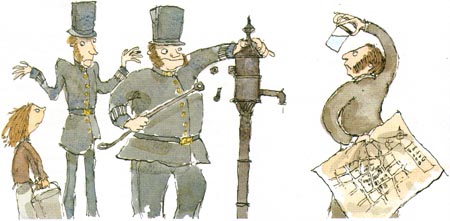 To make a long, miserable story short:
I have been suffering under the yoke of life-ruining mental illness for longer than I care to relate. It has only gotten worse with time. Some of it is quite outside the normal experience, but other parts seem similar to some increasingly "popular" diagnoses - most notably, PTSD. Public/pop cultural/pop-psychological attempts to address much of this have been nothing short of stupid and destructive. Moral panic is in the air.
What if, like Nasreddin Hodja searching his front yard for something he lost inside the house because the light's better outside, we've all been looking in the wrong places for the wrong reasons?
There is a PTSD 'epidemic' that is being fairly well-trumpeted - to counterproductive effect, as alluded to above. I know enough to know that all this recent business (which I admit may be hyperbolic Internet scuttlebutt, for all I know) with 'safe spaces' and 'trigger warnings', however pure the intentions, is the worst thing that one can do for this. You're dealing with PSYCHOSIS and PHANTASMAGORIA here, and the goal should be to DISPEL it, not VALIDATE it.
What is hardly being discussed at all is something even creepier:
https://www.thecut.com/2017/10/were-in-a-dream-deprivation-epidemic.html
https://bigthink.com/philip-perry/a-dream-deprivation-epidemic-has-this-...
https://www.newscientist.com/article/mg23731700-200-why-dreaming-is-vita...
Clearly, Dr. King's dream isn't the only one we're struggling to remember - and I, for one, used to get some whoppers from time to time! Seeing a terrarium of dancing Egyptian sarcophagi, reenacting some kind of creation myth on a newly-formed distant planet, watching a herd of weird vacuum-cleaner-like animals bouncing down the street, finding secret passages in places like subway stations and attics to Hell and Heaven (SPOILER: Satan runs a steak/BBQ/Mexican kind of place, but if you'd rather sell a bit of your soul for, say, a good bowl of clam chowder, you certainly can, and YHWH is some kind of giant potato-thumb hybrid who meekly confesses to Ugly-American tourists that no, everything DOES NOT necessarily happen for a good reason), getting to see my cat again...I used to get all this, and so much more I literally cannot remember now.
Anyways, beyond that is this:
http://news.berkeley.edu/2011/11/23/dream-sleep/
PTSD's on the rise, dreams are on the wane, the latter is instrumental to preventing the former, see where this is heading?
I was just discussing this with my father, who mentioned something he'd heard about: These new things people refer to now as "phones" (many call them SmartPhones, I call them StupidPhones because I think they are to Star Trek tricorders what Wayans brothers movies are to Zucker brothers movies) are demonstrably deleterious to sleep.
I don't use such a "phone", myself - but of course, countless others are (perhaps literally) addicted to them.
Perhaps instead of shouting at each other on social media about competitive victimization, we should shut the damned shit off?
My father mentioned that he has an "app" that changes his StupidPhone's light emission at night to something much lower on the spectrum (I should mention he's the only member of my family who ISN'T depressed/traumatized/clinically demented/etc); it couldn't hurt to start there.