The Republicans War On The Poor
Submitted by

gjohnsit

on Fri, 07/14/2017 - 4:20pm
A lot has been written about the horrific Republican budget and health care plans, and you may already know this stuff, but in case you don't I'd like to do a refresher.
I'm going to skip right over the enormous tax cuts for the wealthy and look at where the money will come from - the poor.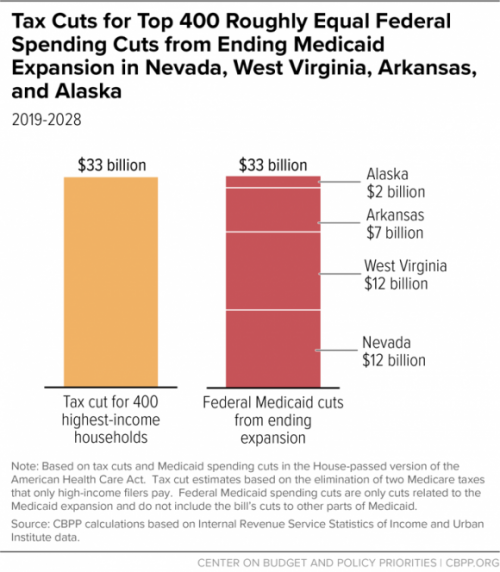 The nonpartisan Congressional Budget Office released its analysis for the original Senate bill in late June, and estimated that provisions in it would result in $772 billion in cuts to Medicaid spending by 2026. A later analysis by the CBO found that the cuts get even deeper by 2036.
The revised bill makes few, if any changes to its approach to Medicaid, so it is unlikely that the new CBO analysis, due out next week, will find anything different.
According to Dr. Laura Forese, COO at the NewYork-Presbyterian Hospital, the BCRA at this point is more about cutting Medicaid than the bill's original intention of repealing the Affordable Care Act.
This is a bold class war move for several reasons, primarily because I'm sure that there is little demand from most Republican voters to gut Medicaid.

Medicaid is the government-run health program that provides insurance primarily to pregnant women, single parents, people with disabilities, and seniors with low incomes.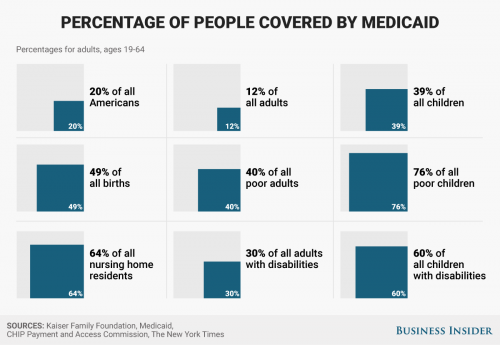 It's not an exaggeration to say that these cuts will target children, elderly, and the disabled.
Medicaid covers costs for 64 percent of seniors in nursing homes and almost half of all births, not to mention keeping afloat hundreds of rural hospitals.
As Politico put it, The Senate bill is the Fahrenheit 451 of health care.
"I will have to seek some charity institution and submit to the humiliation of what they call a necessity, and pronounce to the whole world that I am only a pauper, a beggar."
- Senate testimony that led to Medicaid, 1959
There is one more group being targeted that surprisingly doesn't get talked about much in this context - veterans.

About 7 million vets, however, get their care outside of VA services. After the Affordable Care Act, a.k.a. Obamacare, kicked in, the number of vets without insurance dropped by almost 40 percent, according to Sen. Jon Tester (Mont.), the ranking Democrat on the Senate Veterans' Affairs Committee, and other committee members.

Republicans would reverse that trend. Tester and his Democratic colleagues said the Senate bill could:

Result in nearly 1.75 million disabled and low-income veterans losing Medicaid coverage
Impose a tax on 600,000 veterans, forcing them to pay up to five times more for health insurance
Cause more than 5 million veterans difficulty in finding services at rural hospitals
Generate increased mental health-care fees for the many veterans who suffer post-traumatic stress from the wars in Iraq, Afghanistan and Vietnam
Result in up to 7 million veterans losing tax credits to help pay for medical care
Cause about 7 percent of veterans to lose access to care for opioid or other substance abuse problems.

The Republican committee chairman and the Trump administration had the chance to refute the data presented by the Democrats, but they did not.
How can this be? After all, Republicans like to stand alongside veterans during photo-ops so much.
60 percent of veterans supported Trump's election.

Added Blumenthal: "Every Member of Congress who plans to support this bill needs to imagine looking a veteran in the eye and telling them why their mental-health care for PTS (post-traumatic stress) has been halted, or why they can no longer afford treatment for traumatic brain injury sustained while serving their country."
Major veterans service organizations are taking a cautious approach to the GOP health-care proposals, if they have anything to say at all.
Even veteran organizations are putting party first, over the health of veterans. They just gotta support the Republicans, who have done sooo much for the health of veteran over the years.

A bill drafted by Congressman Phil Roe (a Republican from Tennessee), the chairman of the House Veterans Affairs Committee, would actually start charging veterans for GI Bill education benefits by imposing a $2,400 tax on their income while they're in the service.
...In 2012, Senate Republicans blocked a total of seven bills passed by the House that would have benefited veterans. In 2014, Senate Republicans by a vote of 56 to 41, blocked a bill supported by nearly all veterans groups that would have greatly expanded veterans' health care, education benefits, and aid to disabled vets. In 2015, the Senate cut $857 million from programs benefitting veterans in the Military Construction and Veterans Affairs Appropriations Bill. In 2016, the Senate voted against a bill that would have given veterans preference in federal hiring. The list of congressional outrages when it comes to veterans is much, much longer, but you get the picture.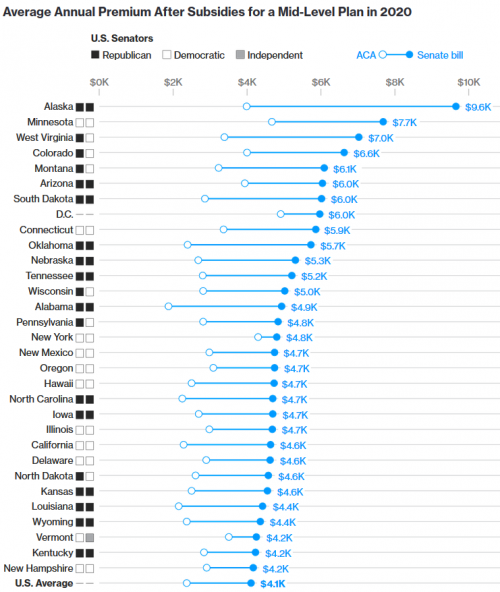 It isn't just poor people's health that Republicans have declared war on. They've also declared war on poor people's food.

The administration's fiscal year 2018 budget seeks a $193.3 billion decrease in SNAP funding over the next decade, a nearly 30 percent reduction over current levels.
...The 42 million Americans—13 percent of the population—who currently receive SNAP benefits, which include low income families, the elderly, people with disabilities, and those who have lost a job are the most obvious. They receive an average of about $4.17 per day, or $1.39 per meal.
It seems Republicans think that if broad swaths of the population are hungry and sick that somehow this will make America Great Again.

Nearly half of SNAP recipients are children. That's 20 million kids—about 1 in 4 Americans under the age of 18—and 20 million reasons to not cut SNAP funding. Another blow: the budget proposal calls for capping food aid at six people per household. In other words, if you're a two-parent household with five kids, you only get enough aid for four of them.
...About 11 percent of SNAP recipients are seniors, or about 4.8 million people
...Among SNAP recipients that can work, most do. An average of around 60 percent of SNAP households with an able-bodied adult are working in the months they receive food aid.