Recession 2020
Submitted by gjohnsit on Mon, 08/05/2019 - 5:42pm
There is a chance that the recession won't wait until next year to hit, but there is almost no chance that we won't be in a recession in 2020. A whole list of economic indicators are flashing red, starting with the most accurate recession forecaster of all - the yield curve.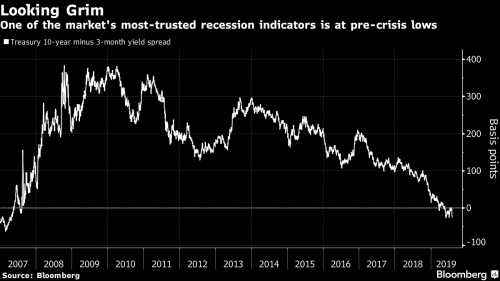 The latest eruption in the U.S.-China trade dispute pushed a widely watched Treasury-market recession indicator to the highest alert since 2007.
Morgan Stanley says Trump's trade war could cause a recession in 9 month's time, but there is a lot else going on than just a trade war.
The yield curve is just one of four major recession indicators that are flashing red.

Since the 1960s, one indicator of a looming recession has been the New York Fed's recession probability index breaking 30%.

The probability of a U.S. recession predicted by the treasury spread hit 32.9% in July—the highest since 2009, according to the New York Fed.


...
Although consumer confidence is still historically high, the most recent June consumer confidence index (released by The Conference Board every month) dropped to two-year lows, to 121.5.
...
For Morgan Stanley Wealth Management's Shalett, the most recent economic reports show "slowing that is far worse than the 2015-2016 minirecession," she writes—due in large part to "outright contractionary" PMI (an indicator surveying purchasing managers at businesses) data and global new orders.
...
According to a Reuters report in May, factory activity dropped to near 10-year lows, sparking fresh concern.
The U.S. has seen its longest economic expansion in the nation's history - 120 months.
The Fed had to know that it would eventually end. Yet the Fed never came even close to normalizing interest rates and that leaves them with few options.
The Fed's main recession-fighting tool has long been lowering the benchmark federal funds rate, which governs short-term rates for things ranging from auto loans to credit card charges. In the past, the average reduction needed to fight a recession was a whopping 5.5 percentage points. Such a bold step is mathematically impossible now.

The Federal Open Market Committee, or FOMC, its policymaking arm, just decreased the rate a quarter-point to a 2.0% to 2.25% band, thus not a lot of room exists to cut much more. And if the Fed ends up decreasing the rate another half-point, as many suspect it will, then the central bank has even less to work with.

"They're out of ammo," said economist Gary Shilling, who owns his own eponymous firm. "Going from 2.25% to zero is not an awful lot."
...
What happens if the Fed reverses course and starts purchasing bonds once more? There's a school of thought that this too will be less effective than in the past. Reason: Banks have so much extra funding these days that they don't know what to do with all the money. The previous rounds of QE, which finally ended in 2014, stuffed banks with trillions of new dollars, which they hold in reserve to buffer themselves against economic bad spells and also to make loans. Plus, loan demand is low, even now in an expansion. Demand will be a lot less in a recession.
The Fed is criminally unprepared for a recession, after making the fateful decision to rescue the banks and financial markets at the expense of the working class.
Washington is criminally unprepared for a recession, after making the fateful decision to invest everything in pointless wars at the expense of infrastructure and the working class.
Guess who else is unprepared for a recession?

The brutal reality is that most Americans are not prepared for the next economic downturn or recession.