A real good example of why the Democrats lost, and will keep losing
Submitted by gjohnsit on Tue, 04/25/2017 - 12:10am
Earlier this month Maine Democrats held a meeting where onetime Democratic state Senate candidate Richard Fochtmann decided to tell a joke.

"Today, you know, I saw a thing, and it said a lot of men — white men — are committing suicide," he said. "I almost thought, 'Yeah, great!'"

This caused the Democrats in attendance to begin laughing .

"Then I thought about it little more, and I thought maybe I shouldn't say that out in public," he concluded.
The Daily Caller reached out to Fochtmann, who wrote the comment off as a joke, though he says that it's a "good thing" that it won't be long before America is not a majority-white nation:
EXCLUSIVE Video:@MaineDems speaker celebrates increase in white male suicides; crowd cheers#mepolitics @AnnCoulter @RickyVaughnX1 pic.twitter.com/8wvNPt4TIa

— Maine First Media (@MaineFirstMedia) April 13, 2017
What the fuck is wrong with you, you sociopathic fuck!
Just imagine the spittle-flecked outrage at DKos if he had joked about, say, black women committing suicide.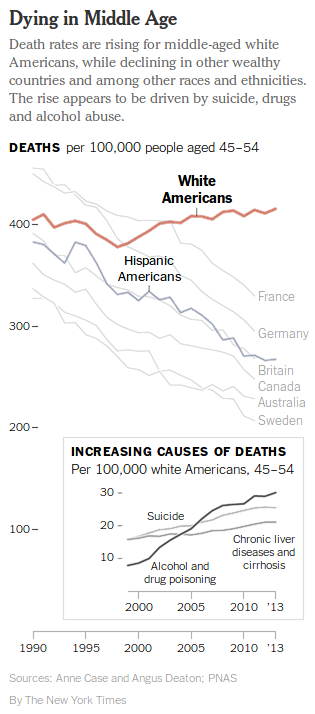 And yet, Fochtmann only said what many good liberals are thinking.
No level of distress can bring liberals to feel human empathy if the person who is suffering isn't a minority.
Consider this example of how the news media frames this issue.

Unfortunately, in our current cultural environment, a lot of people find it tough to feel sorry for middle-aged white guys. As the Salon piece implies, such men have a branding issue and there will be no telethons or fundraisers to focus on their plight.
While they may be killing themselves at record numbers, it's hard to reconcile this with the idea that they are somehow unfairly favoured in the workplace, since men –and largely white men – hold 95.6 per cent of all chief executive officer roles at S&P 500 companies.
It's also hard to draw attention to the plight of middle-class white males without falling into the open arms of the men's rights movement, a "manosphere" populated by misogynists who blame women and feminism for all of men's woes.
A branding issue?!? Have you lost your fucking minds?
We aren't talking about male-pattern baldness here.
We can't "draw attention" to a public health epidemic because of political correctness reasons?
Isn't that proof enough that your worldview is bonkers?
One more example.

"I've watched white males rule this country from the beginning. The power that this traditional white male used to have is decreasing. We've evolved and white males aren't necessarily at the root of power anymore. Everything from the Oregon military takeover to the abuse people have hurled at our president, I think a lot of that is at play," she said.
What the fuck are you talking about? What the fuck does presidential politics have to do with suicide? I've got news for you: suicide is an extremely personal thing.
And then, finally, there is liberal smugness himself, Bill Maher.

"Middle-aged American whites are dropping like flies," Maher said before Jay Leno pretended to collapse next to him to audience laughter. But what is killing the old guard? Drugs, alcohol, suicide and "possibly trying to fit into skinny jeans" the report finds (excluding that last bit).
The findings also include suicide rates for whites are now four times that of black Americans and due to a rise in heroin use among whites, the death rate from it is also up. But, no fear, Maher has some advice, "You're white! Cheer the fuck up!"
Some asshole liberals like Bill Maher are bending over backwards to deny that there is a problem in the working-class white community.
This is despite the fact that rising mortality rates are scientific proof of distress in a species, genus, or race.
So pretending it doesn't exist is simply anti-fact.
However, most "bleeding-heart" liberals can't be bothered to work up even a smidgen of empathy based on stereotypes that don't even apply.
For instance, one of those articles above mentioned "chief executive officer roles at S&P 500 companies". The study is about working-class whites. Not rich whites.
Conflating those two things seems intentional. As if an honest examination of this public health crisis is not politically possible.
It's not hard to see what is happening here. You just have to be able to view the world outside of liberal identity politics.
For instance, there is the great, unspoken word - class.

The health of middle-aged non-Hispanic white Americans is deteriorating fastest.
The result of these trends, according to a new study, is a widening gap between wealthier and poorer Americans...
The results are stark. In 1980, a 50-year-old man in the wealthiest fifth of the income distribution could expect to live five years longer than a 50-year-old man in the lowest-income group. By 2010, the gap between them had jumped to 12.7 years.
In other words, the poorest fifth of 50-year-old American men can now expect to live just past 76, six months shy of the previous generation. The richest 50-year-olds should make it almost to 89, seven years longer than their parents' generation.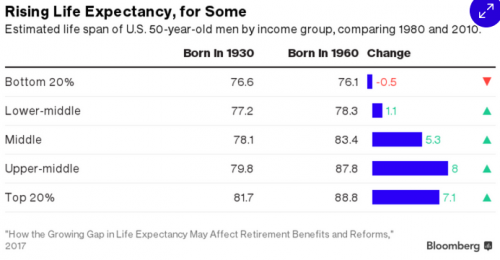 Obviously white CEOs and white blue-collar workers are living very different lives.
What's more that difference is increasing. Only by pretending that class doesn't exist can liberals continue to justify their complete lack of empathy for their fellow human beings.
As for why the condition of working-class whites has deteriorated to crisis levels, that's easy to explain too.

One such study published this week by the Georgetown University Center on Education and the Workforce suggests newly created jobs since the recession have been filled almost entirely by highly educated Americans. Of the 11.6 million jobs created between January 2010 and January 2016, 11.5 million went to folks with at least some form of college education.
"By contrast, workers with a high school diploma or less hear about an economic recovery and wonder what people are talking about," the report said. "Of the 7.2 million jobs lost in the recession, 5.6 million were jobs for workers with a high school diploma or less."
The study estimates these workers have recovered only about 1 percent of those jobs over the last six years and have enjoyed virtually "no growth among well-paying jobs with benefits." On net, there are now more than 5.5 million fewer jobs for individuals with a high school education or less than there were in December 2007.
Those workers without a college degree have seen their wages dropped dramatically in the last 35 years.
Some liberals , in order to avoid showing empathy for impoverished whites, will blame the victim for not getting a college degree.
Yet even a bachelor's degree is not a ticket to higher wages. Just a lot of debt.
What is happening here is a story of inequality and class, first and foremost.
That's not to say that race doesn't factor in. It does. Race is a factor, but in a much different way than the mainstream will tell you.

America's underlying racism has a continuing distorting impact. A majority of the low-wage sector is white, with blacks and Latinos making up the other part, but politicians learned to talk as if the low-wage sector is mostly black because it allowed them to appeal to racial prejudice, which is useful in maintaining support for the structure of the dual economy — and hurting everyone in the low-wage sector. Temin notes that "the desire to preserve the inferior status of blacks has motivated policies against all members of the low-wage sector."
Temin points out that the presidential race of 2016 both revealed and amplified the anger of the low-wage sector at this increasing imbalance. Low-wage whites who had been largely invisible in public policy until recently came out of their quiet despair to be heard. Unfortunately, present trends are not only continuing, but also accelerating their problems, freezing the dual economy into place.
Democrats have ignored the distress in the working-class white community. Democrats have rationalized it. Democrats have even justified it.
What Democrats haven't done is actually care about roughly a third of the population of America.
And then they wonder why whites rarely vote for Democrats, and why they keep losing.