Putin has been very busy
Submitted by

gjohnsit

on Sun, 03/11/2018 - 4:16pm
What exactly constitutes "meddling"? And when did "meddling" become something to fear?
Did you ever hear anyone use the term outside of Scooby-Doo before 2016?
And the fact that they use the term "meddling" instead of "hacking" or "rigging" speaks volumes.
What constitutes a "hack" is also problematic.
Consider this breathless description of a Russian cyberattack on our elections.

As these deliberations were underway, more troubling intelligence got reported to the White House: Russian-linked hackers were probing the computers of state election systems, particularly voter registration databases. The first reports to the FBI came from Illinois. In late June, its voter database was targeted in a persistent cyberattack that lasted for weeks. The attackers were using foreign IP addresses, many of which were traced to a Dutch company owned by a heavily tattooed 26-year-old Russian who lived in Siberia. The hackers were relentlessly pinging the Illinois database five times per second, 24 hours a day, and they succeeded in accessing data on up to 200,000 voters.
Ooohhhh, scary.
Let's break this down a bit: "relentlessly pinging the Illinois database five times per second, 24 hours a day" means absolutely nothing at all.
First of all, you don't "ping a database". You ping a database server.
Secondly, pinging something five time a second, 24 hours a day, is not a hack. It's a denial of service attack, and if its only done by one computer it means less than nothing.
I could make my laptop do this with a single command. You don't have to be a hacker.
Thirdly, how this turned into hackers accessing data on up to 200,000 voters is a mystery the article doesn't explain, or prove. So I looked here.

According to the letter sent to Illinois voters by the Board of Elections, "We have found no evidence that they added, changed, or deleted any information in the database. Their efforts to obtain voter signature images and voter history were unsuccessful." It is unclear what specific information was obtained during the hacking. The Board of Elections reported that "[T]he attackers took advantage of a programming flaw in the website's database."
A heavily tattooed 26-year-old Russian who lives in Siberia does not scream Kremlin. It sounds like bored, criminal hacker. Thus "Russian hack" doesn't necessarily mean what it implies.
Plus, you don't put a sensitive database on a web server. The sensitive data goes on a database server.
This article stirs panic, while shedding no real light because the author obviously knows nothing about computers.
Remember back in late January when the Dutch had announced that they hacked the Russian hackers.

The Netherlands' spy service broke into the computers used by a powerful Russian hacking group and may be sitting on evidence relating to the breach of the U.S. Democratic National Committee, a Dutch newspaper and television show jointly reported Friday.
Reports carried in the respected daily Volkskrant and the current affairs show Nieuwsuur said hackers working for the Dutch General Intelligence and Security Service penetrated the computers used by the group, often nicknamed Cozy Bear, in mid-2014 and watched them for at least a year, even managing to catch the hackers on camera.
"In the summer of 2015 Dutch intelligence services were the first to alert their American counterparts about the cyberintrusion of the Democratic National Committee by Cozy Bear," reported Nieuwsuur, which airs on Dutch national broadcaster NOS.
It seemed like an amazing breakthrough. This story was reported literally everywhere.
It was the smoking gun. The Democratic establishment would be vindicated.
Bloomberg called for the evidence to be released to the public.

Release the Dutch Evidence of the DNC Hack
If the Dutch intelligence service watched the Russians breach the Democratic National Committee, there's no more reason to hide the evidence.
...and then the story, which was based on anonymous sources, went away.
No evidence was ever released to the public. No one ever demanded any backing up of the claim. We simply moved on to the next outlandish claim.
Even more curious was that just three weeks earlier the news was that the Dutch were the ones that got hacked by the Russians.
Around the same time, it was reported that the UK also warned us about Russians hacking our election too. The New York Times cited "two people familiar with the conclusions" of the report.
...and then that story went away too.
Two months later this report has not been released. I'm guessing that it never will.
Remember Konstantin Kozlovsky? Last December he made a dramatic claim.

A Russian hacker has confessed, in court, to being hired by Russian state intelligence to hack the Democratic National Congress' computer systems in 2016.
Russian website The Bell, known for a generally critical stance towards President Vladimir Putin and the corruption under his rule, reported Monday that Konstantin Kozlovsky had testified to carrying out attacks at the request of state intelligence organs, notably the FSB (the KGB-successor for which Putin himself had worked in Soviet times).
The testimony is potentially explosive, as it is a first-hand account of Russian interference in the 2016 presidential election that directly contradicts Putin's denials of any involvement.
Just like the Dutch Intelligence, this was a confession that showed Putin was a liar. What's more, he could prove it.

A jailed Russian who says he hacked into the Democratic National Committee computers on the Kremlin's orders to steal emails released during the 2016 U.S. presidential election campaign now claims he left behind a data signature to prove his assertion.
Game, set, match, amirite?
Since then Kozlovsky has claimed involvement in hacking the World Anti-Doping Agency, the Olympics Committee, and FIFA. However, one thing missing from all of this is evidence, and some are starting to question the truth of his claims.
It's curious that the FBI hasn't pursued this guy, because they certainly seem willing with other hackers.

Nikulin was detained in the Czech Republic for allegedly hacking the servers of major sites LinkedIn, Dropbox and Formspring between 2012 and 2013. While awaiting trial, he claims in an undated letter reportedly given to U.S. Russian-language news site Nastoyashchoe Vremya by Nikulin's lawyer, Martin Sadilek, that the FBI visited him at least a couple of times, offering to drop the charges and grant him U.S. citizenship as well as cash and an apartment in the U.S. if the Russian national confessed to participating in the 2016 hacks of Clinton campaign chief John Podesta's emails in July.
This made me think about all the Russiagate claims that were either proven false, or just discarded.
For instance, many may know that to this day the FBI has never even looked at the DNC email server.
But did you know that the FBI never even interviewed the guy who discovered the hack?

Despite his central role, Johnston has never talked with investigators probing Russian interference, let alone with the media. But to people dealing with the crisis, "He was indispensable," as a source close to the DNC put it.
Johnston was also largely on his own. The party had hired CrowdStrike essentially in place of the FBI — to this day, the Bureau has not had access to the DNC's servers.
This is supposedly a federal criminal case here, so why is the FBI not interested in any first-hand knowledge of the facts? When has that EVER been true?
Why should the FBI just trust a private company with a history of making false claims about Russian hacking, that it later retracted?
Putin meddled in the Italian election, and as a result, Italy Has Dumped America. For Russia.
How do we know? Because we don't like the outcome. That's the proof.
It's just the latest of a series of elections with outcomes that we don't like, and thus proof of Russian meddling.
According to the Atlantic Council, Russia backs every non-mainstream political party. This includes parties on both sides such as Syriza and Golden Dawn in Greece.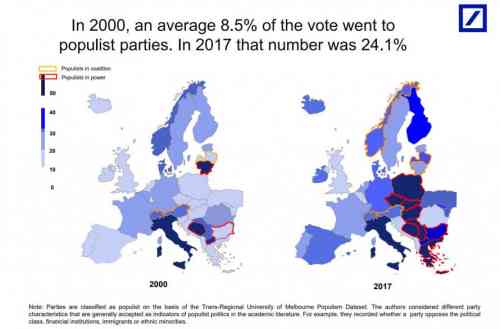 My favorite example is the French election last May.
The NSA Confirms It: Russia Hacked French Election 'Infrastructure'
Holy sh*t! The NSA confirmed it.
Proof! Evidence! The National Security Agency director Michael Rogers said under oath that Russia hacked France's election, according to Snopes.
Just one problem: France disagreed.

The head of the French government's cyber security agency, which investigated leaks from President Emmanuel Macron's election campaign, says they found no trace of a notorious Russian hacking group behind the attack.
In an interview in his office Thursday with The Associated Press, Guillaume Poupard said the Macron campaign hack "was so generic and simple that it could have been practically anyone."
He said they found no trace that the Russian hacking group known as APT28, blamed for other attacks including on the U.S. presidential campaign, was responsible.
I'll let you guess which claim got more press.
Now let's look at the German elections.
The Cyber Threat To Germany's Elections Is Very Real
German Elections 2017: How Russia Helped AfD's Rise
That's just two of countless headlines over those dastardly Russian hackers.
Except that there was no evidence at all.

German Election Mystery: Why No Russian Meddling?
Does anyone else find that NY Times headline full of implied assumptions?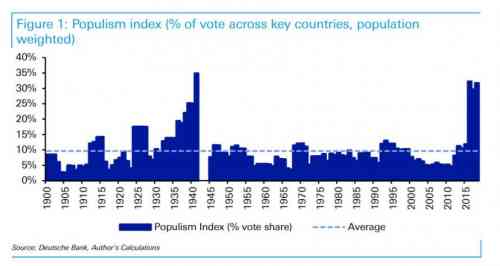 There is obviously something going on here.
Populists are on the rise in Europe and the U.S.
Normally one would assume that there was something going on globally. That the center-left has failed and abandoned the working class.
This would lead to necessary political reforms and people in the Democratic establishment losing their jobs. In the end, we would be forced to imagine a future that looked different than the world of today.
Oooorrr, we could scream "Russia!"
But we can't do both.