For-profit health care industry is buying the 'Blue Wave'
Submitted by

gjohnsit

on Sat, 08/18/2018 - 2:59pm
The number one issue on the voters' minds is health care, or the lack of, and that has the for-profit health care industry nervous.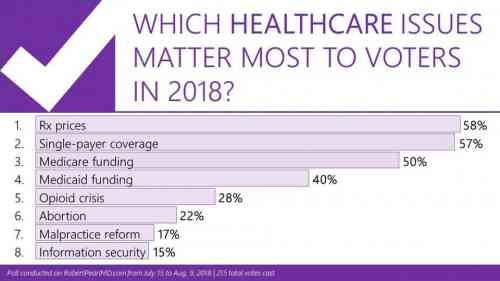 So in an effort to control the narrative, they have gotten organized.
Fearing 'blue wave,' drug, insurance companies build single-payer defense https://t.co/DGtdbPJOd3 This is where your healthcare $$$ are going. Advertising against your best interests. @DrCat4ME https://t.co/cOhEVajJIV

— Cathleen London MD (@DrChaya) 10 August 2018
Health insurance and drug companies have formed a coalition aimed at "building on the strength of employer-provided health coverage," according to the groups—a transparent attempt to defeat the momentum building among Medicare for All advocates, using attack ads and research biased against a single-payer system.
The coalition, called the Partnership for America's Health Care Future and including the industry groups America's Health Insurance Plans (AHIP), the Pharmaceutical Research and Manufacturers of America (PhRMA), the American Medical Association, and the Federation of American Hospitals, is being taken not as a significant threat to Sanders' plan and a similar proposal in the House, but as evidence that the country is closer than ever to implementing single-payer healthcare.
Medicare For All (MFA) is a direct threat to their profits, so it's no surprise they are fighting back. Specifically, Partnership for America's Health Care Future is spending big bucks purchasing the DCCC, and that investment has been paying off.

A new Tarbell analysis shows the health care industry as a whole is giving generously to leaders of the Democratic Congressional Campaign Committee....The industry investment appears to be paying off. Very few of the candidates endorsed by the DCCC in 2018 primary races support the idea of a national government health care program — dubbed "Medicare for all" by champions of the proposal, including Sen. Bernie Sanders (D-Vt.).
...The DCCC, Tarbell found, has adopted an agenda that is nearly identical to a health care industry-friendly bloc within the Democratic Party: the New Democrat Coalition (NDC) — which has long been hostile toward a "Medicare for all" type system.
75 percent of Democrats, and 59 percent of the general public, support MFA, yet the DCCC remains opposed to MFA.
The DCCC has not endorsed a single Our Revolution candidate.

In May, Third Way, the New Democrats' most prominent think tank, released a strategy memo called "Winning on Health Care." It warns that "Republicans are salivating to use single-payer as a cudgel," in the elections because, Third Way contends, the proposal "is not as popular as advocates suggest."
In fact, the opposite is true.
The Republicans have totally screwed up the health care debate, and are terrified of its consequences.
This article is from the right-wing Forbes.

The GOP's effort to repeal Obamacare and roll back Medicaid expansion helped make surprisingly close a race for a Republican-leaning Ohio U.S. House seat that has yet to be decided almost a week after the election. Even Republicans admit that the unpopularity of Donald Trump and the GOP-led Congress' effort to take away healthcare spells bad electoral news.

"There's no question that people sent a message . . . to Republicans … knock it off," Republican Ohio Gov. John Kasich told MSNBC's Chuck Todd last week on MTP Daily. "(And) hey and we're going to kill Obamacare which means you aren't going to have any healthcare," Kasich added.
...Protect Our Care says all but three incumbent Republican U.S. House members who have Congressional races rated "toss up" or "lean Republican" by the Cook Political Report voted in May 2017 for the GOP House health repeal bill, The American Health Care Act.
The unpopularity of the GOP's efforts to kill poor Americans in order that the health care can garner more profits, has left them silent on the #1 issue on the voters minds. This is the exact opposite of what the Third Way is saying.
If you need any more proof, just check out this article from Breitbart of all places.

Republicans have failed to replace Obamacare with anything.
...
After that failure, Republican leaders have been AWOL on the issue. Democrats have filled that vacuum by telling voters that the GOP would prefer to get rid of their health insurance altogether.

Democrats broke the health care system — perhaps deliberately, in a "Trojan Horse" effort to make socialized medicine the only alternative. Still, voters may trust them more than Republicans simply because the GOP is not even talking about what it wants to do. Republicans are not showing that they care about the health care costs hitting working families — many of which provided the key votes in Trump's 2016 victory.

If they want to hold onto Congress, and fulfill the promise of that extraordinary election, Republicans have to find a coherent healthcare policy — and quickly.
Republicans already have a coherent healthcare policy. It's called Profits Before People.
It's real simple and obvious. It just doesn't sell well.
It's interesting that Breitbart speaks more truth than the DCCC.
As for "socialized medicine", I once again turn to Forbes.

Anyone with a pre-existing condition is at risk, they say. If Republicans have their way and you're sick, you'll face higher premiums, skimpier coverage and perhaps no insurance at all.

So, how did Republicans become vulnerable to these kinds of charges? Because they are partly true.

Obamacare is essentially private-sector socialism.
There is no such thing as "private-sector socialism". It's known as "corporate welfare".
Even while the GOP seeks to undermine Obamacare, the insurance industry is boosting it's advertising for Obamacare products.
Once again we must turn to the right-wing press to find some truth about the health care debate.
Finally, remember that George Mason University's Mercatus Center Koch Brothers study that showed that MFA would actually save $2 trillion?
Thank you, Koch brothers, for accidentally making the case for Medicare for All! pic.twitter.com/speuEL6ETC

— Bernie Sanders (@SenSanders) 30 July 2018
Well, factcheck.org recently contacted the author of the paper, Charles Blahous, a senior research strategist at the Mercatus Center who once was the deputy director of President Bush's National Economic Council. He says the two proponents of a universal health care system are distorting the findings of his paper.
In an email to FactCheck.org, Blahous said he didn't highlight that figure because he doesn't think it's realistic.

As Blahous wrote in the fourth sentence of his abstract, "It is likely that the actual cost of M4A would be substantially greater than these estimates, which assume significant administrative and drug cost savings under the plan, and also assume that health care providers operating under M4A will be reimbursed at rates more than 40 percent lower than those currently paid by private health insurance."
That's interesting, and would be devastating, except for one small detail: it's total bullsh*t.

One of the claims that keeps popping up in the coverage of the study is that the Sanders plan would cut provider payments by 40 percent. This is absolutely untrue, and the study does not say this. Although the report's author, Charles Blahous, conveniently omitted the actual provider payment cut, a reverse-engineering of his tables indicates that it is only 10.6 percent, not 40 percent.
@MattBruenig so throughly exposed the Koch brothers report as benefiting consumers that the authors of the study (who want to discredit the people citing it positively) are trying to squeeze good PR out of fact-checking and again by misrepresenting THEIR OWN report

— An American Outside (@Tangueray41) 17 August 2018
Why, oh why, would someone deliberately misrepresent their own study?
The answer is at the very end of the factcheck article.

The Koch brothers have donated millions of dollars to George Mason University's Mercatus Center, and Charles Koch sits on the center's board of directors.

Documents published earlier this year show the Koch brothers, at one point at least, used their donations to gain influence over the hiring and firing of professors at the Mercatus Center...

Blahous told us his work is not influenced by any donors to the Mercatus Center.
Sure Blahous. We believe you.