Out of the wilderness
Submitted by earthling1 on Tue, 10/04/2022 - 9:00am

I'm back.
Had a great time soaking in the hot springs and hiking around the Belknap resort grounds. They have some fairly dispersed walk in campsites spread out up and down the McKenzie River, probably half mile or more to the farthest one. And a secret garden that you just have to hike around until you stumble upon it. Grecian architecture with columns of white, pools and fountains, waterfalls, and cobbled walkways.
And everywhere beautiful flowers, shrubs, grasses, and magnificent trees.
So peaceful, you don't want to leave.
We spent four hours hiking through all of it, about two miles, and returned to the hot spring pool to recuperate.
New knees felt fine.
The next morning we hiked up river for a couple of miles and returned for another soak and dinner.
Friday morning we checked out and headed up the McKenzie Scenic Byway to the 5344 ft. elevation pass.
There, built by the CC early last century, stands the Dee Wright Observatory. A tower of volcanic rock with a platform on top that provide magnificent views of the lava flow it stands in, and the surrounding mountains, craters, cones, and ancient monliths.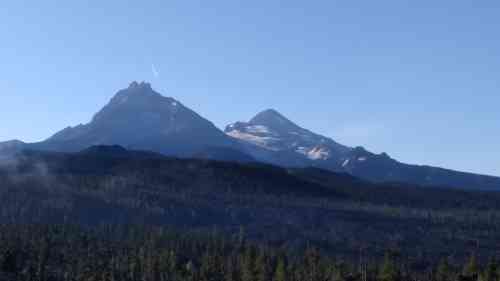 Above is the North and Middle Sisters peaks showing their glaciers ever so slowly flowing down between their flanks.
We found a primitive campsite near a trailhead leading into the 281,190 acre Three Sisters Wilderness Area and the next morning took about a four mile hike back to a crater and returned to lay about the camper and prepped for our return home the next morning.
Gotta say it was a lot of fun and the knees did just fine.
I'm back in the saddle again! Well, on my feet again anyway.
So, what have I missed? Anything important?