Our Rentier Economy
Submitted by

gjohnsit

on Sat, 03/11/2017 - 2:53pm
One thing that has always frustrated me about discussions about economics by liberals is that the discussion rarely progresses past the topic of taxes. As if simply raising taxes on the rich would cure society's ills.
An economy is run on incentives and rewards. So if you want to fix an economy then you must look at what action is being rewarded.
This basic idea is why the field of economics was developed, and why all the great economists hated the rentier class - people who gather wealth to themselves while producing nothing.
"As soon as the land of any country has all become private property, the landlords, like all other men, love to reap where they never sowed and demand a rent even for its natural produce."
-Adam Smith
"..yet it would mean the euthanasia of the rentier, and, consequently, the euthanasia of the cumulative oppressive power of the capitalist to exploit the scarcity-value of capital. Interest today rewards no genuine sacrifice, any more than does the rent of land."
- John Maynard Keynes
With that in mind, consider this news.

The ratio of American households' net worth to inflation-adjusted disposable income jumped to a record 6.5 at the end of 2016, reflecting higher stock prices and property values, according to Federal Reserve data. Previous records were set around the Internet-driven stock bubble of the late 1990s and the housing boom of the mid-2000s. "Economic and financial history do not always repeat, but sometimes they do," Joe Carson, an economist at AllianceBernstein, said in a note.
Does stock prices and real estate produce goods? No, they do not. Income from actual work does.
However, the high price of land and financial assets does produce something - inequality.

According to Lindert and Williamson's calculations, today's income inequality may be the highest the nation has ever known.
"We went from one of the most egalitarian places in the world to one of the least," Williamson said. "What happened?"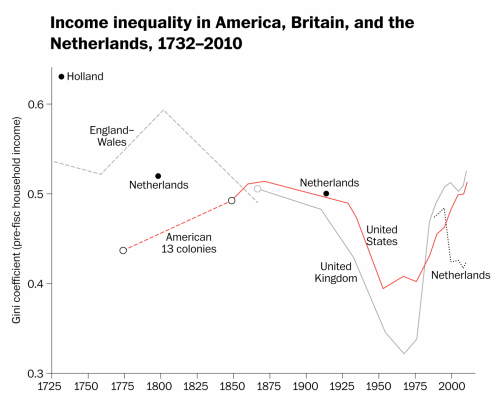 What happened is that we evolved into a rentier economy, where moving money and speculating is paid well while actual work isn't.
Don't believe me? Then listen to Nobel-winning economist Angus Deaton.

"What is not OK is for rent-seekers to get rich," Deaton said in a luncheon speech to the National Association for Business Economics.
Rent seekers lobby and persuade governments to give them special favors.
Bankers during the financial crisis, and much of the health-care system, are two prime examples, Deaton said.
Rent-seeking is not only does not generate new product, it actually slows down economic growth, Deaton said.
"All that talent is devoted to stealing things, instead of making things," he said.
...
Deaton said he favors a single-payer health system only because our current part-private and part-public system is exquisitely designed to give opportunities for rent-seeking.
"So I, who do not believe in socialized health-care, would advocate a single-payment system...because it will get this monster that we've created out of the economy and allow the rest of capitalism to flourish without the awful things that healthcare is doing to us," he said.