Our broken supply chain system
Submitted by gjohnsit on Tue, 11/23/2021 - 1:49pm
Bloomberg had a good article about the predicament our economy now faces. Of course it's all about the what's and not about the why's (hint: blame multinational corporations and their single-minded goal of short-term profit above all else).
But the article does have a lot of good graphs.
Here's an observation: If you hadn't moved all of your factories to Asia, and had left them in the United States, then this wouldn't be a problem.

The time it takes for goods originating in Shanghai to reach their destinations through the San Pedro Bay ports has more than doubled to 62 days since January 2020, according to freight forwarder Flexport Inc. Meanwhile, it currently costs $10,000 to $15,000 in the spot market to ship each 40-foot container from China to the West Coast, more than five times the pre-pandemic rate.
This leads directly to price inflation.

The logjams don't end at the port. Southern California has some 2 billion square feet of nearly full warehouse space, too. And its railroads and highways serve as arteries for imports reaching as far as the Heartland.
...What started a year ago with a half-dozen container ships that dropped anchor in the bay nearby has ballooned into a maritime parking lot that currently exceeds 70 vessels waiting an average of more than 18 days.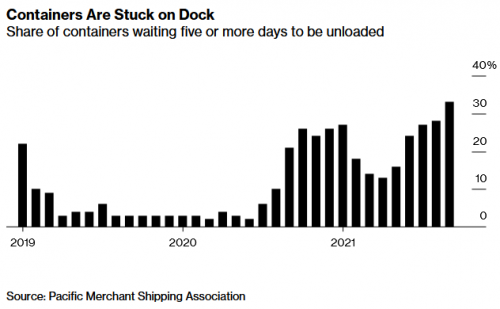 Of course the negligence of our infrastructure has a lot to do with this as well.
But even then, if the factories hadn't moved across the ocean this still wouldn't be a big problem.

A shortage of truckers and chassis is also making matters worse. The U.S. is currently lacking about 80,000 drivers, according to the American Trucking Associations.
That's because drivers are paid and treated like crap.
Three decades later, the corridor can't fully accommodate the thousands of trucks that navigate the region every week. As a result, heavy-duty trucks often drive by residences and schools to avoid the congestion. Sometimes, truckers will go as far as abandoning containers and chassis in those same streets. In Wilmington, a blue-collar community located in the ports' backyard, more than 400 illegal parking citations have been issued so far in November, according to the Los Angeles Port Police.

But residents say the citations, which range between $73 and $98, aren't enough. "It's like the Wild West," said Gina Martinez, co-chair of the Wilmington Neighborhood Council. The 54-year-old says the majority-Hispanic community has been grappling with truck traffic since at least the ports began expanding a decade ago, but that the ongoing supply-chain issues have made things worse. Containers "just keep coming in and coming in," Martinez added.
This shows a dysfunctional economic system. Every nation should be able to produce something that other nations want. If they did, then all those now empty containers would be leaving as fast as they come in.
No nation should reply exclusively on consumption. That is an insane system.