Open Thread
Submitted by randtntx on Wed, 03/24/2021 - 6:00am
Sunflowers and Spring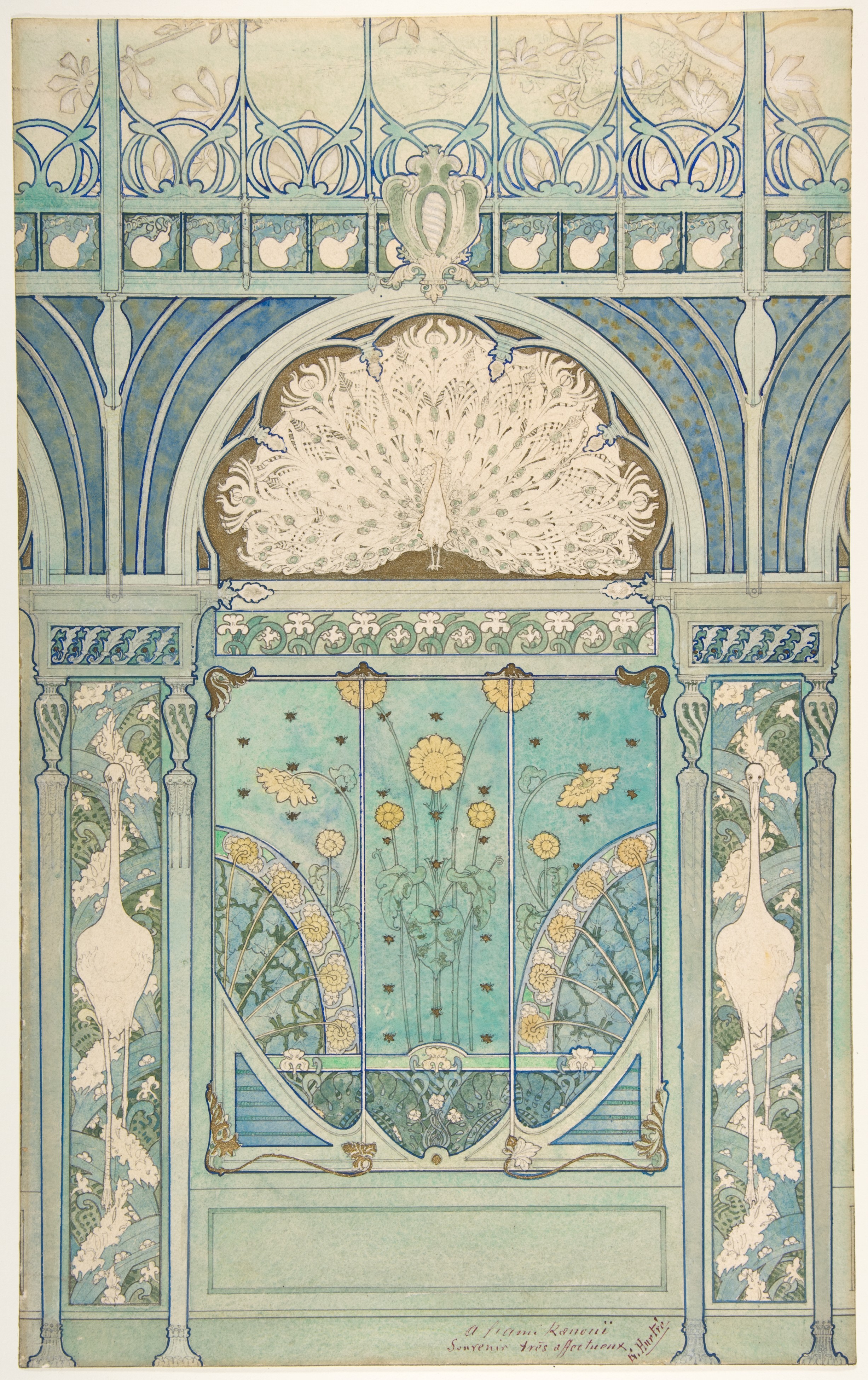 Design for a Wall Decoration
Peacock, Cranes, and Sunflowers
for the Restaurant in Hotel Langham (Paris)
Artist: Emile Hurtré (French)
Artist: Jules C. Wielhorski (French (?)
1896–98
Metropolitan Museum of Art
Spring appears to have arrived in my neck of the woods so I am planting flowers this week. Our usual spring profusion of flowers didn't occur because we haven't had enough rain and some of our flowering plants jumped the gun in February by starting to put out their blooms early, only to find they were hit by a polar vortex and zapped. Too bad.
Now our pollinators don't have that many blooms to munch.
Sunflowers are on the menu. In the past, I've had luck planting an annual variety. This week I'm planting a perennial variety called maximilian sunflower (Helianthus maximiliani). A long cold period is a pre-germination requirement so I kept the seeds in the fridge over the winter. This perennial spreads by runners, so I'm hoping to set up a permanent place for it. Apparently it can become invasive...I have been warned.
Some sunflowers form a tuber that is edible..." and provided a food similar to the Jerusalem artichoke for Native American groups such as the Sioux".
https://en.wikipedia.org/wiki/Helianthus_maximiliani
My favorite gardening book says that... "the tubers of Maximilian and Jerusalem artichoke taste like water chestnuts. They are delicious and can be used just like potatoes.
Texas Organic Vegetable Gardening by J. Howard Garrett and C. Malcolm Beck
A stylized depiction of artichokes
https://en.wikipedia.org/wiki/William_Morris_textile_designs
My go-to online resource for native plants is the Lady Bird Johnson Wildflower Center. Here is a portion of what the Wildflower Center has to say about the maximilian sunflower;
The several tall, leafy, unbranched stems of michaelmas-daisy or maximilian sunflower grow to a height of 3-10 ft. These perennial plants can form large colonies.

Water Use: Low
Light Requirement: Sun
Soil Moisture: Dry , Moist
Soil Description: Prefers moist clay-like soil, but tolerant of a wide range of soils including Limestone-based, Sandy, Sandy Loam, Medium Loam, Clay Loam, Clay.
Conditions Comments: A native prairie perennial, this sunflower is a desirable range plant, eaten by many livestock. A heavy crop of seeds is produced, thus it is also a valuable plant for wildlife.

Use Ornamental: Showy, Attractive, Color, Pocket prairie, Perennial garden, Wildflower meadow
Use Wildlife: This species is palatable to deer and numerous species of birds who eat the seeds. It is also a useful wildlife cover plant. Nectar-Bees, Nectar-Butterflies
Conspicuous Flowers: yes
Attracts: Birds
Nectar Source: yes
Deer Resistant: Moderate
I also have several seed packets of Helianthus annuus aka the common sunflower. It is supposed to attract native bees, which is a big plus and is the reason to bother with planting them. This sunflower is the state flower of Kansas but occurs all across the country.
The common sunflower has some interesting properties that were utilized by indigenous peoples.
The plant has been cultivated in Central North America since pre-Columbian times; yellow dye obtained from the flowers, and a black or dull blue dye from the seeds, were once important in Native American basketry and weaving. Native Americans also ground the seeds for flour and used its oil for cooking.

The plant was also used for medicinal purposes. Flower heads with bracts removed were boiled to make a remedy for pulmonary troubles. Poultice of flowers were used for burns. Roots were chewed and applied to swollen area of rattlesnake bites after venom was sucked out. American Indians used flower tea for lung ailments and malaria. Leaf tea was taken for high fevers; a poultice was placed on snake and spider bites. Seeds and leaves were useds as a diuretic and an expectorant.

It was believed, in the 19th century, that plants growing near a home would protect from malaria. Seeds from cultivated strains are now used for cooking oil and livestock feed in the United States and Europe.
https://www.wildflower.org/plants/result.php?id_plant=hean3
I have also added some blue mist flower, some cenzio, Shasta daisies, Salvia, Plumbago, and some skullcap. Hopefully that will help the little critters out somewhat. Not sure we can prevent ecocide, but we can try.
What is everyone planting? Or what is everyone planning on planting when the weather cooperates?
Helianthus maximiliani at Wind Cave National Park, South Dakota, (USA National Park Service)
https://commons.wikimedia.org/wiki/File:Helianthus_maximiliani_NPS-1.jpg