Open Thread
Submitted by randtntx on Wed, 01/13/2021 - 5:30am
Bats
A Brief Interlude
A Bat Break
Mexican free-tailed bats exiting Bracken Bat Cave
photo credit: USFWS/Ann Froschauer
https://commons.wikimedia.org/wiki/Category:Tadarida_brasiliensis

Zhong Kui the Demon Queller with Five Bats
By Anonymous
traditionally attributed to Wu Wei (1459 - 1508), but probably painted by an anonymous painter from the Ming dynasty.
Oxford: Ashmolean Museum. Public Domain commons.wikimedia
https://en.wikipedia.org/wiki/Zhong_Kui_the_Demon_Queller_with_Five_Bats
Western cultures have often portrayed bats as being creatures to be feared even demonic. But in other cultures that is not the case. In Chinese culture for instance, bats are used to symbolize five blessings; health, longevity, virtue, wealth, and a graceful death. Those are the five bats depicted in in the top right corner of the Wu Wei (or anonymous) picture above.
Western culture has typically portrayed bats as having monstrous qualities as in the Goya below.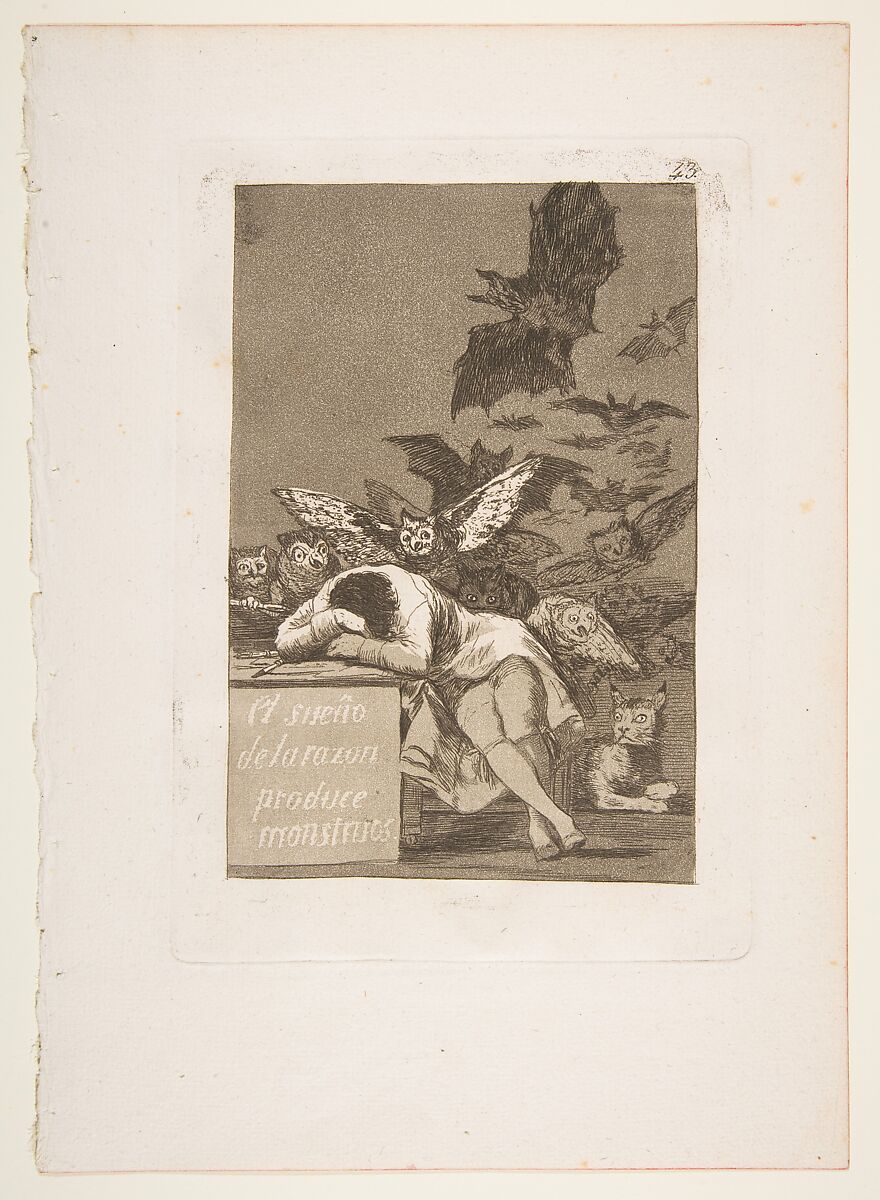 The Sleep of Reason Produces Monsters
Goya 1799
The Metropolitan Museum of Art
In many of the decorative arts from Asia, the bat pops up. It is a surprising motif to one inculcated in western cultural ideas about bats, especially when used in something like a ceremonial dress.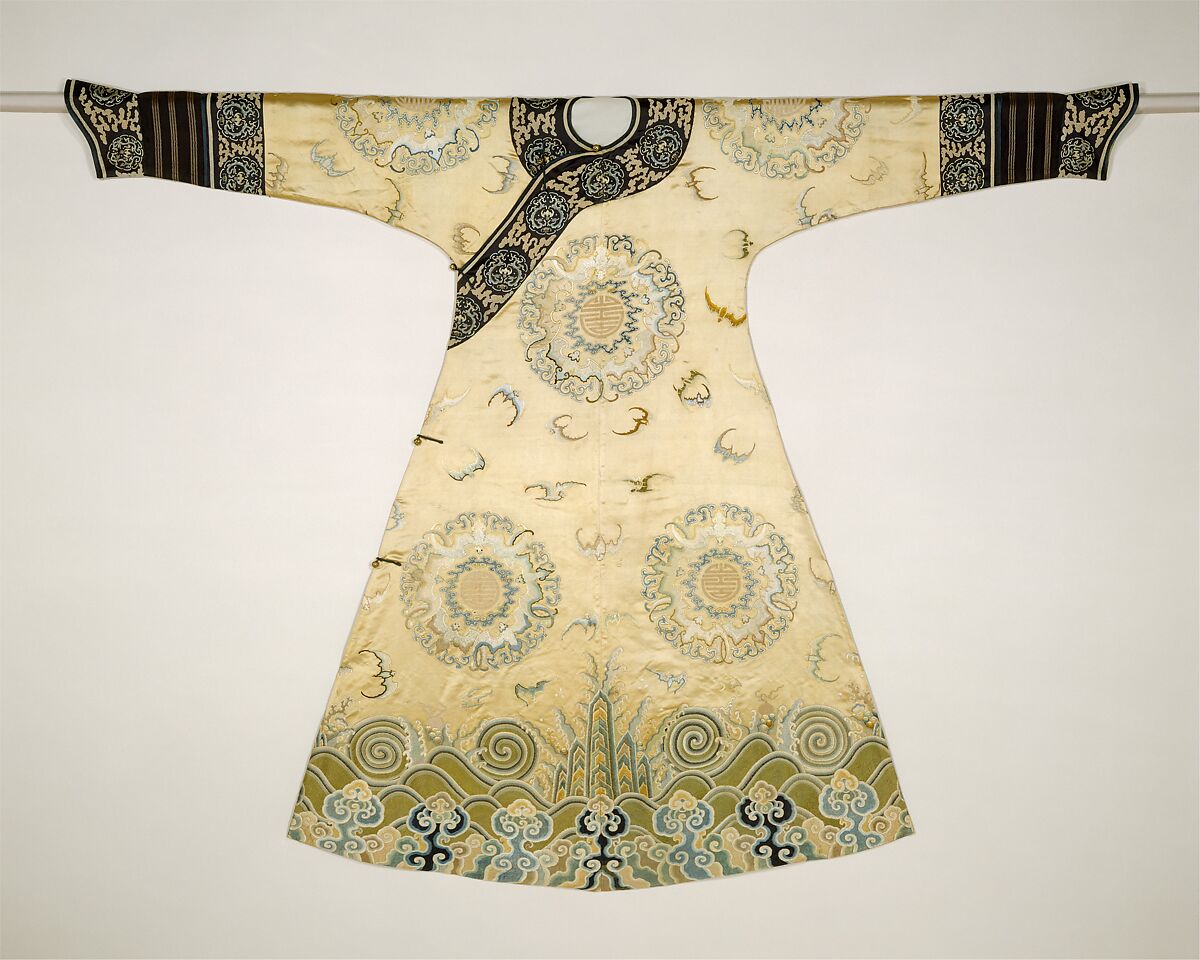 Woman's Ceremonial Robe, The Bat Medallion Robe
first half of the 18th century, China
Metropolitan Museum of Art
Surprise! Bats in fine china. Here is an appreciation of fabulous peach pollination by bats. Thanks bats.
Dish with Peaches and Bats, 1723-1735
Yongzheng
Qing dynasty, China
Art Institute of Chicago

Bottle with Bats
Korea, Joseon dynasty (1392-1910), 19th century
Los Angeles County Museum of Art
A Bat Flying Near a Pine Tree
Issho, 19th century, Japan
Art Institute of Chicago

Vessel with Bat Heads
Guatemala, Alta Verapaz, Cobán or vicinity, Maya, 650–850 CE
Los Angeles County Museum of Art
Texas is host to Mexican free-tailed bats and there are a few great places to watch bats emerging from caves at dusk.
The Mexican free-tailed bat ranges from the southern half of the continental United States through most of Mexico, and through most of Central America into South America. Their range in South America is less understood where they live in the eastern Brazilian highlands and coast, the northeastern Andes, the coast of Peru and northern Chile, and the center of Argentina. The largest known colony is found at Bracken Cave, north of San Antonio, Texas, with nearly 20 million bats; the bats from this colony congregate in huge numbers at altitudes between 180 and 1,000 m (590 and 3,280 ft), and even as high as 3,000 m (9,800 ft).
In Austin, Texas, a colony of Mexican free-tailed bats summers (they winter in Mexico) under the Congress Avenue Bridge 10 blocks south of the Texas State Capitol. It is the largest urban colony in North America, with an estimated 1,500,000 bats.[12] Each night they eat 10,000 to 30,000 lb (4,500 to 13,600 kg) of insects. Each year, they attract 100,000 tourists who come to watch them. In Houston, Texas, a colony is living under the Waugh Street Bridge over Buffalo Bayou. It is the home to 250,000 bats and also attracts viewers. The Mexican free-tailed bat is the official flying mammal of the state of Texas.[13]
https://en.wikipedia.org/wiki/Mexican_free-tailed_bat
Here is a group that works to protect bats and raise awareness of the need to conserve habitat for them.
https://www.batcon.org/about-us/
This is the cave that Merlin Tuttle helped to make into a reserve: https://tpwd.texas.gov/huntwild/wild/species/bats/bat-watching-sites/bra...
Some bats are really fast!
https://www.newscientist.com/article/2112044-speedy-bat-flies-at-160kmh-...
More problems for bats, we're blaming them for covid.
https://issues.org/a-viral-witch-hunt-bats/
Where to see the bats in Austin:
https://web.archive.org/web/20081112012632/http://www.batcon.org/home/in...
There are so many incredible photos of bats at this link:
gallery of photos: https://merlintuttle.smugmug.com
Dr. Merlin Tuttle is Texas' own bat superhero. He has been studying bats for a very long time and has a plethora of accessible bat information for everyone who is interested. I love the photos of bat emergences.
.
How to Love Bats

Begin in a cave.
Listen to the floor boil with rodents, insects.
Weep for the pups that have fallen. Later,
you'll fly the narrow passages of those bones,
but for now —

open your mouth, out will fly names
like Pipistrelle, Desmodus, Tadarida. Then,
listen for a frequency
lower than the seep of water, higher
than an ice planet hibernating
beyond a glacier of Time.

Visit op shops. Hide in their closets.
Breathe in the scales and dust
of clothes left hanging. To the underwear
and to the crumbled black silks — well,
give them your imagination
and plenty of line, also a night of gentle wind.

By now your fingers should have
touched petals open. You should have been dreaming
each night of anthers and of giving
to their furred beauty
your nectar-loving tongue. But also,
your tongue should have been practising the cold
of a slippery, frog-filled pond.

Go down on your elbows and knees.
You'll need a spieliologist's desire for rebirth
and a miner's paranoia of gases —
but try to find within yourself
the scent of a bat-loving flower.

Read books on pogroms. Never trust an owl.
Its face is the biography of propaganda.
Never trust a hawk. See its solutions
in the fur and bones of regurgitated pellets.

And have you considered the smoke
yet from a moving train? You can start
half an hour before sunset,
but make sure the journey is long, uninterrupted
and that you never discover
the faces of those Trans-Siberian exiles.

Spend time in the folds of curtains.
Seek out boarding-school cloakrooms.
Practise the gymnastics of wet umbrellas.

Are you
floating yet, thought-light,
without a keel on your breastbone?
Then, meditate on your bones as piccolos,
on mastering the thermals
beyond the tremolo; reverberations
beyond the lexical.

Become adept
at describing the spectacles of the echo —
but don't watch dark clouds
passing across the moon. This may lead you
to fetishes and cults that worship false gods
by lapping up bowls of blood from a tomb.

Practise echo-locating aerodromes,
stamens. Send out rippling octaves
into the fossils of dank caves —
then edit these soundtracks
with a metronome of dripping rocks, heartbeats
and with a continuous, high-scaled wondering
about the evolution of your own mind.

But look, I must tell you — these instructions
are no manual. Months of practice
may still only win you appreciation
of the acoustical moth,
hatred of the hawk and owl. You may need

to observe further the floating black host
through the hills.
by Judith Beveridge