Open Thread - 03-04-22 - Killing Nazis
Submitted by JtC on Fri, 03/04/2022 - 8:09am
I was born to kill Nazis.
The psychological training began with images from books, magazines, the Tube, and the spoken word, tales of wartime exploits. All of which were very impressionable on a young tabula rasa mind, like planting seeds.
The physical training began at a very young age, much like the Spartans of yore. Toy soldiers lined up across from each other in grand Napoleonic set piece battle formations. Sometimes a marble randomly rolled into the ranks determined the outcome. Sometimes hands doubling as artillery decimating all the corps. Sometimes slow methodical attrition picking off hapless infantrymen one at a time. This early training taught the importance of battlefield logistics.
As I grew a little older and was allowed to supervise myself in the outside world of the neighborhood, it was first fingers, then sticks and with the advent of the Christmas supply lines, it became toy guns.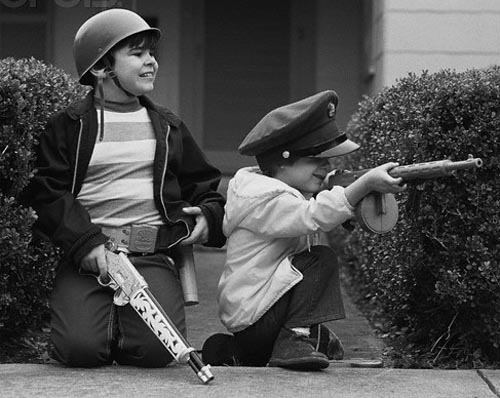 I commanded an entire neighborhood block. My well trained hand picked squad could reconnoiter, pincer, and flank with the best of them. The Nazis had no chance in my neighborhood. We were fighting for mom and apple pie, don't you know. We'd stand over the fallen enemy in triumphant glory, even when they tired of laying on the ground and wanted to get up. "You can't get up Nazi, pow pow pow, you're dead". Wasted Nazis had a tendency to resurrect from the dead to live and fight another day, like zombies, Nazi zombies.
Then as time caught up a new enemy was born. In Southeast Asia. The images from books, magazines, the Tube, and tales of horror from soldiers returned tarnished the glory of defeating Nazis. The shit had gotten real. I saw the flag draped caskets, the '68 Tet Offensive, Walter Cronkite's admissions. The disabled Vets For Peace. Students cut down in Ohio. The hollow husks of friends that returned. The prospect of living the games that I had played as a child became a grim reality.
Somehow the conditioning had failed with me. I no longer wanted to kill Nazis, hell, I didn't want to kill anything. I traded in my toy soldiers, toy guns, and combat squad for flowers, protests and peace signs. The war games were over for me.
Howard Zinn's writing had taught me well.