Obamacare is increasingly not the answer
Submitted by gjohnsit on Tue, 08/08/2017 - 12:12pm
The Hill had an article on Obamacare the other day with a surprisingly accurate statement.

ObamaCare forces the purchase of health insurance without regard to its price, quality, or value.
The article goes off on a free market diatribe that is divorced from reality, but the sentence above is irrefutable.
No matter how you cut it, Obamacare forces people to buy private insurance without any cost controls, and almost no one in Washington appears to be incline to fix that. When they talk about "stabilizing the exchanges" they are talking about helping the insurance companies exclusively.
Obamacare is increasingly not the answer for the average American.
Insurance premiums are skyrocketing yet again.

New data from the Department of Health and Human Services (HHS) first reported by The Wall Street Journal show major insurers in Idaho, West Virginia, South Carolina, Iowa and Wyoming are requesting premium increases averaging about 30 percent.
Elsewhere in New Mexico, Tennessee, North Dakota, and Hawaii, insurers have filed Obamacare premium hikes averaging at least 20 percent.
The proposed increases would rival last year's 23 percent average increase in premiums for silver and bronze health care plans...
Anything going up +20% year after year is not sustainable. It's only a matter of time before it blows up.
Plus, premiums are only one of the problems.

The average deductible for a silver plan through the Affordable Care Act, one of the law's most popular health insurance plans, is projected to jump 20 percent to $3,703, according to a report from Avalere Health.
"If you are an individual making $40,000 and $50,000 per year, and your deductible is $6,000 or $12,000 for a family—which is not unusual on the exchanges—you may have an insurance card, it might have a wonderful name of an insurance company, but you can't have the care because you can't afford the deductible," he said. "People are denying themselves the care that they need."
The report found that out-of-pocket costs are expected to rise in other ways next year.
Obamacare was supposed to have eliminated "junk insurance". In reality, it obviously failed in that task, and it's getting worse every year.
Obamacare was also supposed to provide more options for consumers. In reality, it obviously failed in that task as well. In multiple states, state insurance commissioners are scrambling to plug holes in coverage as insurance companies abandon the exchanges.
Our health care system is a job killer, not to mention being extremely poor at keeping people healthy as well.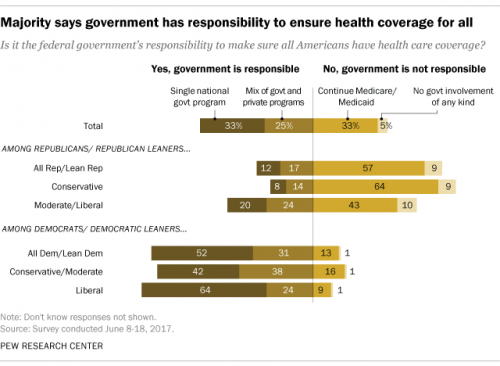 The most popular solution is Medicare-For-All, but establishment Democrats obviously aren't serious about it.
This is leading to a primary showdown between the progressive grassroots that simply has had enough, and the defenders of the corrupt status quo in the Democratic Party.

The Warrner/Sanders wing of the Democratic Party, embodied in the Our Revolution grassroots group, is making it increasingly clear that any Democrat who wants to hold office, but won't sign up for single payer, can expect a primary challenge. They are flipping out.
Democrats have been Hippie Punching for decades. It was great fun, especially since the progressives didn't fight back.
Now the progressives are fighting back. The establishment immediately screamed "racist! sexist!" because that usually makes progressives cower, but this time it isn't working.

The fears are acute enough that when the Nevada chapter of Our Revolution — the political group spawned from the Sanders presidential campaign — endorsed long-shot candidate Jesse Sbaih in the state's Democratic Senate primary over party favorite Rep. Jacky Rosen, retired former Sen. Harry Reid felt the need to call Sanders directly.
...What's clear is that Sanders' large and politically active following has stopped Democrats from confronting him directly — including when it comes to offering alternatives to his Medicare-for-all measure.
Just wait until the corporate Dems start losing primaries to progressives. Then the hippie punching will finally stop.