No amount of sanctions will make Russia bend the knee
Submitted by gjohnsit on Mon, 09/16/2019 - 6:22pm
Congress is looking to impose new sanctions on Russia and any company that works with Russia.

Two bills in the House and the Senate, instead of penalizing the major gas companies involved, would target a perceived weak link: the specialized pipe-laying companies working on Nord Stream 2 (and on the Russian state-controlled gas company Gazprom's TurkStream project, which will bring Russian gas across the Black Sea to Turkey and eventually to Europe). The bills would sanction pipe-laying companies involved in the project, freezing their U.S. assets and prohibiting them from doing U.S. business.
One problem with these sanctions is that they are largely after-the-fact when it comes to laying underwater pipe.
Turkstream is already done. Nord Stream is about 75% done, but Congress still believes they can stop it.

President Donald Trump has recommended Germany buy U.S. liquefied natural gas. That would benefit Cruz's home state of Texas, the country's largest producer of natural gas.
A second problem is that Germany doesn't want us dictating their foreign policy. According to a recent survey, only 19 percent of Germans considered the United States a trustworthy partner (well behind Russia).
Like our War on Terror, all the evidence shows that the sanctions aren't working.

Since 2014, Russia has increased foreign currency reserves to an eye-popping $500 billion (the fourth highest in the world), paid off its foreign debt, "floated" (or in other words devalued) the Russian ruble to boost the competitiveness of Russian exports, "de-dollarized" holdings to insulate Russia from the US financial system, and balanced the state's expenditures and revenues.
Russia also has a low "break-even" oil price, set around $40-45 per barrel, which is the price the Russian state needs to balance its budget each year. Oil is by far the country's largest export and the bedrock of its war chest.
That's actually an amazing achievement. Under a mountain of sanctions, Russia has managed to insulate themselves from American economic war, paid off much of their foreign debts, and positioned themselves to be able handle anything new that the U.S. throws at them.
That austerity came at a cost in slow economic growth.
Not only that, but several major new pipelines are about to go online. This will bring in huge amounts of new revenue.
the Power of Siberia Pipeline:

Russian gas giant Gazprom has started pumping gas into the Power of Siberia Pipeline bound for China, according to news agency Interfax, which cited the governor of the Republic of Yakutia making the statement Thursday.
The pipeline will deliver 38 billion cubic meter per year (Bcm/y) of natural gas from eastern Siberian fields to China.
Gazprom and CNPC have a contract worth $400bn to supply China with gas for 30 years via this pipeline.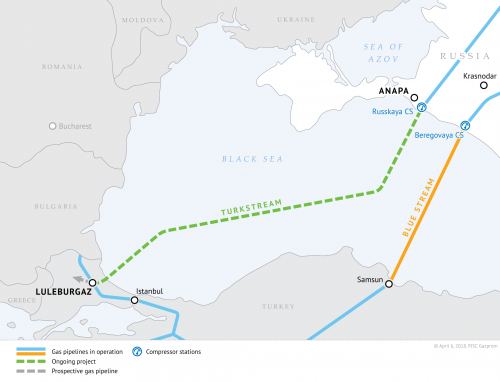 the Turkstream:

The Russian gas will start running to Turkey via the TurkStream by the end of this year, President Vladimir Putin said on Tuesday, Trend reports citing TASS.
Turkstream has the total capacity of 31.5 billion cubic metres per annum, so it nearly matches the Power of Siberia in size. It will be extended up to Hungary next year.
The U.S. has also tried to squeeze Russia by sanctioning the sale of their weapon systems, but that has also failed. Even nominal U.S. allies, such as Turkey and India, are buying Russian weapons.