Nancy offers prayers for starving people updated with full prayer
Submitted by snoopydawg on Sun, 08/09/2020 - 4:11pm
I bet that she is also thinking about people who are close to being evicted. It's great that we have such kind and caring representatives that think of us so fondly.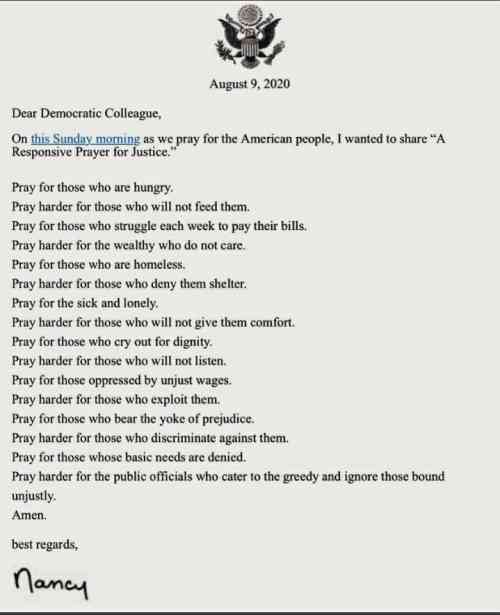 Good lord could she be any more tone deaf? "Pray for the wealthy who will not help them". Uhh Nancy? This is you. You refuse to give us the help we need because of your insistence on pay go rules that go out the window when it comes to your donors!
Congress could #CancelTheRent & mortgage payments—while supporting small landlords to make banks & corporations pay the costs of housing during the pandemic.

That's what Ilhan has proposed.

Nancy Pelosi's prayers are a poor substitute. https://t.co/0ct8PFPhKw

— Shahid Buttar for Congress (@ShahidForChange) August 9, 2020
The banks definitely should have to make allowances for people who are unable to make their mortgage payments because of how many times we have bailed them out including the $29 trillion during Obama's tenure and the over $20 trillion during Trump's. Because you just know that if too many people default on them congress will make sure they are okay.