NAFTA, China, and the Dollar
Submitted by

gjohnsit

on Wed, 01/10/2018 - 4:03pm
Two pieces of news came out today that could have dramatic effects on how far you can stretch your paycheck.
First of all is the news out of Canada.

Canada is increasingly convinced that U.S. President Donald Trump will soon announce that the United States intends to pull out of the North American Free Trade Agreement, two government sources said on Wednesday.
The sources said they expected Trump would make his move at about the same time that negotiators from the United States, Canada and Mexico meet in late January for the sixth and penultimate round of talks to modernize the treaty.
...Canada and Mexico have rejected most of the U.S. proposals for NAFTA reforms, leaving officials with a big job if they are to bridge the large differences at the Jan. 23-28 talks in Montreal. Negotiations are due to wrap up at the end of March.
It could easily just be a negotiating tactic by Trump to get a better deal (funny how Obama never once used that tactic). OTOH, maybe not.

Trade relations between the two countries have taken a dramatic turn this week, with Canada escalating its trade spat with the U.S. by filing a World Trade Organization complaint over American duties against Canada and other countries. U.S. Trade Representative Robert Lighthizer responded earlier Wednesday, calling that move a "broad and ill-advised attack."
Because...Canada?
The US Dollar is expected to take a big hit if NAFTA ends.
And the USD did indeed take a hit today, but not because of Canada.
It was news out of China that moved markets today.

Senior government officials in Beijing reviewing the nation's foreign-exchange holdings have recommended slowing or halting purchases of U.S. Treasuries, according to people familiar with the matter. The news comes as global debt markets were already selling off amid signs that central banks are starting to step back after years of bond-buying stimulus. Yields on 10-year Treasuries rose for a fifth day, touching the highest since March.
China holds the world's largest foreign-exchange reserves, at $3.1 trillion, and regularly assesses its strategy for investing them. It isn't clear whether the officials' recommendations have been adopted. The market for U.S. government bonds is becoming less attractive relative to other assets, and trade tensions with the U.S. may provide a reason to slow or stop buying American debt, the thinking of these officials goes, according to the people, who asked not to be named as they aren't allowed to discuss the matter publicly.
...Any reduction in Chinese purchases would come just as the U.S. prepares to boost its supply of debt. The Treasury Department said in its most recent quarterly refunding announcement in November that borrowing needs will increase as the Federal Reserve reduces its balance sheet and as fiscal deficits look set to widen.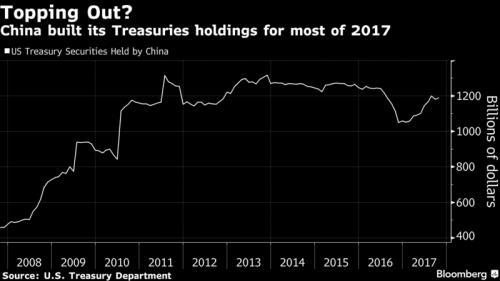 Funny how ramping up a bloated military budget, while slashing taxes for wealthy people who don't need the tax cuts, while threatening your creditors (like China), might cause people to question the wisdom of loaning you money.