Medicare For All becoming inevitable
Submitted by gjohnsit on Thu, 08/23/2018 - 9:02pm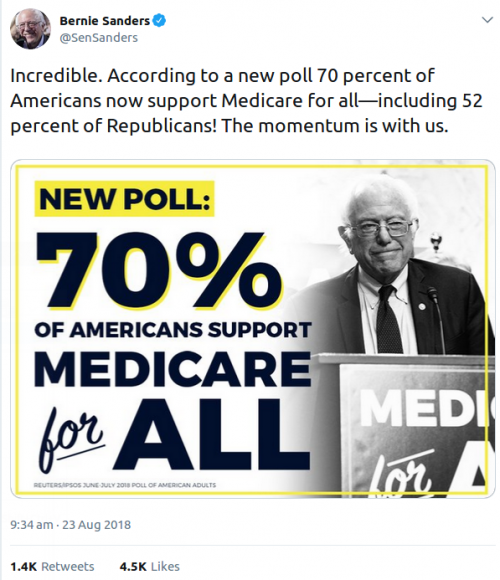 This new poll is a new milemarker.

A vast majority — 70 percent — of Americans in a new poll supports "Medicare for all," also known as a single-payer health-care system.

The Reuters–Ipsos survey found 85 percent of Democrats said they support the policy along with 52 percent of Republicans.
At some point a tipping point will be hit and the political environment will shift.
Meanwhile, Blahous continues to smear his own study.

Much of the pushback in the press against Sanders' plan is based on the theory that his assumptions are too aggressive. That's Blahous' argument too. (Blahous also tries to put his thumb on the scale by describing a $2-trillion reduction as "only" 4%. In other words, he's making the assumption that people would consider $2 trillion to be a negligible number.)