McCain uses Defending the Nation BS to Threaten Social Security Payments
Submitted by Big Al on Thu, 03/30/2017 - 9:36am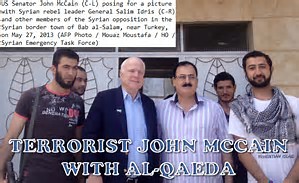 Eighty year old warmonger and war criminal, make no mistake about that, John McCain, a perfect example of why our political system must be changed, continued his insane quest for a special place in hell.
"Sen. John McCain said Wednesday he will do whatever it takes to make sure that military spending is increased in the next spending bill even if that means shutting down the government.

The Arizona Republican told CNN he wouldn't vote for a continuing resolution, a funding bill that maintains the previous spending levels. When asked how far he would go, McCain said he only had one vote, but that he wouldn't rule out a shutdown.

"If that's the only option. I will not vote for a CR no matter what the consequences because passing a CR destroys the ability of the military to defend this nation, and it puts the lives of the men and women in the military at risk," McCain said. "I can't do that to them."
http://www.cnn.com/2017/03/29/politics/john-mccain-cr-continuing-resolut...
McCain is going to be McCain. American citizens, particularly those in Arizona, that believe his bullshit deserve scorn. They might be ignorant, misinformed, or just plain stupid, but they deserve scorn for believing an insane man's delusional ravings.
I know many people surviving on social security payments. I know many people surviving on military and federal government retirement benefits. I know many federal employees and contractors who depend on the federal government for paychecks in order to buy food and pay for health insurance. Many, like myself, are veterans like insane McCain.
As a thirty year federal government employee, I went through this budget shutdown drill many times. We had two actual shutdowns in 95/96 under Clinton and another in 2013 under Obama and many others and many close calls under previous administrations. It's always because of politics, disagreements among our SO CALLED political representatives that result in the inability to pass a budget which causes a government shutdown.
For McCain and many other of our SO CALLED political representatives (I'm getting worse), their disagreement, unless they get their way, will be because of not getting more money for war and imperialism. McCain is as despicable a politician as we've had in this country. His ultra conservative views, collaboration with terrorists, and absolute support for the killing fields of imperialism are traitorous.
A government shutdown would not affect the military's ability to continue it's activities for U.S. imperialism. McCain's narrative that the military is for "defending the nation" is pure bullshit and those serving are nothing but "gangsters for imperialism". That is an extremely hard truth. Those that believe McCain's bullshit need to stop watching John Wayne reruns and wake up to reality. He's playing to the emotions of dupes for political gains for the rich and powerful, not the men and women in the military. He doesn't give a shit about them and that's not who he works for.
We won't stop any wars or U.S. imperialism in general allowing these false narratives and lies from our SO CALLED political representatives to go unchallenged. Unfortunately, the corporate media will not do that, it will continue to spread those false narratives and lies as truth. The alternative media and concerned citizens must challenge the lies, false narratives and propaganda.