It's the 150 anniversary of the Transcontinetal Railroad being completed
Submitted by snoopydawg on Fri, 05/10/2019 - 10:03pm
at Promotory Point, Utah on May 10, 1869. This is a big event here as you can probably imagine. I used to go on field trips out to the Point back when schools did that. I have a replica of the Golden Spike that was used to complete the joining of the tracks.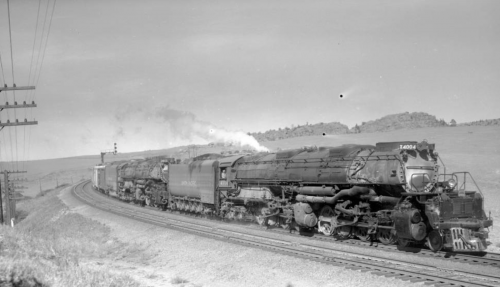 Two big boys hitched together to pull an especially heavy load of 90 cars in 1958
There were once 8 really big steam locomotives that pulled coal and other stuff up through Weber canyon. Today there is only one and it has made its way to Ogden for the celebration. You want to see this engine! It's really, really big! The crowds lining the route were huge. The pictures of that is in one of the articles listed in the main page I listed below. Take a look.
Big Boy No. 4014 and Living Legend No. 844 arrive in Ogden
The world's only operating Big Boy steam locomotive No. 4014 along with Living Legend No. 844 arrive in Ogden on Wednesday, May 8, 2019, just days before the 150th anniversary celebration of the completion of the transcontinental railroad.
Check out the photos of it making its way through one of the twin tunnels. I have been hearing the whistle blowing for two days and it is really something to hear. Heh..it just went off again. I can't download the photos but you do want to check them out.
Here's Big Boy coming out of Evanston, WY on its way to Ogden down Weber canyon.
Here's Fox News coverage of it. A 3 minute video of better quality.
Here are some more articles of interest on this celebration.
Golden Spike anniversary draws history buffs, Chinese Americans, more to Box Elder County
PROMONTORY SUMMIT — They biked, they bussed, they drove.

Classrooms made a field trip out of it, train buffs traveled from afar and a contingent of Chinese Americans from California came to pay their respects.

Even an Abraham Lincoln impersonator, John Voehl of Denver, traveled to the celebration at Golden Spike National Historical Park in rural Box Elder County on Friday. Like thousands of others, he was there to mark the 150th anniversary of the completion of the transcontinental railroad, a milestone event in U.S. history.

"The transcontinental railroad is one of the greatest things that happened in the world," said Voehl. He was sporting a tall hat and a long black coat, similar to the garb of the former U.S. president, who helped shepherd the legislation creating the historic rail line that connected the eastern and western United States.

"To be here is one thing," Voehl continued. "To be here on this day is fantastic."

U.S. National Park Service officials reported around 15,000 visitors on Friday, a huge spike from the 2,000 to 3,000 who have come for other recent anniversary celebrations, according to Weber County Commissioner Jim Harvey, who was among the many visitors. The final spike completing the transcontinental railroad was ceremoniously pounded into the ground on May 10, 1869, and, indeed, the park swarmed with visitors from across the United States and beyond to mark the sesquicentennial of the event.
Revisit the Golden Spike Centennial Edition
In May 1969, the Standard-Examiner marked the 100th anniversary of the driving of the Golden Spike with a special edition of seven sections recording and resharing the history, as well as the future in 2069. Here it is, complete and in its original format.
This has all of the pages of what was covered on this day.
This is the home page of the Standard Examiner that has more articles about the railroad being built. My grandpa used to work on trains and so I have always been a huge fan of trains. I always roll down my window when I'm stopped at a train crossing just to hear the noise of it passing. They don't click clack like they used to, but it's still fun for me to hear them passing by....
Here's a night time shot of Union Station and 25th street which used to be where train passengers could go to wet their whistles after arriving in Ogden. This used to be called Red Light Alley because there were lots of brothels located on it.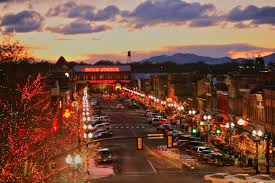 Looking West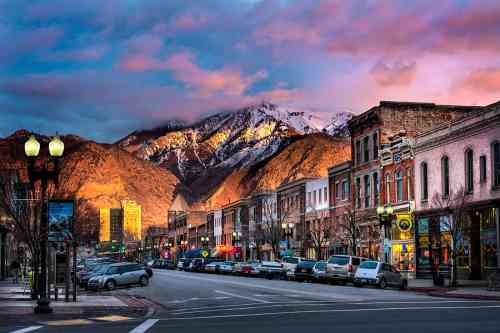 Looking east