This has never happened before in the history of America
Submitted by gjohnsit on Sun, 02/21/2016 - 7:42pm
It seems amazing that such a disliked candidate can be dominating the polls.
By winning South Carolina and New Hampshire, and leading in all Super Tuesday states, it appears that Trump will be the GOP nominee.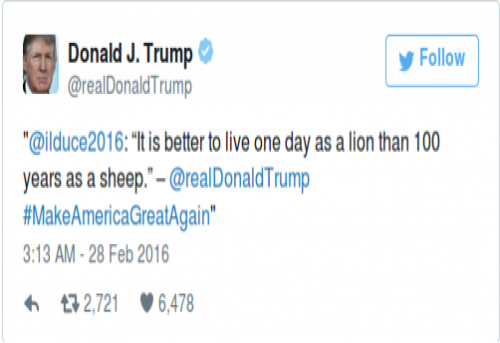 But it isn't just Trump. Hillary is the leading Democratic candidate, and her favorability rating isn't much better.


That's only a couple points difference from Trump and going the wrong way.
Yes, Hillary is liked by Democrats, but independents hate her guts.

Between March 2015 and December, Clinton's net favorability -- those viewing her favorably minus those viewing her unfavorably -- sank from plus-3 among all voters to negative-8, an 11-point change. But among independents, that figure went from +4 to -27, a swing of 31 points.
With Democratic turnout down by a third from 2008, the loss of the independents is a big deal.
And less face it, 6 months of Republican attack ads coming up pretty much preclude Hillary from changing these numbers much.
It occurred to me that unless Sanders really picks up momentum starting March 2, that the November election will feature two candidates that a vast majority of people dislike. So I was wondering, has any president ever started out with a negative favorability rating on Day One?
You know what the answer is: No. It's never happened before.
At least not since modern polling started right after WWII.
It probably happened in the late 19th Century, but there were no polls to back up that opinion.
So here is the Gallup polls. You'll notice that Ike seems to be an exception, but according to Pew (and all of the rest of Ike's Gallup polls) that one can be dismissed as an outlier.
You have to ask an important: what does it mean to American democracy that the top two candidates are so disliked?
You generally only see this in 3rd world countries with corrupt oligarchies.
It's a sign of a democracy in trouble. It's a sign of a broken political system.
It is usually followed by extremely low voter turnout, and then eventually political violence.