Global Ransomware attack happening today
Submitted by gjohnsit on Fri, 05/12/2017 - 12:57pm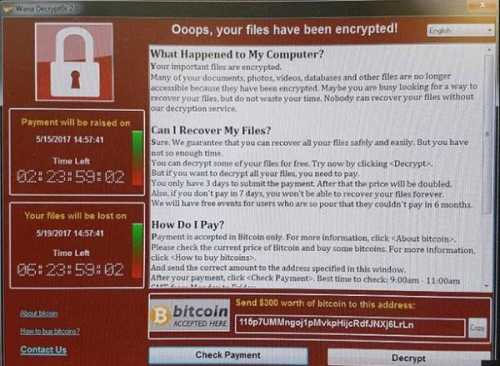 Ransomware has been a global plague for years, but today it hit a new peak.

There have been reports of infections in the UK, US, China, Russia, Spain, Italy, Vietnam, Taiwan and others.

Security researchers are linking the incidents together.
One cyber-security researcher tweeted that he had detected 36,000 instances of the ransomware, called WannaCry and variants of that name.

"This is huge," he said.

Another, at cyber-security firm Kaspersky, said that the ransomware had been spotted cropping up in 74 countries and that the number was still growing.
What is unusual about this outbreak is the victims. We aren't talking about grandpa and grandma here, but major institutions.

The UK's National Health Service (NHS) was also hit by a ransomware outbreak on the same day and screenshots of the WannaCry program were shared by NHS staff.
Telecoms giant Telefonica said in a statement that it was aware of a "cybersecurity incident" but that clients and services had not been affected.
Power firm Iberdrola and utility provider Gas Natural were also reported to have suffered from the outbreak.
...
Another firm that confirmed it had been caught out was delivery company FedEx.
"Like many other companies, FedEx is experiencing interference with some of our Windows-based systems caused by malware," it said in a statement.
Bitcoin wallets seemingly associated with the ransomware were reported to have already started filling up with cash.
"This is a major cyber attack, impacting organisations across Europe at a scale I've never seen before," said security architect Kevin Beaumont.
So why is this ransomware so successful?
Funny you should mention that. Remember the recent Wikileaks release of NSA exploit tools?
Yeh, that one.

Several experts monitoring the situation have linked the infections to vulnerabilities released by a group known as The Shadow Brokers, which recently claimed to have dumped hacking tools stolen from the NSA.
A patch for the vulnerability was released by Microsoft in March, but many systems may not have had the update installed.
Some security researchers have pointed out that the infections seem to be deployed via a worm - a program that spreads by itself between computers.
FYI, worms don't require you to click on a web site and open an email.
At least 100 firms in Spain are under attack.
If you are using Windows, you need to make certain that you run Windows Update today!
Don't delay!
NHS hack: So NSA had secret backdoor into Windows. Details leaked few weeks ago. Now backdoor being exploited by random criminals. Nightmare

— Sam Coates Times (@SamCoatesTimes) May 12, 2017