Establishment Dems and DKos looking to take down Tulsi again
Submitted by gjohnsit on Mon, 10/07/2019 - 6:02pm
Markos' web site really, really, really hates Tulsi Gabbard.

This isn't the first time that the GOS endorsed a primary challenge to Gabbard.

Let's also recall that this isn't the first time that the GOS announced that Gabbard was beatable.

So how did DKos' primary challenge go?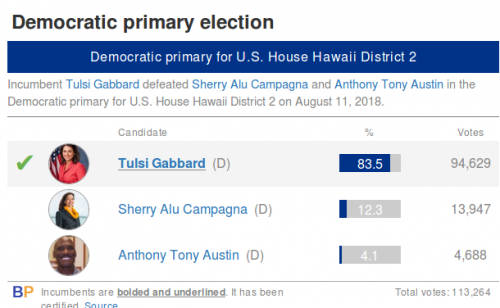 Crushed!
But this time Markos has the entire Democratic establishment onboard the "Get Tulsi" project.

Rep. Tulsi Gabbard (D., Hawaii) faces a tough primary challenge if she decides to run for reelection to Congress, even as she struggles to gain traction in her presidential campaign.

Three former Hawaii governors are supporting Democratic state senator Kai Kahele in his primary race against Gabbard, the Honolulu Star-Advertiser reports. Ben Cayetano, Neil Abercrombie, and John Waihee have endorsed Kahele and will serve as honorary co-chairs for his campaign.

Abercrombie and Waihee headlined a fundraiser for Kahele last week, according to an invitation obtained by Politico.
...
Although her campaign has added a few staffers, it is "largely operating outside typical Democratic and progressive circles," according to Politico.

"I have no contact with her or her campaign. I don't even know anyone that's working with her or her campaign," said Jane Kleeb, chair of the Nebraska Democratic Party.

"I think for a while she was a darling of the progressive movement," Kleeb added. "And then anybody I know, any leader I know, just thinks she's weird."
Hawaii state Sen. Kai Kahele, who is challenging Rep. Tulsi Gabbard in the Democratic primary, raises $250,000 in 1Q #HI02 pic.twitter.com/yoA3BILJGM

— Daily Kos Elections (@DKElections) April 8, 2019
Three former Hawaii governors, other Dem politicians, and the establishment media are all out get Tulsi. That's a lot of enemies.
So now the first poll came out, and it didn't look good for Tulsi.
Two out of three Democratic primary voters in Hawaii's 2nd Congressional District say U.S. Rep. Tulsi Gabbard should give up her presidential aspirations, according to a new survey released Tuesday by Public Policy Polling.

The poll also found that at least half of the voters in Gabbard's district would prefer someone else in her House seat.
...
One of the more concerning numbers for Gabbard is that 50% of Democratic primary voters said they would prefer to vote for someone else in the upcoming CD2 election.
"Tulsi Gabbard's constituents don't want her in the White House in 2021. And it looks like they may not want her in the US House anymore then either."
- Dean Debnam, President of Public Policy Polling.
Yes, it looks very bad for Tulsi...for the first 11 paragraphs of this article.
Then, only after scrolling all the way down this article, do you find this:

In a head-to-head primary match-up, the poll found voters still preferred Gabbard over Kahele 48% to 26% with 27% still undecided.
Oh, so Tulsi is only crushing her opponent by 22 points!
Yep, it's all over for Tulsi. Better pack it in. Sheesh!