Establishment Democrats have learned absolutely nothing
Submitted by

gjohnsit

on Sun, 10/08/2017 - 11:14am
I was reading this Politico article when I realized that this sounded very familiar.

With Republican Senate primaries from West Virginia to Montana promising to pit Trump-inspired insurgents against more mainstream candidates, Democrats are considering ways to step in and wreak some havoc. The idea: Elevate the GOP's most extreme option in each race, easing Democrats' path to victory in a range of states tilted against them.
Wait a second. Didn't the Dems do the exact same thing with Trump in 2016?
So then I was reading this article when I realized that it also sounded familiar.

For Democrats, one of the most important races for governor next year is taking shape in Illinois....Six months before Democrats have even held their primary, party leaders have already lined up behind a venture capitalist of their own: J.B. Pritzker, an heir to the Hyatt Hotel fortune who, along with his wife, contributed nearly $20 million to support Hillary Clinton last year. With a net worth of $3.5 billion, Pritzker will certainly be able to compete with Rauner's own war chest. But by backing one of the wealthiest candidates ever to run for governor, the Democratic establishment is ignoring the rising tide of populism that has upended American politics, setting up a battle between two private-equity plutocrats.
Deja vu. Didn't the Dems do the exact same thing in 2016?
Even in these days, when the liberal base is in a frenzy against racism, establishment candidate Joe Biden still managed to say this.

Early in his stump speech for Democratic Senate candidate Doug Jones in Alabama on Tuesday, former Vice President Joe Biden began to wax nostalgic, recalling a bygone era in Washington when our politics were more cooperative. "Even in the days when I got there, the Democratic Party still had seven or eight old fashioned Democratic segregationists," he told the crowd in Birmingham. "You'd get up and you'd argue like the devil with them. Then you'd go down and have lunch or dinner together. The political system worked. We were divided on issues, but the political system worked."
Ah yes. The good old days of southern segregationists.
Establishment Democrats are completely tone deaf.
Even corporate lackey and establishment mouthpiece Markos denounced Biden's comments, but not before qualifying it.

Markos Moulitsas, founder and publisher of the progressive blog Daily Kos, agrees with Biden on this much: "The left's effectiveness will always be constrained so long as part of it indiscriminately attacks those with money and success."
Which brings me to this article and I got a funny feeling that I've seen this before.

Progressives and young Democrats complain that party leaders ignore Republican-leaning areas of the country and employ dirty tactics in order to defend against progressives attaining leadership roles.
...Earlier this year, the Florida Democratic Party chair race was decided in a similar fashion: Billionaire donor Stephen Bittel circumvented party rules to become eligible to run, defeating five opponents who banded together to stop him. The Democratic National Committee (DNC) chair race was also manipulated behind the scenes. Delegates were threatened so that they would switch their support from Congressman Keith Ellison to the establishment pick, former Secretary of Labor Tom Perez.
Additionally, the Green Party filed a lawsuit last week against the Democratic Party alleging voter intimidation, voter fraud, and electioneering in a Pennsylvania State Assembly special election in Philadelphia that occurred earlier this year. The election was held after the two previous Democratic state representatives for the district resigned due to federal fraud charges: Leslie Acosta plead guilty to money laundering charges in 2016, and her predecessor Jose Miranda resigned after pleading guilty to corruption charges. Unfortunately, corruption in Philadelphia, a Democratic stronghold, is a pervasive trend.
Ah, yes. Corruption.
The Democratic Party is swimming in it.
Whether it is rigging elections against progressives, or good old fashioned bribery, the Democratic establishment has it in spades.
As I pointed out the other day, Berniecrats are having a great deal of success, but only in Red and Purple states.
In Blue states, where a corrupt Democratic establishment rules, they are freezing out real progressives.
This can also be seen in the establishment push-back against Medicare For All, which relies on anonymous attacks from Hillarybots.
This open and unaddressed corruption is the Democrats biggest problem, bar none.
What was the public's greatest fear in 2016?
Terrorism? The Economy? Russia? A new season of The Kardashians?
Nope and nope.
It's government corruption.

As the presidential election campaign drags on, it may come as no surprise that corrupt government officials are one of the greatest fears many Americans have, according to a new study.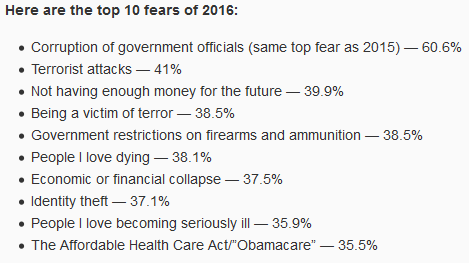 This isn't an aberration. As many as 81% of Americans think the government is corrupt.


75% and 81% means this isn't a partisan topic.
Normally the voter's greatest fear would be the topic for endless policy debates, committee meetings, and political pundits yelling at each other.
Instead we've gotten an oppressive silence in Washington and the news media.
It's as if the entire establishment doesn't want to talk about the most important issue on people's minds.
It isn't just the political establishment.
Progressives and liberals are guilty of not taking this concern seriously.
For example, consider how people consistently support liberal issues by themselves. Progressives and liberals keep scratching their heads why they won't win more elections when they are on the right side of the issues.
In fact, the reason is obvious, if you listen to people's concerns.

a CNN/ORC poll conducted in February of 2016 showed that the vast majority of Americans believe that the U.S. economic system generally favors the wealthy (71 percent) instead of being fair to most people (27 percent). The idea that income and wealth should be more evenly distributed among Americans has won the support of 60 percent or greater since 2012, but Americans are skeptical that government officials will act to protect their best interests.
When you think about it, it makes perfect sense.
People overwhelmingly agree that we need more equality, more social programs, more of everything you normally associate with the government.
But why would you want to hand over more power and money to a bunch of corrupt assholes?
It's an obvious and important question, and if you can't answer it then your stand on the issues don't matter. You don't win elections.
What's more, it isn't just a case of aiding corruption. It's a case of rational fear.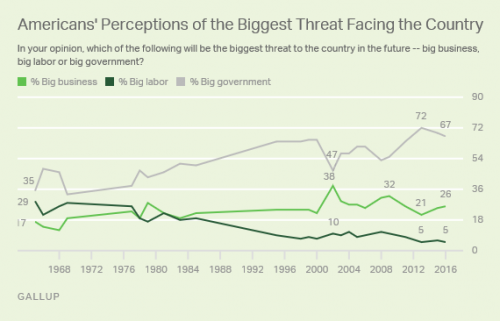 If you believe the government is both corrupt and heavily armed (and most people do), then fear of Big Government is entirely rational.
It's not just an immediate problem (i.e. the crushing of progressive causes, the rise of wealth inequality, etc.), there is also a long-term problem that is even more dangerous.

Dig a little deeper, and it sometimes seems like the history of the populist right – with its calls to "organize discontent" and its endless war against "the establishment" and the "elites" – is nothing but a history of reformatting left-wing ideas to fit the needs of the billionaire class. Think of Ronald Reagan's (and Mike Pence's) deliberate reprise of Franklin Roosevelt. Or the constant echoes of Depression-era themes and imagery that one heard from the Tea Party movement.
The lack of real progressive populism, due to endemic corruption in the Democratic Party, has left open a window for fake pseudo populism on the right, stealing the language of the left.
Historically this is called fascism.