The campaign never stops; it just kicks into speculative mode
Submitted by Cassiodorus on Wed, 12/07/2016 - 11:06am
If you're on the Facebook feed of a bunch of Clinton critics you have perhaps seen this Atlantic piece by Derek Thompson:
The Dangerous Myth That Hillary Clinton Ignored the Working Class
You see, Clinton advocates don't just stop writing Clinton advocate stuff simply because their candidate lost the election. And it doesn't seem to matter too much to them that "Hillary Clinton's 'Corrupt Establishment' Is Now Advising Donald Trump." What's important is Hillary Clinton, now as always, because:
She detailed plans to help coal miners and steel workers. She had decades of ideas to help parents, particularly working moms, and their children. She had plans to help young men who were getting out of prison and old men who were getting into new careers. She talked about the dignity of manufacturing jobs, the promise of clean-energy jobs, and the Obama administration's record of creating private-sector jobs for a record-breaking number of consecutive months. She said the word "job" more in the Democratic National Convention speech than Trump did in the RNC acceptance speech; she mentioned the word "jobs" more during the first presidential debate than Trump did. She offered the most comprehensively progressive economic platform of any presidential candidate in history—one specifically tailored to an economy powered by an educated workforce.
Well, that's what matters to Derek Thompson, at least. It will probably never sink in with the likes of Derek Thompson that Clinton's campaign promises, like Trump's, were and are of no consequence to actual policy, and that party platforms are also of no consequence regardless of how fervently Vox talks them up.
Nor, of course, does clarity matter to the likes of Derek Thompson, because it's supposedly "dangerous" to believe that Hillary Clinton ignored the working class. Those of you who are familiar with Clinton campaign rhetoric recognize that Clinton was a great champion of listening and of paying attention to ordinary people, but that everyone knows at this point that all of this nice listening and paying attention had nothing to do with, say, actual policy. So Thompson can say that:
The more frightening possibility for liberals is that Clinton didn't lose because the white working class failed to hear her message, but precisely because they did hear it.
So let's not confuse "hearing" a message with actually listening to it, which itself is still a long distance away from heeding, or even believing, what the message-sender said or wrote.
At any rate, we may now proceed to the economic argument in the Atlantic essay. Thompson says:
What's more, the evidence that Clinton lost because of the nation's economic disenchantment is extremely mixed.
Of course, Thompson is the one doing the mixing here. Anyone can go to the NY Times election breakdown to see what the problem was. Neoliberal economics under Obama sacrificed the countryside for the cities, so people were doubtless angry about that. And you probably already know, now, that if you look at the county-by-county results you can see that Trump won the countryside whereas Clinton won the big cities. In fact, the only big cities I can find that went to Trump were Phoenix, Oklahoma City, and Jacksonville. In this regard Cracked magazine, peddlers of second-rate humor (when I was young, Cracked was a wannabe magazine for Mad Magazine -- it's what you read when you were finished buying up all of what Mad had to offer), counts as more incisive election analysis than Derek Thompson. (I"m not going to go over the Cracked article: it's amusing, so you should read it.)
At any rate, the pivotal question as regards the 2016 election is not one that Derek Thompson wishes to address. Here's a quick graph revealing what that question is: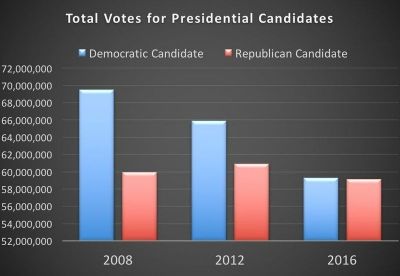 The votes for the Republican Presidential candidates, then, appear to be about the same from 2008 to the present. Why did rural white voters in the swing states vote for Trump? Maybe, y'know, it's that they're Republicans? The obvious question, then, is one of why whole legions of people who voted twice for Obama failed to vote for President at all in 2016.
But Thompson does not care about this question, which is why at the end of his piece he asks:
But what if the vast majority of white voters who voted for Trump aren't interested in any version of that future, no matter who the messenger is?
Of course, Thompson might have asked in his piece about whether or not Sanders could have beaten Trump, if he's interested in the idea of a different messenger for a promised future of nice stuff for the working class. But where's the nice job writing for David Brock in that?