Calling the bully's bluff
Submitted by gjohnsit on Sat, 05/04/2019 - 4:12pm
Rep. Ilhan Omar is in trouble again for telling the truth.
Just as in interventions past, those who oppose war are labeled supporters of dictators and haters of "freedom."

We saw this playbook in Iraq.

The situation in Venezuela is dire and the Trump Admin is making it worse. We must support diplomacy, not war.

— Ilhan Omar (@IlhanMN) May 2, 2019
"The challenges that face the Venezuelan people today are years and years in the making, long before American sanctions were put in place months and months ago, whether that was putting military individuals in charge of their oil wealth," Pomepeo told conservative radio host Ben Shapiro.
It's laughable that conservatives are outraged at her comment.
After all, if our sanctions aren't making things worse in Venezuela, then what exactly is the point of them? If they aren't causing pain in Venezuela then they aren't effective.
America's assault on Venezuela has been such an obvious failure so far that even Vox noticed.

The Trump administration has been trying for months to remove Venezuelan President Nicolás Maduro from power. So far, they've failed miserably.
...It's just not clear how much else the US really can do short of military intervention. And that's a bad position to be in.
Venezuela is only one example of painting yourself into a corner by way of trying to bully people who won't back down.
Earlier this week the Trump Administration allowed the waivers on Iran sanctions to expire. Now if a country imports oil from Iran the U.S. must sanction them. No one would dare to defy the U.S., right?

Iran's biggest likely remaining oil customers, China, Turkey and India, were silent about purchases of Iranian crude Thursday as a total U.S. ban on such trade took effect, leaving their next moves a mystery.

The Trump administration was equally silent about what action it might take if any of the three countries continues to purchase Iranian oil after Thursday, with no statements on the subject issued during the day by the departments of State or Treasury.
Being silent speaks volumes in this case. None of these countries intend to stop buying from Iran, which means that we will be forced to sanction some of our largest trading partners. Or be exposed as bluffing.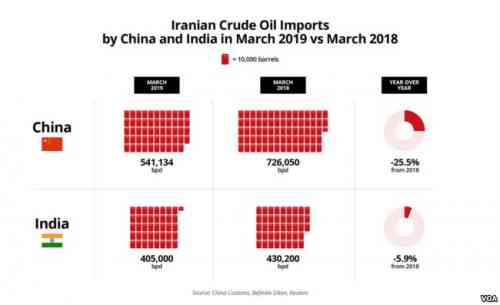 Turkey says it is simply unable to comply.

Turkey says it will not be able to diversify oil imports quickly after the United States ended sanction waivers on purchases from Iran, and Ankara continues to urge Washington to reconsider its decision.

"It does not seem possible for us to diversify the sources of the oil we import in a short time," Turkish Foreign Minister Mevlut Cavusoglu told reporters on May 2.
China is just as unlikely to comply.
However, the biggest blowback from our sanctions on Iran is that we are pushing India and China together in an alliance.

China and India—two of the world's largest oil importers and the biggest demand growth centers globally—are close to setting up an oil buyers' club to have a say in the pricing and sourcing of crude oil amid OPEC's cuts and U.S. sanctions on Iran and Venezuela, Indian outlet livemint reports, citing three officials with knowledge of the talks.
This is similar to how U.S. military threats have pushed Russia and China into a semi-alliance.