California Democrats screwed independents; Now it may backfire on them
Submitted by gjohnsit on Thu, 02/15/2018 - 1:20pm
California Democrats have a problem that they've brought upon themselves.

This district, held by Representative Darrell Issa, a Republican who is not running again, is a critical part of the Democratic campaign to take back Congress.
But the crowded field of candidates running for this open Republican seat spotlights what has become a major concern for Democrats. Under a new voting system in California, the top two vote-getters in the June primary — no matter their party — will face off in the general election in November. In a year of remarkable political energy stirred by opposition to President Trump, so many Democrats want to run for Congress that they could end up dividing the vote in districts like this one, producing a November runoff between two Republicans and in the process upending any hope of a House takeover.
If there's one thing that Democrats hate more than Republicans, it's independents on the left. Democrats feel they are entitled to those votes. They don't have to earn them.
Which is why Democrats are quick to blame Gore's loss in 2000 on Nader, rather than the millions of Democrats who voted for Bush, and blame Hillary's loss in 2016 on Stein, rather than the millions of Democrats who refused to vote for a bad candidate.
It's from this contempt for leftists that the California Legislature, dominated by Democrats managed to put Prop 14 on the ballot on Feb. 19, 2009, between 4 and 7 a.m., without any public notice or public hearing.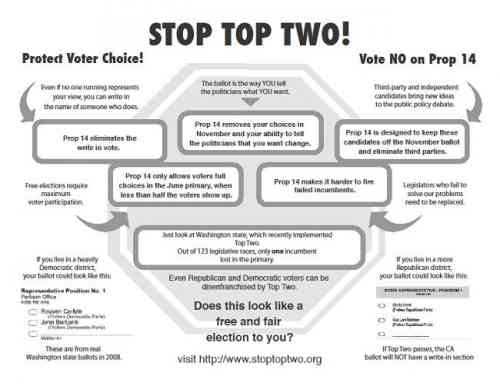 California's Top Two Primary takes power away from third parties representing the 99% and delivers it to the 1%.
...A recent Gallup poll found that nationwide, the share of registered voters identifying as independent has hit a record high of 42 percent. That trend also holds true in California. Yet no third-party or independent candidate for state-wide office will appear on the California general election ballot in November. All were eliminated by Top Two, the new electoral system ushered in by Proposition 14 in 2010. It excludes all but the top-two primary vote-getters from advancing to November, and that effectively means all but the top two political parties.
Top Two has not only foreclosed third-party candidates from the general election but has made it substantially harder for them to get on the primary ballot. From 1992 to 2010, the Green, Libertarian, Peace and Freedom, and American Independent parties averaged 127 primary ballot candidates among them in each election cycle. In 2012, in Top Two's first year, they were able to qualify only 17 for state legislative and congressional races, the fewest since 1966, when only Democrats and Republicans were on the ballot.
It wasn't just a matter of being a top-two finisher. Filing fees were increased to the point that small, left-wing parties had trouble fielding any candidates at all.
In one swift blow California Democrats virtually eliminated all third-party challengers on the left. Hurrah for "democracy"!
The new system normally works great for the establishment. The problem is when the dynamics shift, which is what has happened this year with the progressive base motivated.
So what do the establishment Dems do to fix a less-than-democratic system that isn't working the way they want it to? Why with even less democracy, of course.

Democratic leaders are moving to winnow the field, steering contributions to favored candidates, moving to award the state party endorsement to one person and warning candidates who might have embarrassing chapters in their professional or personal lives of the kind of scrutiny and political attacks that come with entering public life.
But any attempt by the party to interfere is complicated by the strains between establishment Democrats and the more liberal wing of the party, which have been on particular display in this state. Democratic leaders are wary of coming across as old-school bosses stampeding the concerns of grass-roots activists.
"My job is not to tell people they can't run," said Eric C. Bauman, the state Democratic leader, who has been trying to trim the field to, ideally, he said, two Democrats. "It's not to push people out of races. But to try to help good candidates look to see if they have other options they could run for and make an equally important contribution."
If the name Eric C. Bauman sound familiar, it's because he was the subject of controversy when the state party establishment rammed him into office over the objections of a vast majority of the Democratic grassroots through the use of Super Delegates.
It's because of this contempt for regular voters and the democratic process, that the Republican Party can lose voters, but the Democratic Party fails to gain them.