Brexit is pulling into the station
Submitted by

gjohnsit

on Wed, 04/10/2019 - 5:30pm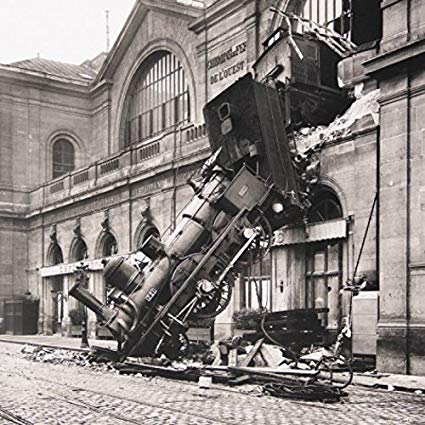 A year ago I wrote "Politically the Tories have no plan at all, and when the clock stops on Brexit they will completely implode."
The clock is beginning to stop.
It's amazing how long conservatives voters, who pretend to distrust politicians, will continue to believe those conservative politicians long after it is obvious that they are lying.
So when the lies can no longer be covered up, conservative voters react with legitimate shock and anger at being deceived. So it is with Brexit.

Theresa May's decision to delay Brexit has cost her a commanding lead against Labour, according to a new poll.

While the Prime Minister travels to Brussels to ask for another extension, the Tories have plunged 9 points in the latest Kantar poll.

Dropping to 32%, the Conservatives are now three points behind Labour, who stand at 35%
Westminster Voting Intention:

LAB: 35% (+4)
CON: 32% (-9)
LDM: 11% (+3)
UKIP: 7% (+1)
GRN: 4% (-2)

Via @KantarTNS, 4-8 Apr.
Changes w/ 7-11 Mar.

— Election Maps UK (@ElectionMapsUK) April 10, 2019
It just keeps getting worse for the Tories.

According to rumour, no fewer than 20 Tory MPs would fancy their chances in a leadership contest. They'd better get a move on. Because if they don't, there might not be a Tory party left to lead.

Today the Thatcherites and Brexit purists of the Bruges Group held a meeting in Westminster, and anarchy was in the air.

Every mention of Theresa May was met with jeers from the audience. "Traitor!" howled one attendee. "Kick her out!" bawled another. "She's a European!" roared a third.
Talking to Labour was a step too far for the Tory grassroots.

Grassroots Conservative activists are "quitting in their droves", it has been claimed, as new polling shows that more than 90 per cent disagree with Theresa May's decision to open talks with Jeremy Corbyn.
...Mr Porter said volunteers, members and candidates were quitting, with real fears that he way has been cleared for Mr Corbyn to become Prime Minister.