American's #1 Fear
Submitted by

gjohnsit

on Thu, 10/18/2018 - 4:02pm
What do Americans fear the most?
Is it rampaging mobs of liberal snowflakes? Illegal alien rapists? White supremacists?
No, no, and no.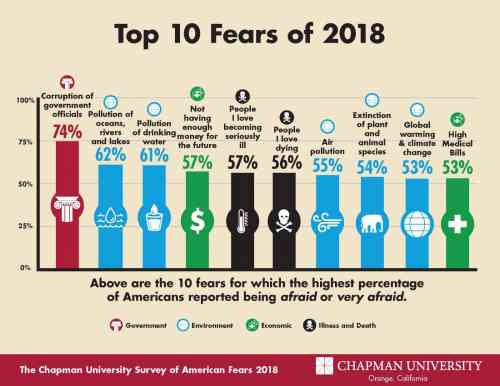 It isn't just one year.
It isn't just one poll.

Three in ten voters (33 percent of independent voters, 32 percent of Democratic voters, and 25 percent of Republican voters) say corruption in Washington is the "most important" topic for 2018 candidates to discuss.
The Trump administration may be the most transparently corrupt in modern history.
Republican politicians clearly state that they are perfectly fine with Trump's corruption.
This open GOP corruption is beginning to show up in the polls.

A majority of respondents in 48 GOP-held congressional districts believe Republicans are "more corrupt" than Democrats, according to a new poll from a progressive policy group.

Politico reported that 54 percent of respondents from the GOP districts said in the online survey administered by the Center for American Progress that Republicans are more corrupt.

Of those surveyed, 46 percent said they believe Democrats are more corrupt.
Given all this you might think that Democrats would be running on an anti-corruption platform.
They aren't, and that should tell you a lot.
To be fair, some Democrats have woken up and smelled the coffee.

Over 100 Democratic House candidates penned a letter Thursday calling for Democrats to make campaign finance and electoral reform their highest priority in the next Congress.

The letter, signed by 107 Democratic contenders, is the latest sign that the party sees cleaning up corporate influence in Washington and other forms of corruption as a key part of its plan to take control of the House of Representatives.

Three-quarters of the candidates who signed the letter have taken End Citizen United PAC's pledge to refuse corporate PAC money.
Virtually all of these Democrats are from the progressive insurgency that is fighting against Democratic Party leadership.
Elizabeth Warren, in a rare move, has gotten out in front of the issue as well.
As for Pelosi and Schumer? You can guess.