American Workers Are Making Way Too Much Money
Submitted by

gjohnsit

on Thu, 06/07/2018 - 4:16pm
Wall Street is freaking out that workers are being paid too much.
You read that right.
Greedy workers who want to both eat and afford a roof over their heads are the problem with this economy. Workers are shameless. They don't care about the real victims.

And as our colleagues in equity strategy have recently pointed out, rising wages are a threat to corporate profit margins ("Labor Costs and US Equities: Stocks Confront Rising Wages with Economy at Full Employment", Portfolio Strategy Research, May 9, 2017).
...With this backdrop in mind, we ask: What would happen to US corporate profits if real wages were to catch up with average labor productivity?

Yes, what would happen if workers kept a small share of the surplus they created? It would be a tragedy, I tell you.
Don't believe me? Consider the sad example of Chipotle.

Chipotle downgraded by Bank of America on concerns that labor is still too expensive
That'll teach Chipotle for not slashing the wages and hours of the employees enough.
It's up to Wall Street to reign in those greedy workers.
The investors on Wall Street and the policy makers on Constitution Avenue share a very strange view of the American economy. One of their biggest economic worries right now is whether workers may be getting too much money.

Needless to say, workers don't share this concern.

Since 2000, workers have been underpaid by about $10 trillion, but the stock market is freaked out by a 9-cent an hour raise?
One of the catalysts for the recent selloff in the stock market was the report last Friday that average hourly earnings (that would be wages) increased by 2.9% over the past year.
Just think of what that 2.9% is doing to the unearned income of billionaires.
Now to be fair, that 2.9% isn't actually real.

In real terms (adjusted for inflation), through December wages were up just 0.6% year-over-year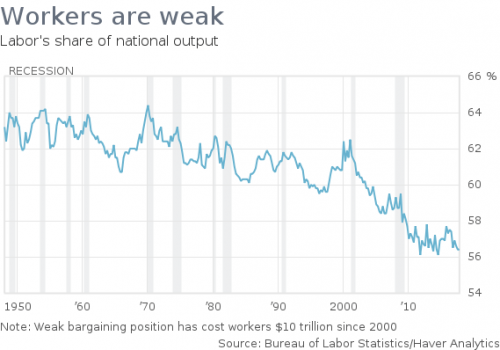 Real average hourly earnings have only increased 0.2% in the past year. It's essentially a nonexistent increase, but Wall Street wants it back anyway.
This complete lack of wage inflation is happening in an economy that has more open jobs than unemployed workers, better now than at any time during either the Reagan or Clinton booms. Bloomberg put it this way.

Wage inflation is alive and well in certain industries, and therein lies a challenge for managers to overcome. Some of the best insights into the overwhelming demand for workers can be gleaned from the less-followed but rich data published monthly by Challenger, Gray & Christmas.
My bad. It appears that there is wage inflation. Bloomberg said so.
In many ways this is the greatest economy in the HISTORY of America and the best time EVER to look for a job!

— Donald J. Trump (@realDonaldTrump) June 4, 2018
It's into the teeth of the best labor market in the history of the world, that the U.N. released a report about poverty in America.

"The United States already leads the developed world in income and wealth inequality, and it is now moving full steam ahead to make itself even more unequal," the report concludes. "High child and youth poverty rates perpetuate the intergenerational transmission of poverty very effectively, and ensure that the American dream is rapidly becoming the American illusion."
...Alston described meeting "people who had lost all of their teeth because adult dental care is not covered by the vast majority of programs available to the very poor," and people in Puerto Rico "living next to a mountain of completely unprotected coal ash, which rains down upon them bringing illness, disability, and death." In Lowndes County, Alabama, the U.N. found cesspools of sewage that flowed out of dysfunctional (or nonexistent) septic systems, which has led to a resurgence in diseases that officials believed were eradicated. A recent study found that more than one-third of people surveyed in Alabama tested positive for hookworm—a parasite that thrives in areas of poor sanitation, which has not been well-documented in the United States since the 1950s.
I'm not sure how these things can be true in the greatest economy in the history of the universe, but I'm sure that the greedy and lazy working class is responsible.

"Americans have become lazy and it's hurting the economy."
Americans are the most overworked people in the developed world, but they are so lazy they won't even prevent themselves from getting hookworm.
Fewer people are starting businesses than ever before, nor are they demanding raises from employers because of laziness.
It's not that our economy is saturated with corporate monopolies, it's because of lazy workers.
In fact, the U.N. report on poverty in America should just be completely ignored.

What it shows is that the U.N. is wasting money, much of it provided by the U.S., on thoughtless political propaganda.
...There are many changes we could make to fight poverty. Two policies that many conservatives and liberals would embrace are loosening requirements for occupational licenses and easing zoning restrictions on housing. The U.N. ignores both issues.
Of course! American workers are constantly complaining about zoning restrictions holding them back!