Acceptable Policy, Conversation and Debate
Submitted by The Aspie Corner on Mon, 12/11/2017 - 11:40am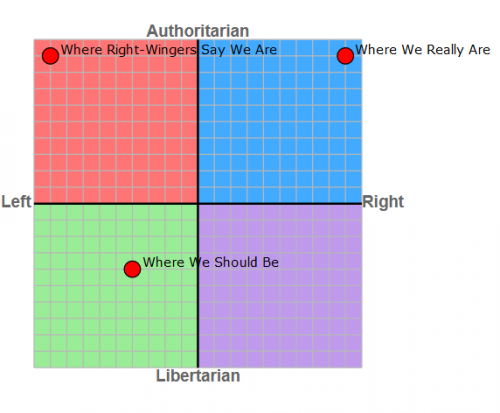 I spent a bit of time on the political compass website making this little graph. Perhaps it could use a bit more information, but I feel this point stands.
As others have pointed out, we are a single party state. It doesn't matter whether you call it the Property Party, the Business Party or the Bourgeoisie, but they will never, ever represent OUR interests.
As for the scope of acceptable conversation, debate and policy, this is where we really are.
My reasoning for this is that for well over 70 years, the Democrats have allowed Republicans to dictate all three, even to them. But it really ramped up in the 1980s with the formation of the Third (Turd) Way and the Democratic Leadership Council, both of which formed after David Koch's failed 1980 Libertarian Vice Presidential bid. Ever since then, the scope of acceptable conversation has contracted to the point where we can't even talk about basic infrastructure improvements without the Property Party bitching about Communism unless you're stupid enough to consider the end of Net Neutrality and the Robber Baron Tax Bill an improvement.
As for our economy, Lee Camp hammered it out pretty well here:
The corporations say that planned obsolescence is innovation. Yet the products they continuously pump out get shittier and shittier in spite of the new bells and whistles. The only innovation in this tactic is in the way these same assholes nickle and dime or outright price gouge the shit out customers.
Here's another case in point:
Local cities and municipalities are actually rolling out internet that's better than anything the corporate porkies can shove down our throats. It also costs quite a bit less. Yet those of us outside these areas never hear about it because if people knew they could actually get better service publicly, the porkies would be forced to compete, or, elements forbid, actually improve their infrastructure. And we all know how they hate that despite all the whining to the contrary.
How does this all go back to the topic about acceptable conversation and debate? In short, those who pull the levers and control the infrastructure decide what is and is not acceptable or allowed to be talked about. It is also why we basically have corporate government at this point.
How we change that conversation is anyone's guess, but it needs to change. And quickly.
Just don't expect help from the Democrats. They're behaving worse than private equity firms like Bain Capital ever could.
See ya around,
Aspie