9 Summaries and links to Recent actions by the ACLU of North Dakota - supporting the Save our Water Protesters and covering some of the many legal issues surrounding the Dakota Access Pipeline - 3 possible action items in first paragraph of story
Submitted by CA Democrat on Sun, 11/06/2016 - 6:30pm
9 Summaries and links to Recent actions by the ACLU of North Dakota - supporting the Save our Water Protesters and covering some of the many legal issues surrounding the Dakota Access Pipeline - 3 possible action items:
you can send the ACLU of North Dakota some $ love at this link -

you can like the ACLU of North Dakota Facebook page here -
1) ACLU Urges Justice Department To Investigate Militarized Response at Standing Rock Protest
ACLU and the Leadership Conference on Civil and Human Rights call for an end to law enforcement response to peaceful protesters with weapons of war. They sent a letter on 11-4-2016 to the Justice Department calling for an investigation of possible constitutional rights violations in the police response to peaceful protesters demonstrating against the Dakota Access pipeline.

Pending that investigation, the letter also calls for local law enforcement to immediately suspend the use of any federally resourced military weapons and equipment.  The letter was signed by Leadership Conference President & CEO Wade Henderson and Vice President Nancy Zirkin, and ACLU Washington Director Karin Johanson.

NOVEMBER 4, 2016 FREEDOM OF EXPRESSION AND RELIGION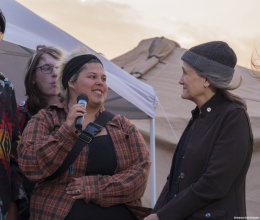 2) Crossing the Fossil Fuel Industry Could Now Get You Locked Up – For Decades
In the United States, people have the right to protest, and the press has the right to write about it. But over the past month, multiple journalists, documentary filmmakers, and activists have been arrested in three different states for engaging in and reporting on protests against fossil fuel infrastructure projects.

OCTOBER 24, 2016 FREEDOM OF EXPRESSION AND RELIGION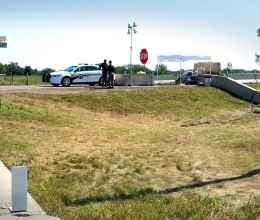 3) ACLU of North Dakota Files Open Record Requests Regarding Policing Practices at the Site of DAPL Protests
The use of highway roadblocks and checkpoints, and militarized equipment by law enforcement in response to DAPL protests and the numerous reports of unwarranted stops by police sent to our office from individuals prompted the records requests.

OCTOBER 13, 2016 FREEDOM OF EXPRESSION AND RELIGION CRIMINAL JUSTICE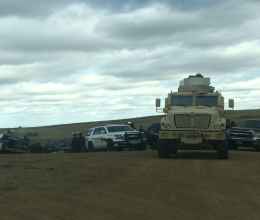 4) The Surveillance State Descends on the Dakota Access Pipeline Spirit Camp
Our country has a long way to go in our relations with indigenous nations. We can start now in North Dakota by demilitarizing, ending the surveillance of the camp and water protectors, and starting to listen to the prayers of those who are protecting the water for us all.

OCTOBER 10, 2016 FREEDOM OF EXPRESSION AND RELIGION CRIMINAL JUSTICE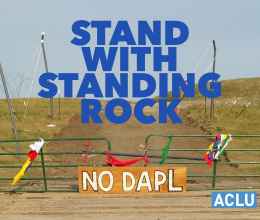 5) ACLU of North Dakota's Statement of Solidarity with the Standing Rock Sioux Tribe
Help the ACLU of North Dakota stand with Standing Rock. Sign their petition and tell Governor Dalrymple to demilitarize North Dakota's response to peaceful protesters and protests against the Dakota Access Pipeline.

SEPTEMBER 21, 2016 FREEDOM OF EXPRESSION AND RELIGION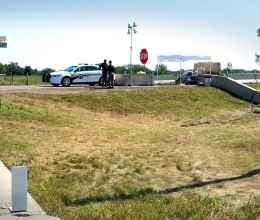 6) North Dakota's Governor Declared a State of Emergency to Deal With Peaceful Oil Pipeline Protesters. We Call It a State of Emergency for Civil Rights.
Several thousand indigenous people from across the county have journeyed to a little-known pasture on the prairie just miles from the Standing Rock Sioux Tribe's reservation to protect the land the tribes consider sacred and culturally significant as well as the water necessary for life. In response to the pipeline protests, North Dakota's government suppressed free speech and militarized its policing by declaring a state of emergency and calling out the National Guard.

SEPTEMBER 13, 2016 FREEDOM OF EXPRESSION AND RELIGION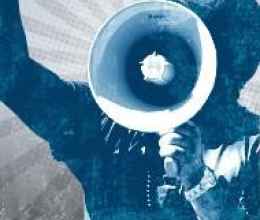 7) ACLU of North Dakota Statement on Excessive Use of Force Against Pipeline Protesters
Eyewitness accounts and video footage of nonviolent pipeline protesters engaged in civil disobedience near Cannonball, North Dakota on Saturday, September 3, 2016, highlight the use of excessive force by Dakota Access, LLC (DAPL) private security personnel on protesters.

SEPTEMBER 4, 2016 FREEDOM OF EXPRESSION AND RELIGION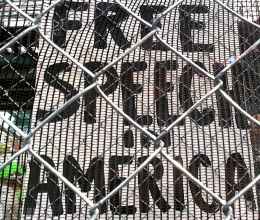 8) ACLU of North Dakota to Governor Dalrymple and Morton Co. Sheriff: Protect First Amendment Rights
The American Civil Liberties Union of North Dakota sent a letter to Governor Dalrymple and the Morton County Sheriff on August 25, 2016 urging them to protect the First Amendment rights of protesters at the site of the Dakota Access Pipeline construction.

AUGUST 26, 2016 FREEDOM OF EXPRESSION AND RELIGION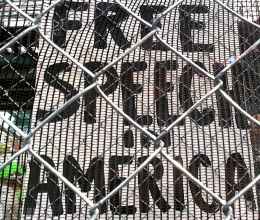 9) ACLU of North Dakota Statement on First Amendment Violations at Dakota Access Pipeline Protests
The curbing of peaceful protests at the site of the Dakota Access Pipeline construction is in violation of our core principles of free speech.

AUGUST 22, 2016 FREEDOM OF EXPRESSION AND RELIGION