Open Thread WE 27 SEP 23 ~ Ancestor Appreciation Day
Submitted by QMS on Wed, 09/27/2023 - 6:02am
~
I was born by myself but carry the spirit and blood of my father, mother and my ancestors. So I am really never alone. My identity is through that line.
Ziggy Marley
"It is in the roots, not the branches, that a tree's greatest strength lies."
― Matshona Dhliwayo
~
Welcome to today's OT. Brought to by the makers of C99. A few little bits are offered herein
to kindle your thoughts. Jump in, the water is fine.
~
Historic happenings on this day -
1821 - Mexican revolutionary forces led by Agustín de Iturbide occupy Mexico City as Spanish withdraw, bringing an end to the Mexican War of Independence
1822 - French scholar Jean-François Champollion announces he has deciphered Egyptian hieroglyphics using the Rosetta Stone
1864 - Pro-Confederate guerrillas led by William T. Anderson with Jesse James loot Centralia and attack a train on the North Missouri Railroad, executing 24 Union soldiers. Later the same day the guerillas defeat the newly formed 39th Missouri Infantry Regiment, killing 123 of its 147 solders.
1905 - The physics journal Annalen der Physik publishes Albert Einstein's paper "Does the Inertia of a Body Depend Upon Its Energy Content?", introducing the equation E=mc².
1908 - Henry Ford's first Ford Model T automobile leaves the Piquette Plant in Detroit, Michigan
1912 - W. C. Handy publishes "Memphis Blues", considered the 1st blues song
1962 - Rachel Carson publishes 'Silent Spring' about the deleterious impacts of pesticide use in the US on the environment
2017 - Researchers confirm existence of giant tree rat "Vika" in the Solomon Islands that can crack open coconuts
~
Ancestry appreciation is different from worship. We do owe our existence to our forebears.
They from theirs. What we do with the present potential is up to us.
"From our ancestors come our names, but from our virtues come our honors." (Latin)
~
~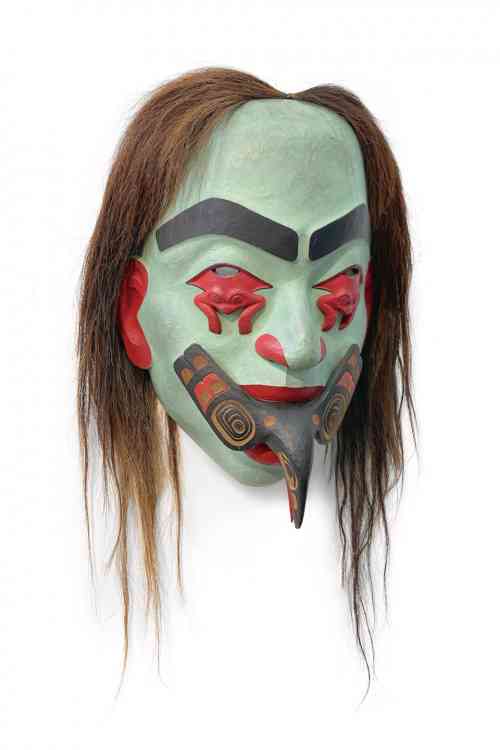 ~
On a different note ..
The wars we are fighting now are somewhat different from our ancestors.
Except the powers had to convince the collective mind that
conflict is the solution to trouble. This is still the case. Aside from the
destructive actions of the military, the newer battleground is for control of
information. Contrary opinions are not tolerated.
~
Credits ~
Beau Dick, "Volcano Woman" mask - red cedar, acrylic, and horsehair
'An Indigenous Present' Is a Paradigm-Shifting Illumination of Native North American Art Today
https://www.thisiscolossal.com/2023/09/an-indigenous-present/
Harmony