Before capitalism
Submitted by gjohnsit on Fri, 05/26/2023 - 1:31pm
Ask almost anyone, and they will tell you that people in the past lived lives of brutality, poverty, and short. It's only with capitalism that people's lives began improving. Right?
Well, actually no. Not even close.

The evidence we review here points to three conclusions. (1) It is unlikely that 90% of the human population lived in extreme poverty prior to the 19th century. Historically, unskilled urban labourers in all regions tended to have wages high enough to support a family of four above the poverty line by working 250 days or 12 months a year, except during periods of severe social dislocation, such as famines, wars, and institutionalized dispossession – particularly under colonialism. (2) The rise of capitalism caused a dramatic deterioration of human welfare. In all regions studied here, incorporation into the capitalist world-system was associated with a decline in wages to below subsistence, a deterioration in human stature, and an upturn in premature mortality. In parts of South Asia, sub-Saharan Africa, and Latin America, key welfare metrics have still not recovered. (3) Where progress has occurred, significant improvements in human welfare began several centuries after the rise of capitalism. In the core regions of Northwest Europe, progress began in the 1880s, while in the periphery and semi-periphery it began in the mid-20th century, a period characterized by the rise of anti-colonial and socialist political movements that redistributed incomes and established public provisioning systems.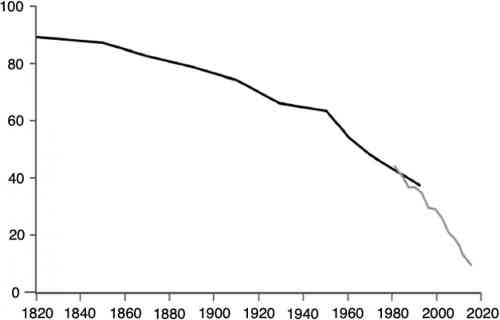 Most people are aware of this chart, or something like it. It's a chart showing extreme poverty in the world. But something seems wrong about it,
Was literally everyone always starving in history? Really?
And there is. The reason is because this chart essentially measures GDP.
To give you an idea, the GDP of British India grew a lot during that period, while the life span of Indians dropped by 20%, as the country suffered one famine after another.

If a forest is enclosed for timber, or subsistence farms are razed and replaced with cotton plantations, GDP goes up. But this tells us nothing about what local communities lose in terms of their use of that forest or their access to food. The impact on livelihoods is swept under the statistical rug. For instance, historical national accounts suggest that GDP per capita in the Spanish-occupied Philippines increased by over 15% between 1820 and 1902 (Bolt & van Zanden, 2020). Yet parish records indicate this was a period of increasing mortality, due to "a general deterioration of peasant livelihoods… a consequence of the rapid commercialization of peasant agriculture"
There is also major problems with how poverty is defined.

Consider the case of China, for example. According to the $1.90 method, the poverty rate in China fell from 66% in 1990 to 19% in 2005, suggesting capitalist reforms delivered dramatic improvements (World Bank 2021). However, if we instead measure incomes against the BNPL, we find poverty increased during this period, from 0.2% in 1990 (one of the lowest figures in the world) to 24% in 2005, with a peak of 68% in 1995 (data from Moatsos, 2021).3 This reflects an increase in the relative price of food as China's socialist provisioning systems were dismantled
Another problem is using 1820 is the starting point.

Between 1600 and 1820, GDP per capita declined by 21% in Poland and 26% in India (data from Bolt & van Zanden, 2020). From 1700 to 1820, China, Peru, South Africa, and Mexico saw their incomes drop by 43%, 28%, 56% and 32%, respectively (ibid). China and India did not return to their earlier peak until the 1960s and 1970s
So if GDP isn't a good way of measuring poverty, what is?
The second indicator we analyse is average adult male height. Malnutrition and poor health tend to limit childhood growth, so the average height of a population can be used as a rough proxy for access to basic-needs satisfiers (Baten and Komlos, 1998, Koepke and Baten, 2005, Baten and Blum, 2012). Of course, trends in the average level of welfare attainment may not accurately reflect the incidence of poverty if there is significant inequality. Nevertheless, human height provides one of the few indicators we have of a population's access to nutrition.
...The third indicator we analyze is the mortality rate. As Amartya Sen (1998) argues, economic welfare has a substantial influence on mortality.
These measurements all have limitations, but have results that make a lore more sense.
But we have the iphone and internet today!
You mean the internet that was created entirely by the government?
And then there is the iphone.

OK. But look at modern medicine, amiriite?
Yep, modern medicine. Something no one can honestly attribute to capitalism.
For instance, the most capitalist health care system in Earth also has the worst health care outcomes.
This study deserves a lot more attention, and I recommend you read it when you have time.