Not Another Dose?
Submitted by Lookout on Sun, 10/02/2022 - 5:55pm
The Pandemic is Over!
"The pandemic is over," he said. "We still have a problem with COVID. We're still doing a lot of work on it. But the pandemic is over. If you notice, no one's wearing masks. Everybody seems to be in pretty good shape, and so I think it's changing, and I think [the Detroit auto show resuming after three years] is a perfect example of it." Yet, Biden's own administration seeks an additional $22.4 billion from Congress to keep funding the fight against COVID.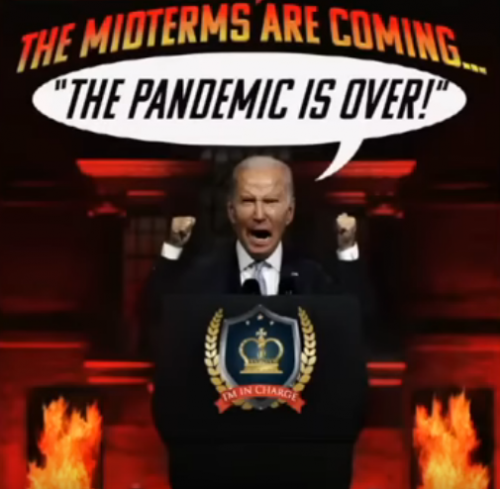 Ironically I agree with Joe. That doesn't happen often. I too think the pandemic is over. As does John Campbell who I found a rational voice during the covidiocy.
He as usual provides the links under the clip.
His argument becomes if it is over, then why are the EMERGENCY use vaccines still being recommended. Especially considering the adverse effects many people have from the vaccines.
Yet we still have bad Covid policy coming down the pike...
"Newsom's California is on the Verge of Taking Medical Insanity to A Whole New Level"
Kim Iverson chimes in..
Doctors To Be SILENCED By New California Law If Gavin Newsom Doesn't Veto TODAY
One of my favorite UK doctors is Aseem Malhotra. He has been a hero pushing for healthy food, diet, and life style. He suggests the risk of adverse reactions out weighs the benefit.
Writing in the peer-reviewed Journal of Insulin Resistance, one of the UK's most eminent Consultant Cardiologists Dr. Aseem Malhotra, who was one of the first to take two doses of the vaccine and promote it on @Good Morning Britain says that since the rollout of the vaccine the evidence of its effectiveness and true rates of adverse events have changed.
In a two-part research paper (part one and part two) entitled " Curing the pandemic of misinformation on COVID-19 mRNA vaccines through real evidence-based medicine," real-world data reveals that in the non-elderly population, the number needed to vaccinate to prevent one death from Covid-19 runs into thousands and that re-analysis of randomised controlled trial data ( that first led to approval of the vaccines for BioNTech/Pfizer and Moderna) suggests a greater risk of suffering a serious adverse event from the vaccine than to be hospitalised with Covid-19.
As winter nears, infections will increase. It has always been the case in the cold/flu season. Fortunately, most infections of BA5 Covid present as cold. Though most colds are common cold virus.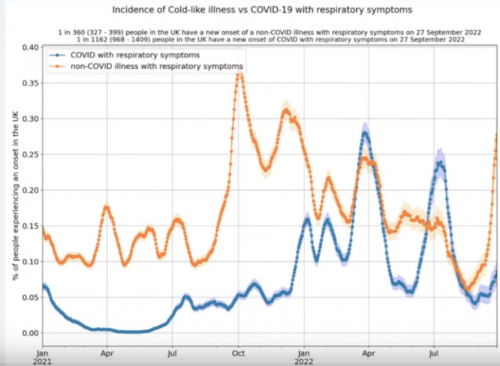 So there's been lots of time and money devoted to understanding the Sars-CoV-19 virus, however there seem more questions than answers. (15 min)
Virus secrets, some known unknowns
Where are we today with this disease?
Dr. Pierre Kory and Scott Marsland, FNP discuss where we are today with COVID-19. Betsy Ashton hosts and moderates audience Q&A regarding testing, treatment and vaccines.
Bottom line, it is over, but it's not over. Certainly the pandemic is over, but the virus is now endemic with mild symptoms for most. A friend's young (20 something) niece and husband have been quite ill with Covid. So some people are still suffering the effects of this virus, but many suffer few if any symptoms.
A Doctor's experience and perspective with an Omicron reinfection. I'm sure I'm not the only one! Here, I talk about my (a doctor's) thoughts, reflections, experiences, and the evidence behind each step of getting reinfected with Omicron. I cover testing (home vs PCR), current variants (anything to be worried about - BA.5 vs BA.4.6), contagious period (isolation steps), symptoms (dry cough, fatigue, headaches, muscle aches, sore throat, severe congestion, tons of sneezing? loss of smell?), reinfection risk (after Omicron with or without vaccination), Long COVID (Omicron infection vs other variants and also after reinfection)
My point being COVID hasn't disappeared.
The real mystery is excess deaths. Dr John explores the UK's situation.
Record excess deaths in Europe...European Union, Excess mortality hits +16%, highest 2022 value so far
I hope all of you are well and managed to avoid vaccine injury, covid symptoms, and long covid.
I thought it was time to review the current state of this disease which has been the center of life for so long, but is now off the screen as Ukraine takes center stage. People are easily distracted.