Open Thread - Thurs 11 Aug 2022 - Sex and Gender in Archaeology Part II
Submitted by Sima on Thu, 08/11/2022 - 5:08am
Sex and Gender in Archaeology, Part II -
A few weeks ago I wrote a little bit about 'woke' archaeology. This week I want to discuss a couple of examples of the re-examination of archaeological remains (basically skeletons in burials) and how that re-examination has changed the sex assigned by archaeologists of the individual studied, and perhaps our overall view of the individual's society. Theory and 'facts' can change in Archaeology, and any other discipline, as science and knowledge changes (see this article, linked by Peachcreek in a comment on my open thread on woke archaeology, for a good summary of all this).
Before DNA analysis enabled archaeologists to ascertain the sex of individuals scientifically archaeologists used the best methods they had to determine the biological sex of the individual studied. They assigned sex by the items found with the individual, by the location/type of the burial, by the size of the bones found, etc. By and large, these assignments are not wrong, even after DNA analysis. However, there are some burials, cremations or inhumations, which show a different sex after DNA or other analysis than they were previously assigned. This is EXCITING and means that every society had/has 'exceptions' which 'prove the rule'. And studying those exceptions, making theories about how that society handled those various exceptions and more, are all valid and rerwarding endeavours.
As I stated above, reanalyzing archaeological remains with new scientific methods can bring about fascinating results. This article from January in the Guardian talks about a bit of that in relation to sex and gender. In one case, a Viking warrior, buried in Birka, Sweden with lots of weapons, turned out to be a woman. In other case, two skeletons were buried together 1500 years ago holding hands in what was to become the city of Modena, Italy. They were found in 2009 and local newspapers in Modena called them 'the Lovers'. The finds were difficult to analyze, and it wasn't until new scientific methods related to DNA were discovered that the skeletons were determined to be both male. Here's a few possible conclusions about the Lovers, perhaps you can come up with some of your own. None of them are certain, because as knowledge grows, conclusions can be modified and change. Do the Lovers mean that 500 AD Modena accepted homosexuals? Why not? The ancient Greeks did, and so did the ancient Romans (eventually). Or maybe the Lovers were just rich and therefore were tolerated. Or maybe they were still pagan and not Christian and so weren't considered to be evil. Maybe they were brothers. Explanations can go on and on. Same with the Viking warrioress. Was she really a fighter? Was she honored as a fighter, despite not being one, for some reason? Was she rich and/or important and her foibles and love of war were therefore tolerated? Most Viking warriors were men, so the overall trend doesn't change with this discovery but the questions it brings up, and the view it gives into Viking culture, is fascinating.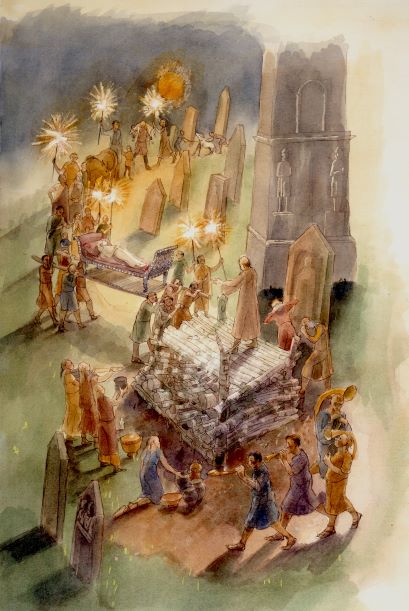 A Roman military funeral pyre (from Cool, et al 2004)
Now, here's something a bit closer to my expertise. In 2004 Hillary Cool, et al, published an analysis of an excavation of a cemetery dated to the early-mid to late 3rd C AD at Brougham Roman fort, in Cumbria, England. This is a fort which was part of the Roman frontier system called the Hadrian's Wall complex which ran from coast to coast across northern England. Anyway, the cemetery was dug up in the 1960's, but analysis of the remains came 40 years or so later. Men, women and children were found in the cemetery; most of them had been cremated. Some of the cremations were very elaborate, reflecting the culture of the far distant tribe from which the soldiers and their wives (at least the first generation were probably Danubian) originated. Several cremations included horses, weapons, items made of ivory, jewelry and more. Most of those honored this way were men, but there were two cremations of people noted as 'likely women'. Both had scabbards in their graves, horses were cremated with them, and they had other riches, ivory items, jewelry, and so on. They were about 20 to 30 years old. Were they military leaders? In the Roman army? Or were they the wives or relatives of senior military officers and given the trappings of an important male burial because of that relationship? There's no information that seems to hint that the Roman army recruited women, but perhaps these were actually warriors, part of the units which Roman commentators called 'numeri' and irregular formations (see Cool 2004 pg 461). It's unlikely they were warriors, but, who knows?
So, thanks for reading and here's the open thread - and remember, everything is interesting if you dive deep enough, so tell us about where you're diving!