Essay Title Contest
Submitted by snoopydawg on Thu, 05/26/2022 - 12:52am
Pro-NRA, anti-choice Henry Cuellar narrowly won his primary thanks to Nancy Pelosi going to Texas to campaign for him. 19 little children in Texas shot to death on the same day.

Call Nancy Pelosi's office and let them know you are no longer a Democrat: 202-225-4965 pic.twitter.com/jA2eYOp9wI

— Prof Zenkus (@anthonyzenkus) May 25, 2022
Across the country, parents are putting their children to bed, reading stories, singing lullabies—and in the back of their minds, they're worried about what might happen tomorrow after they drop their kids off at school, or take them to a grocery store or any other public space.

— Barack Obama (@BarackObama) May 25, 2022
It's long past time for action, any kind of action. And it's another tragedy—a quieter but no less tragic one—for families to wait another day.

— Barack Obama (@BarackObama) May 25, 2022
The western psyche has managed to normalize its military killing children abroad, unleashing chemical warfare, rape, poisoning land and crops, bombing hospitals and schools, and we still question the acts of violence that happen in the West as though they are somehow separate.

— دانييلا (@daniellawabdeh) May 24, 2022
that they've successfully pulled off the "someone should do something about what we're making sure no one does anything about" scam for so long just blows my mind, incredible

— Gallifreyan Jedi (@JediofGallifrey) May 25, 2022
Democrats are bitching loudly about how it's the republicans fault that school massacres keep happening because they are Pro-NRA and anti abortion whilst the fcking queen of democrats just made sure that a Pro-NRA and anti abortion candidate won re-election.
Since Roe was passed democrats have had 50 years and and 3 times to pass pro choice legislation, but have failed to do so. They have had the same chances to do something about gun laws or anything else that they are currently running on. But instead of admitting that they have let their voters down they will just keep blaming republicans for not getting their promises kept.
I'm already seeing shitlibs saying that people must vote clap harder and get the democrats a bigger majority so that Joe Lieberman Manchin-Sinema-the parliamentarians and lots of other democrats hiding behind the scenes can't hijack their agenda.
Democratic voters will not hold their president accountable for doing the same gawd damn thing that they give republican presidents shit for doing when it comes to war and crimes against humanity like when Obama murdered 3 American citizens without due process.
Remember when Obama said this after one of the persons he picked for assassination was murdered?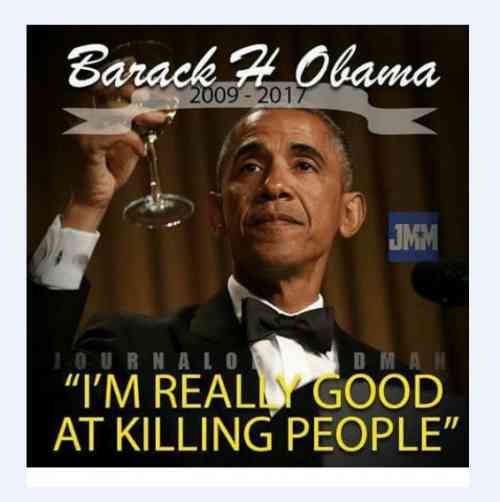 For weeks shitlibs have been asking for donations to get Cisneros elected over Cueller, but not one of them have called out Pelosi for campaigning for Cueller over her. And after democrats failed to pass abortion rights this is what Pelosi said when called out for her support of Cueller:
Speaker Nancy Pelosi re-affirms support for Rep. Henry Cuellar (D-TX), the last anti-abortion Democrat in the House, ahead of his May 24th runoff:

"It's up to his constituents to make the decision ... He is not pro-choice, but we didn't need him [to pass a bill codifying Roe]." pic.twitter.com/tCitiBSsVt

— The Recount (@therecount) May 12, 2022
Fcking hypocritical b*tch! A catholic priest in SF has cut off Pelosi from communion because of her pro abortion stance. He should have cut her off because she doesn't have a soul. She complained that the church doesn't cut off people who believe in the death penalty. They certainly don't seem to have a problem with people who keep voting for war and sanctions that kill just as many people.