Open Thread WE 18 MAY ~ be 22
Submitted by QMS on Wed, 05/18/2022 - 5:28am
~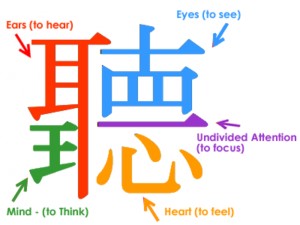 ~
Essentially, the Chinese symbol for the verb "to listen" reads – "I give you my ears, my eyes, my undivided attention and my heart"
~
Welcome to today. This is a fun little excursion into perception awareness. On a solely
personal level we tend to perceive facial cues. Expressions, both verbal and facial, tell us
what is an attempt to get across an idea. This becomes difficult in this age of masking.
On a more media biased level, listening can give us clues as to the intent of the
talking heads. We see the images, hear the banter and protect the heart, as it
becomes fairly clear partial truths and symbolic logic leads to expected reactions.
It is not useful to give undivided attention in this respect. Use the smell test
~
Eyes, ears, nose and throat. The eyes and throat speak. Ears and nose are interpretive.
~
~
Something about Ukrainian lies, inabilities to accept the stifling of free speech,
supremely inept courts and the empire crushing the financial fantasy
are probably most on peoples minds. Therefore ..
~