Signal Wave
Submitted by Cant Stop the M... on Tue, 01/25/2022 - 5:35am
As I'm sure many of you will be unsurprised to hear, this will be the last Signal Wave. I have been privileged to share the last six years with you guys. You have been wonderful interlocutors--smart, kind, challenging in all the right ways, and understanding when my writing wasn't up to snuff, or just plain wasn't there.
We invented this site as a haven for free thought, and a blow struck against bullying and authoritarianism of all kinds. What we have created did not always live up to our dream. But we have been a force for good. Creating a space for independent civil discourse in the current paradigm is like holding a nice dinner party in the middle of a shark tank. We have been more often successful than not, for several years, and that's near-miraculous. Anyone who pokes their head outside of this site to look at politics knows that the kind of discussion we have here is not in abundant supply in the world at large. Helping to hold this space has meant a lot to me.
It occurs to me that that last paragraph sounds like an epitaph. That's not intended! Both I and the site will continue to be here. But it's time for my formal role to come to an end. I'm having a problem with stress, and need to get a handle on that, and that's going to be my focus for the next little while.
I'll end with a word about my name. Someone recently made a joke about how I, CantStoptheSignal, apparently was turning into Can'tContinuetheSignal. I responded that I wasn't the signal. Even Mr. Universe wasn't the signal, as you can see here:
They actually can't stop the signal, no matter what person they stop. Or, at least, they can't stop the signal from transmitting. They can stop it from being received, which is more or less what my last Open Thread is about.
On to my last Open Thread!
The last unconquered kingdom is the mind. Do not allow anyone to take it from you. In Ulysses, Stephen Dedalus taps his forehead and says, "In here it is that I must kill the priest and the king." He was right. Do not let the powerful dictate the terms on which you think.
Politics and the media are, for the most part, a large, interlocking multi-billion-dollar operation whose aim is building a prison around the public imagination. The first step toward keeping your mental independence lies in looking through the fence. They're always putting up fences around our thinking. Look through them. Look elsewhere. Look where you're not being told to look.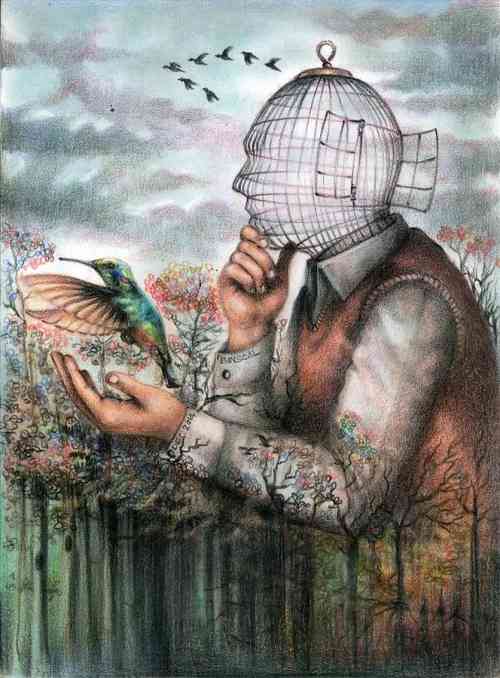 Looking elsewhere can uncover and undo a lot of the operations they're doing on your mind. First, the classic: distracting people from one story with another. You guys don't need me to tell you how to notice that; some of you are better at it than I am. But it's worth saying, especially in a week where the powerful are screaming about war. What are they trying to distract us from?
Looking elsewhere can also counteract the movement of the Overton window. If there's anybody out there who doesn't know what the Overton window is, Wikipedia defines it as follows:
This definition is correct as far as it goes, but is also seriously limited. The Overton window does not only apply to what the public finds acceptable, because the very idea of what is acceptable is based on the idea of what is possible. So the Overton window applies to what the public finds acceptable out of the range of choices they believe to be possible. You can control what the public wants by controlling what they believe they can have.
Manipulating people's sense of possibility is at the heart of most political and media operations these days. In false democracies, it's the people who determine the menu of choices that have the real power (not those who select off the menu). So how do you impose the range of possibilities you want on the populace? How do you get them to agree that something isn't possible?
Well, you use politicians and media figures. Divide them up into teams and start a fight. Both sides of the fight should embrace policy outcomes that are acceptable to the elites, or alternatively, one side should be set up to lose from the beginning. If you want to simply erase a concept from people's expectations, the first method is the best. To take a simple example, if you make environmental policy a fight about whether we should use methane to heat our houses or coal, green energy disappears. That happens whether you're making methane or coal the good guy in the fight (at different times, the establishment has done both). Or you can make it a fight about whether or not we sign the Paris Accords. Signing them or not will have little effect on slowing climate change, but that's kind of the point. Neither side includes the option for real change with material outcomes. That's what you want: people getting passionately involved in a fight that won't change squat. Similarly, if you make it a fight between a public option and Obamacare, then Medicare for All disappears from view.
Or it should. Why didn't it? Because people needed Medicare for All too much. And, as is not the case with green energy, they knew they needed it.
When the people stubbornly refuse to give up a concept, the second method comes into play. It becomes necessary to display the repeated defeat of the idea:
If you can't persuade people to simply forget an idea, you can bludgeon it out of their consciousness. Show them the idea (or the guy with the idea) getting defeated again and again. Convince them there's no hope and soon they will forget the idea even existed. It doesn't always work, but it works often enough.
Fabricated fights, tailor-made to serve the interests of the establishment, constitute a large portion of the elites' strategy to subjugate our minds. They work by playing on people's emotions, drawing them in, and getting them to identify with one side or the other. It's actually a lot like internet trolling, but on a massive scale. The elites are always looking to start a flame war.
One characteristic of recent times is that more and more people are buying into these flame wars, holding these fabricated conflicts in such importance that they're willing to give up principles they've held for years in order to stay loyal to "their side." We saw it with Trump, whose election was basically the liberals' 9-11. Suddenly liberals sounded just like George W. Bush supporters: advocating for censorship, calling people traitors, engaging in witch hunts, talking about Russia like the Cold War hammerheads they made fun of in their youth--all in order to (supposedly) oppose Trump. But at least their mistakes were obvious. It's much worse when you've got fabricated fights built around real issues.
Racism is a real problem. So is sexism. So are all other forms of bigotry. These can, in fact, constitute mortal problems: matters of life and death. But these days, bigotry as a concept is used to draw people into both sides of fabricated fights. The people who want to be bigots flood into these fights with little resistance (and have been doing so since the late seventies). White, right-wing, working-class racists used to be the establishment's favorite tool, mainly because they would accept (and deliver) any treatment as long as they could deem themselves superior to somebody. They are also great at diverting blame from the elites. (Ask anybody to draw a picture of a racist. I bet you'll find more people drawing pickups than Maseratis.)
But as time went on, it became less acceptable to be a bigot. More people didn't want to be bigots--and even more people than that didn't want anyone to they were bigots. The elites started using people's fear of being called bigots to shut down discussion, curtail freedom of thought, discredit policy ideas, and destroy reputations. In essence, the elites realized, under Obama, that they could make just as much use out of the fight against bigotry as they could out of bigotry itself. Now both sides of the race war fueled status quo American politics and reified the current power structure.
You can see the elites' seamless switch to the other side of the race war by comparing Hillary Clinton's 2008 campaign to her 2016 campaign. In 2008, Hillary was saying "Hard-working Americans, white Americans, will not vote for Barack Obama." In 2016, Hillary was showing everybody the hot-sauce bottle in her purse. Nobody remarked on the switch. Everybody just accepted the various political factions at face value, and lined up with the ones they liked.
Why do so many intelligent people buy into these fabricated conflicts? I think some just want a distraction from grim reality. But I believe that others buy into these mass media binaries because they're afraid the conflicts are real. After all, racism is real, and the damage it does is real. It's easy to assume, therefore, that every call to fight racism is also real. If it's really a fight against bigotry, people don't want to be on the wrong side.
That's admirable, but no excuse for abandoning your common sense. I've been accused of being racist because I didn't support drone strikes. I've been accused of being racist because I didn't support mass warrantless surveillance. I was even accused of being racist because I *did* support Social Security. Basically, online--or in the world of broadcast media--you are bigoted whenever the loudest people say you are, regardless of what you have or have not done.
To use a real, life-threatening problem to enmesh people in fabricated conflicts requires more than just controlling the menu options (if you want to stop racism, join this group; if you like racism, join this other group). It requires redefining the problem. For example, actually fighting racism would bring down our entire social system, and the elites don't want that. Racism has to be redefined so that fighting it does not interfere with business as usual. Social justice has to be edited. And it has been. The same is true of sexism.
Here's a good trick. If someone claims to be anti-racist, ask them what their plans are for changing the prison system. If someone claims to be feminist, ask them what they think of shortening the work day so that parents can adequately care for their children--or, alternatively, simply paying people to stay at home to raise their kids. People who are actually concerned about racism or sexism will try to grapple with the issue you raise. People who are not will find ways to make your question evidence of your bad character.
Defining our politics as The Democratic Establishment vs Trump has been the elites' latest and best move on the national chessboard. It's worked like gangbusters for the richest few, regardless of which side you are on and regardless of which side wins. The only winning move for someone who wants to maintain their freedom of mind is to withhold your allegiance--and I'm not talking about your vote. Vote for whomever you please, belong to whatever political party you please. That matters little, at this point. But retain your intellectual independence, your freedom of thought. Do not allow yourself or your concerns to be defined by the manufactured conflicts purveyed by our politicians and press. Remain free.
--from "Manifesto: the Mad Farmer Liberation Front," by Wendell Berry.
P.S. Hey, y'all. I forgot to mention that I will be dropping by the site fairly regularly; if you haven't seen me in comments lately and want to touch base, feel free to PM me or send a message to electricmayhem1968@gmail.com