The Dose 1-16-22
Submitted by Lookout on Sun, 01/16/2022 - 6:06am
Still laying down on the jab...
A column for conversation of all things COVID
Watch as FLCCC Clinical advisor and pediatrician, Dr. Liz Mumper discusses how children have been affected by the pandemic, the risk factors they face, and the various vitamins and medicines they should be taking. Plus, Dr. Marik joins Dr. Mumper to answer pertinent questions as they relate to kids and omicron.
Good discussion by a pediatric functional doctor explaining the relatively low risks and appropriate treatments for kids.
The employer vaccine mandate was overturned this week, but hospital employees and the military are still required to take them. Like many hospital workers, this UK doctor plans to resign rather than submit to a shot.
https://www.youtube.com/watch?v=4Ik6cxFBbBw (37 min)
article: https://unherd.com/thepost/dr-steve-james-id-sacrifice-my-job-over-vacci...
Dr Steve James is a critical care consultant at King's College Hospital in London. When Health Secretary Sajid Javid visited last Friday, he asked the NHS staff about what they thought of the forthcoming mandates that will make Covid vaccination a condition of deployment for NHS staff. Dr James spoke out, saying why he was against the mandate and why he hadn't taken the vaccine himself.

It made headlines across the UK media, in particular coming from a Cambridge-educated NHS frontline doctor. Dr James came in to the UnHerd studio to explain his position in more detail to Freddie Sayers.
The absurdity of mandates has been laid bare by omicron
Studies show vaccinated people more likely to catch COVID than the unvaccinated This is especially true if the vaccines are from months ago (like mine)
more here.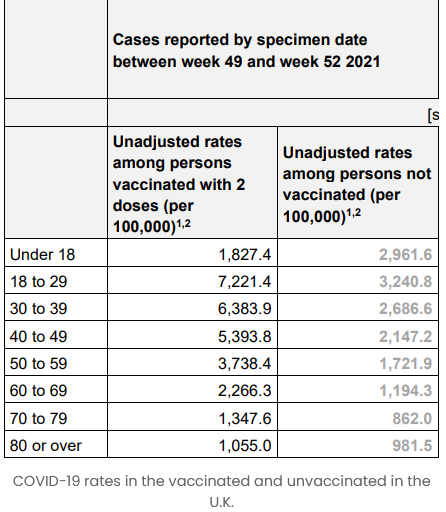 "Boosters begin to fail essentially immediately against Omicron, despite the massive (and potentially dangerous) increase in anti-spike-protein antibodies they produce," journalist Alex Berenson commented. "Why are we encouraging people to get 'vaccinated' or 'boosted' with a 'vaccine' that within a few weeks probably increases their risk of becoming infected with the newly dominant variant of Sars-Cov-2?"
https://alexberenson.substack.com/p/has-covid-vaccine-efficacy-turned
Worth the full read.
Vaccine Alternatives: Safe & effective Treatments that are "Cancelled" (1.5 hours)
https://vsecretscc.com/episodes-6-live/?mpweb=1603-514-831629
plus one hour bonus...
MEDICAL TYRANNY: Hospital Cartels & CDC Cover Ups With Dr. Jane Orient & Dr. Brian Hooker
The floor is yours.