Open Thread - Homesteading in France
Submitted by Dawn's Meta on Thu, 10/07/2021 - 8:12am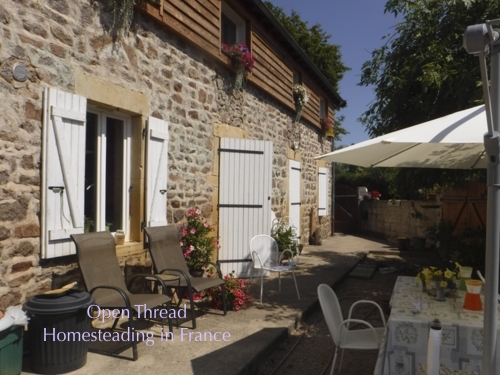 When the weather turned cold and rainy in October, ready or not, we moved into our house after waiting so long.
Much of our belongings are in storage, until we can oil our shelving, kitchen, and finish space for storage on site and closets.
We are now a family of us, our smart Teddy and two male cats who were in our ditch on a cold and rainy night. After making sure no mom was around, and two vet visits, they were declared infection free, so we named them Ira and George. Teddy isn't exactly sure what he should do with them but he slowly adjusts.
https://www.smugmug.com/gallery/n-259txb
For the first time in four years, we have had a Christmas Tree from a nearby farmer, and a few decorations around the house.
https://www.smugmug.com/gallery/n-2ZC38q
We miss our community choir, as COVID has pretty much shut things down. It was our weekly French lesson with a two hour practice and a house gathering of several hours after each practice. We had weekly contact with forty five French speakers, lots of good music, and welcoming faces. As with everyone around the world, we are more isolated.
Now that we are home, we are finding our favourite bakeries, our best meat market and organic food store. We miss the weekly fresh markets, which our visitors were able to enjoy. While the French government is paying most of the income missing we do worry that the little businesses scattered across the country-side are struggling. We also miss our restaurants, and have the same concerns for them.
This is a time of world-wide stress and dilemmas. Some of the events of which only one in the past would have been traumatising, are piling up, one on another. We are not sure of the way forward for our nations, our families and friends.
But we work forward, to make our house a home. And to enjoy the natural world around us.