Indifference to working-class suffering will kill tens of thousands
Submitted by gjohnsit on Sun, 11/29/2020 - 7:30pm
Winter Is Coming for the American working-class.
Even if you don't care about the working poor, their suffering is going to affect you. In some ways it already has. Despite the CDC eviction moratorium, evictions have continued during the pandemic. This is led to hundreds of thousands of people being infected with Covid.

Expiring state eviction bans have led to hundreds of thousands of additional coronavirus cases, new research finds, raising alarm about what will happen when the national eviction moratorium lapses next month.
...
The researchers, from the University of California, Los Angeles, University of California, San Francisco, Johns Hopkins University, Boston University and Wake Forest University School of Law, found that lifting state moratoriums and allowing eviction proceedings to continue caused as many as 433,700 excess cases of Covid-19 and 10,700 additional deaths in the U.S. between March and September.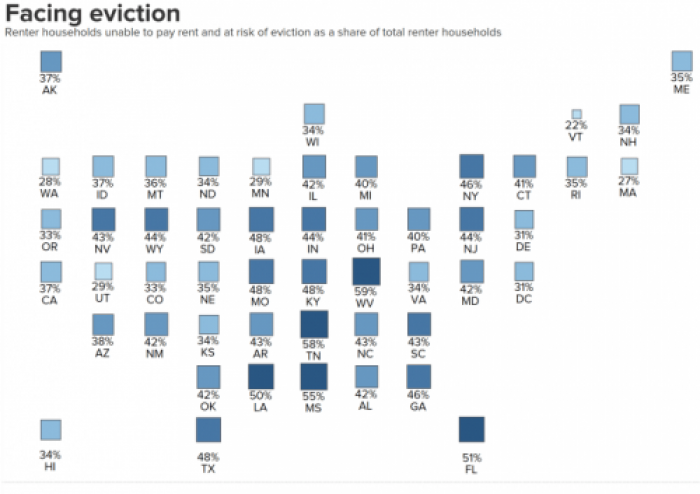 If the CDC's eviction ban isn't extended until 2021, experts say, many new cases are likely to emerge from people being forced out of their houses and apartments.

"This is a time where it's not an overstatement to say that for many people, eviction can lead to death," said Helen Matthews, communications manager at City Life Vita Urbana, a nonprofit in Boston.
It should come as no surprise to anyone that making people homeless during the pandemic is a public health nightmare. Yet the eviction moratorium did not mean free rent. All that unpaid rent is build up to $36 billion.
So how many people are about to be evicted? How many people will be homeless on our streets in the coming months?
It depends on who you ask, but it will be in the tens of millions. Let that sink in for a moment. Tens of millions of Americans are about to lose their place of residence. The government has no plans to do anything about it.
One study says 19 million Americans will be evicted in the next two months. That's the conservative estimate.
Another study says 40 million Americans will lose their homes this winter. These are numbers that will destabilize American society and the American political system.
The end of the moratorium comes at the same time as the end of stimulus money.

UI, stimulus, and welfare combined, after spiking to an annual rate of $3.88 trillion in April, fell to $1.04 trillion in October

39 million Americans don't have enough to eat right now, and people are waiting in line for hours at food banks all over the nation just for some Thanksgiving handouts.

According to the U.S. Census Bureau, approximately 12 percent of all Americans did not have enough food to eat between October 28th and November 9th.
Let's like clear about something. Politicians, the media, and of course the wealthy couldn't care less about the suffering of the working class.
However, they do care about getting sick and dying. So what's going to happen is that working class are going to be crushed, and only then, when the Covid cases spiked to unimaginable levels, will the ruling elites have an epiphany. That epiphany is you really are your brother's keeper.