Welcome to Saturday.
Submitted by randtntx on Sat, 10/31/2020 - 5:30am



MOON STORIES

Travelers in the Moonlight by Hiroshige (mid 1800's)
wikimedia commons
We have a Blue Moon tonight which is also the Hunter's moon and it falls on Halloween.
Our Moon inspires awe. Look up. Catch a glimpse of the Moon.
Our October sky is interesting, if you have clear skies you can see Mars, Saturn, and Jupiter as well. Saturday's blue moon will peak at 10:49 a.m. ET, but will look full the night before and the night after.
A Blue Moon is by definition a second full moon that occurs within the same month.
The moon as a symbol of romance:
A Full Moon on Halloween occurs roughly only every 18-19 years.
According to NASA, the next time a full moon falls on Halloween isn't expected until 2039. I wonder if we will hold elections that year. It's getting spookier all the time.
Halloween has its roots in the Celtic celebration called Samhain. According to the Farmer's Almanac, "the ancient Celts believed that the veil between the worlds of the living and the dead was at its thinnest during Samhain".

Carl Gustav Carus: Klosterruine im Mondlicht (1818)
Wikimedia Commons
Eartha Kitt's interpretation:
The full moon at the end of October is known as the Hunter's Moon, (aka the Blood Moon) because it marked the time when the harvest was finished and the hunting season began. It is the first full moon to follow the harvest moon.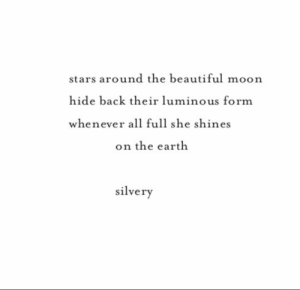 Sappho fragment #34, translated by Anne Carson, from If Not, Winter , 2002.
The moon as a companion:
Fellow travelers:

Near Hackness, a moonlit scene with pine trees. John Atkinson Grimshaw (1875)
Wikimedia Commons