How U.S. propaganda works
Submitted by gjohnsit on Mon, 09/28/2020 - 2:53pm
Everyone is already familiar with fake news.
The Gulf of Tonkin incident, Iraqi weapons of mass destruction, virtually every Russiagate story, etc.
Those are easy and obvious. But most propaganda involves what isn't said.
For example, let's look at today's headlines.
(Reuters) - Washington has made preparations to withdraw diplomats from Iraq after warning Baghdad it could shut its embassy, two Iraqi officials and two Western diplomats said, a step Iraqis fear could turn their country into a battle zone.

Any move by the United States to scale down its diplomatic presence in a country where it has up to 5,000 troops would be widely seen in the region as an escalation of its confrontation with Iran, which Washington blames for missile and bomb attacks.
Oh noes! Withdrawing from Iraq would be terrible!
At least that is what every news outlet tells us.
What all the news outlets leave out, without exception, is that nine months ago the Iraqi government demanded that we withdraw from their country and we flat out refused.

Washington is not willing to bow to Iraqi demands to withdraw its troops and any future discussions with Baghdad will be purely confined to the future structure of its forces in the country, the US state department has said.

The recommitment to US troops in Iraq defies an Iraqi parliament vote last week demanding all US forces leave in the wake of the killing of the Iranian general Qassem Suleimani by a drone strike in Baghdad. The US secretary of state, Mike Pompeo, said the US was only willing to discuss force reconfiguration with the Iraqis, and a greater contribution by Nato forces.
Recall that Trump also threatened Iraq with sanctions and sent them a bill for billions of dollars for US military bases built in Iraq that Baghdad neither wanted nor asked for.
So now we are "threatening" to do what Iraq demanded we do nine months ago.
Gee I wonder how they'll react?
Also missing from these news stories is how Iraq and Iran just agreed to strengthen political and economic ties.
The next example is from Syria. These three headlines are from NBC, Fox and Vox.
Notice the different spins. They are all mostly bullsh*t.

Are we fighting Russia, Iran, or ISIS in Syria?
It's none-of-the-above.
For the real story you must look at foreign news outlets.
Here (and here) is what is missing.


We are fighting local Syrians who want us out, while we steal their oil.
Even CNN reported the stealing oil part.
Say what you will about propaganda in defense of our imperialist wars, they don't hold a candle to corporate propaganda.
The corporate propaganda in defense of our financial overlords is all-encompassing and much more professional.
Last week buzzfeed released an important report about massive and widespread criminal behavior by the largest banks.

Laws that were meant to stop financial crime have instead allowed it to flourish. So long as a bank files a notice that it may be facilitating criminal activity, it all but immunizes itself and its executives from criminal prosecution. The suspicious activity alert effectively gives them a free pass to keep moving the money and collecting the fees.

The Financial Crimes Enforcement Network, or FinCEN, is the agency within the Treasury Department charged with combating money laundering, terrorist financing, and other financial crimes. It collects millions of these suspicious activity reports, known as SARs. It makes them available to US law enforcement agencies and other nations' financial intelligence operations. It even compiles a report called "Kleptocracy Weekly" that summarizes the dealings of foreign leaders such as Russian President Vladimir Putin.

What it does not do is force the banks to shut the money laundering down....
The FinCEN Files investigation shows that even after they were prosecuted or fined for financial misconduct, banks such as JPMorgan Chase, HSBC, Standard Chartered, Deutsche Bank, and Bank of New York Mellon continued to move money for suspected criminals.
...
In all, suspicious activity reports in the FinCEN Files flagged more than $2 trillion in transactions between 1999 and 2017. Western banks could have blocked almost any of them, but in most cases they kept the money moving and kept collecting their fees.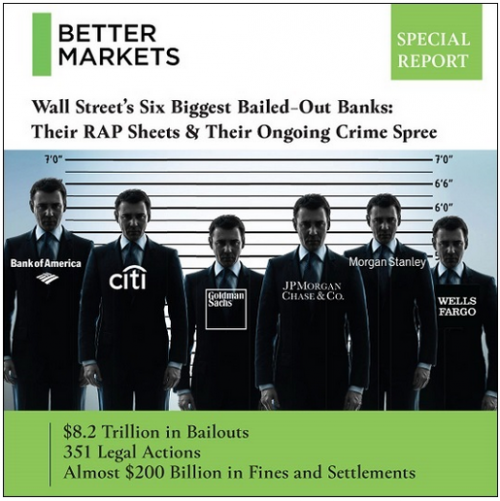 This is huge.
But the news media outlets are partners of those very same banks.
So what we got was a near universal censorship of the story.

the New York Times refused to cover the International Consortium of Investigative Journalists' stunning report on how five of the biggest banks on Wall Street have continued to launder dirty money for fugitives and suspected criminals. The Wall Street Journal, whose name suggests that perhaps its focus should be Wall Street, failed to put the story on its front page, opting instead to bury it under an innocuous headline about HSBC's stock hitting a new low.

The same news blackout occurred last year when the public interest group, Better Markets, published an in-depth report on "Wall Street's Six Biggest Bailed-Out Banks: Their RAP Sheets & Their Ongoing Crime Spree." Three days after the report came out, major news outlets were still refusing to cover the report. We wrote this in a report three days after the study was released:

"We checked the Wall Street Journal, the New York Times, Financial Times, Bloomberg News, Reuters, CNBC, and CNN. We could find no mention of the Better Markets report. (We checked again this morning. There is still a news blackout.)

"We know that the Wall Street Journal was aware of the report because Lalita Clozel, a banking regulation reporter for the Wall Street Journal, Tweeted on April 10 that Democrats in the House Financial Services Committee room were handing out the report to journalists while the Chair of the Committee, Congresswoman Maxine Waters, was introducing the bank CEOs.

"There are four words in this outstanding report from Better Markets that rendered it unpalatable to corporate business media: 'rap sheets' and 'criminal enterprise.' We searched Bloomberg News, the Wall Street Journal and the New York Times back to 2004 to see if at any time they had used the words 'rap sheet' to describe the unprecedented serial crime sprees of these Wall Street mega banks. They had not."
It took a full week for Forbes to do an article about it.
CNBC reported on it the very next day, but twisted themselves into knots in order to deflect attention away from their owners with the headline: Secret documents show how North Korea launders money through U.S. banks.
Clearly the news media reports falsehoods, and we should always be on-guard for it, but the really important stuff, the things you need to know, gets silenced and buried without you ever knowing that it existed.