Ignorance and false labels
Submitted by gjohnsit on Mon, 07/06/2020 - 6:15pm
I think I've figured out why our political world seems so crazy recently.
It's because people are misusing words and labels.
All identity politics are based upon historical grievances. Well, guess who knows less about history than Americans? No one.

Thomas Jefferson, author of the Declaration of Independence and a passionate believer in education as the cornerstone of democracy, once wrote, "If a nation expects to be both ignorant and free in a state of civilization, it expects what never was and never will be."...

If Jefferson and Madison returned today, they might be alarmed by the widespread ignorance of American history and civics among U.S. citizens. For example, slightly more than half (53%) of Americans do not know that the first 10 amendments to the Constitution of the United States are called the "Bill of Rights." A third of Americans (33%) do not know who delivered the Gettysburg Address. A sizable minority (42%) of Americans do not know the title of the national anthem.
Only 36 percent of Americans are able to pass the citizenship exam.
When American adults were polled about our nation's history of slavery, Americans got an average of 2 out of 5 questions correct.
It's difficult to have any credibility regarding who oppressed whom historically when your knowledge of history resembles the depth and complexity of a Hollywood action movie. It's even more difficult to have an intelligent discussion about these issues, if Twitter is any example.
It's downright impossible have a nuanced discussion about these big issues today, when any honest examination of every historical event absolutely requires nuance.
Any sentence that begins with "White people are/were" or "Black people are/were" is flat out wrong. Yet wealthy and comfortable liberals are tripping over themselves in a rush to virtue signal their ignorance.
As is true for any subject in human society, those who are most ignorant are also the loudest and most uncompromising.
Conservatives are no better. They just do the same thing about different Identity Politics issues.
While liberals seem to believe that only three identities exist, (race, gender, and sexual orientation) conservatives are totally focused on other identities that liberals pretend don't matter (nationality and religion).
A good example of this conservative ignorance is the anti-Sharia movement.

Since 2010, 201 anti-Sharia law bills have been introduced in 43 states. In 2017 alone, 14 states introduced an anti-Sharia law bill, with Texas and Arkansas enacting the legislation.
Only in the paranoid mind of a religious conservative is there a danger of Sharia law being imposed in a nation that is 70% Christian, and has the 1st Amendment.
Something that is helping to hide all of this ignorance is labels.
Today, when someone is accused of being on the Left, they are almost always talking about the "cultural left" such as woke liberals.
The right-wing has invented "Cultural Marxism" out of thin air in order to tie the two groups together, but in fact woke liberals have very little in common with the actual Left.
A big tell is how few sacrifices that woke liberals ask of the ruling elites, and how much of the blame for systemic problems they lay upon the struggling white working class. Their "solutions" appear to be limited to symbolic actions, shaming people, and making the ruling class more inclusive, something that fans of IdPol have convinced themselves is somehow revolutionary.
Anyone who is actually familiar with the history of leftist politics would immediately attribute woke liberal policies with the moderate right.
If you want to know what is wrong with a society, you should start by looking at what is considered taboo.
In America that means class - the identity that almost all leftist political thought is built around.
"Class is the most taboo subject in America. The American media would rather talk about race or perversion or anything else considered taboo before class."
- Jim Shepard
If you are unsure which class you are in, just ask yourself which side of the paycheck you sign.
You never hear it put this way because the ruling class needs the 99% divided, unsure where it's interests lie, and fighting within itself over cultural issues, such as race and religion. Even a superficial reading of history will show this to be true.
Then there's the labels.
Consider socialism: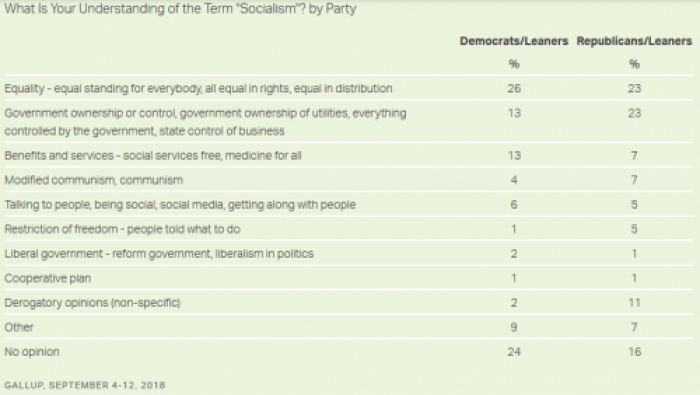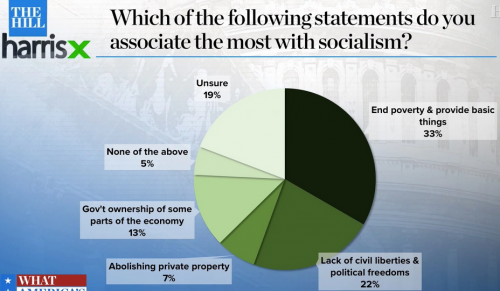 Would it surprise you that NONE of those definitions, both for and against, are right?
It may come as a shock, but socialism is in the dictionary.
socialism
Pronunciation /ˈsəʊʃəlɪz(ə)m/
noun
1. A political and economic theory of social organization which advocates that the means of production, distribution, and exchange should be owned or regulated by the community as a whole.
Notice the word "government" isn't even mentioned.
Nor is "free stuff".
In fact, socialism at it's core is all about empowering the community and worker.
That is nothing compared to that other label - capitalism - the most lied about term in politics.
42% of people have vague and ill-defined reasons for liking capitalism.
Which makes perfect sense when you see crap like this:

Capitalism is not the cause of any problems we humans face today. In fact, it is arguably the solution to all of them. Capitalism ensures your rights and your freedom. It serves you. Capitalism is the only socio-economic system that says that men are free! Capitalism is fundamentally opposed to slavery and to war.
It's not often that you can find a paragraph in which every single sentence is a proven lie.
Then there is this:

What is blamed on capitalism is almost always not capitalism.
Almost any problem blamed on capitalism is actually a failure of the government...
Another issue people have with capitalism is that things sometimes go really wrong, like an Enron or Bernie Madoff situation. However, that's not a feature of capitalism; that's fraud.
Ah yes. The Bad Apple/Don't Blame Me defense. The last resort of those without any other excuses.
Not to go all "Gordon Gekko" here, but the pursuit of profit and avoidance of losses in capitalism is what makes the system work so well, and if that is considered "greed," then greed is good.
Here's a good test: If greed is good, then when I call you greedy you should take that as a compliment. Right?
Inequality is a feature, not a bug.
People who complain about inequality forget that we are promised to be viewed equal in the eyes of the law, but not in terms of our talents, looks, material possessions or anything else. Capitalism is a system that allows for different levels of participation and different outcomes.
Which is another way of saying "meritocracy".
Which is another way of saying "everyone gets what they deserve".
Which is totally in contradiction with a known fact that "life is unfair".
You can't have both be true.
When it comes to labels, nothing beats capitalism.
The defenders of the status quo will bend over backwards to convince you that capitalism is a great system, and you'd be a fool to believe your own lying eyes.
And if you still don't fall into line then you must be a Russia-loving Bernie Bro, and that means you are racist and sexist. Because reasons.