I'm sorry, I thought we're in a Climate Emergency?
Submitted by RantingRooster on Thu, 01/23/2020 - 8:09am
I used to get up early on Sunday mornings and wash my wife's car before she went to church. First thing she would say when she got back, "you missed a spot". Trust me, I know what it feels like to have someone, metaphorically speaking, kick you in the private parts for all your hard efforts.
I see the world from a devil's advocate point of view. The glass is half empty, as it were. Or as my c99 bio includes, part time raving lunatic.
However, there is rationale behind my lunacy, if you will, because to me, picking a few bad apples from the tree, while ignoring the roots are rotten, is not cause for a victory lap.
For me, the "insult", is that Texas is rendering every other environmental groups efforts in surrounding states, essentially mute. If other states sequester, say 100 tons of Co2, and Texas pumps out 500 tons, personally, I don't think that is cause for celebration.
To me, it is cause for a serious re-evaluation of the strategies deployed by the Texas environmental movements. Clearly they are not working if Texas' carbon emissions are rapidly rising, and most importantly, are canceling out other states efforts. (I don't really think that's anything to write home to momma about...)
From the Hill
Despite leadership from so many states, the overall U.S. emissions picture is bleak if we don't do more. As we squeeze the emissions balloon downward in some states and economic sectors, emissions are simultaneously expanding upward in others. The net effect: nationwide carbon emissions rose rapidly in 2018 — the biggest increase in eight years.

Texas is the leading culprit. The emissions increase from Texas alone has erased reductions from all states in the West and Northeast, combined.
(bold emphasis mine)
If you feel insulted, I would suggest you direct polemic ire at the source organizations that are failing badly. Especially, organizations that are putting their efforts into feel good campaigns, and not realizing, 1 the current recycling technologies can't handle straws in the first place, and 2, our plastics are not being actually recycled, it's being shipped via container ships to China, who isn't taking much of these plastics from the US anymore.
It's like, Mr. 45, meet Mr. foot. Boom.
Now, imagine if the Texas Environment Movements were duplicating the success others have been accomplishing, protecting and preserving vital lands, habitats and biodiversity, as well as reducing emissions, instead of worrying about straws. Then maybe, Texas carbon emissions would not be canceling out the hard won efforts in surrounding states.
But what I see happening, and most importantly, what I've experienced being involved with 5 different climate change organizations, is the "powers that be", including several prominent Texas Environmental organizations, are developing Climate Actions Plans with cities across the state, based on bad data, and allowing the fox to guard the hen house.
For example, this presentation on the City of Dallas, City Environmental and Climate Planing Efforts, Slide 7.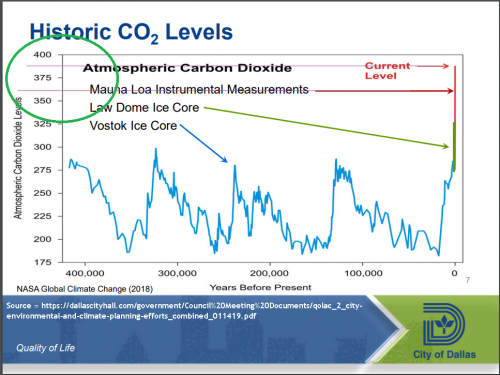 Do you notice anything on this page that jumps out to you? Note this presentation was presented on Jan 14, 2019.
Then there's this little nugget from the ACCO (Association of Climate Change Officers), presentation. See slide 24, and I'll ask the same question, does anything on this page jump out to you?
If I'm not mistaken, a 4.5C rise in temperatures will pretty much wipe humanity from the face of the earth. Just saying...
Now, review all the members of the "Stakeholders Advisory Committee", including prominent Environmental Groups. But please note The Dallas Federal Reserve, and especially JPMorganChase, have seats at the table.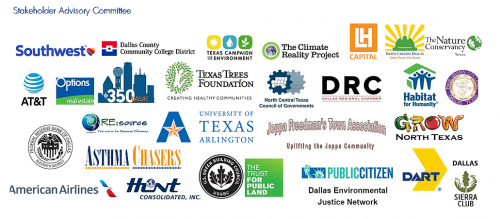 (JPMorgan is listed on the City's website)
It's like the foxes are guarding the hen house. It's absurd.
Now, when I attended these City meetings, that were available to the public, and asked about these bad data points, and others, "How can the City plan for Climate Change, when the data for their inputs used for planning, is incorrect?" Let's just say my question wasn't well received.
I didn't get to ask my follow up question as to why JPMorgan Chase has a seat at the table, when they are the number 1 financier of fossil fuel exploration, extraction, distribution and processing, not to mention a 3 time convicted felon, and is currently under indictment of the RICO Act for rigging the precious metals market.
I had to forget about mentioning the fact that the company the City of Dallas has hired to manage this Climate Action Plan, AECOM, has quite the history of violations.
Unfortunately, no one from any of these Environmental groups on the Stakeholders Advisory Committee were pushing back, at all, about anything. The plans and proposals they are putting forth, are for business as usual. ie Incremental change.
A couple of things you might consider.
A big part of the problem, at least to me, is the "corporatization" of Non-Profits, as INCITE writes about in book "The Revolution Will Not Be Funded, Beyond the Non-Profit Industrial Complex", which is collection of essays about the corporatization of the non-profit sector, which, is a TRILLION-dollar industry in the US.
"Many social justice organizations have joined this world, often blunting political goals to satisfy government and foundation mandates. But even as funding shrinks, many activists often find it difficult to imagine movement-building outside the non-profit model"
Erica West wrote about it in her article, "Beyond the Non-Profit Industrial Complex"
The anthology The Revolution Will Not Be Funded defines the nonprofit-industrial complex as "a set of symbiotic relationships that link political and financial technologies of state and owning-class control with surveillance over public political ideology, including and especially emergent progressive and leftist social movements."
Snip
Nonprofits may be required to have employees with certain advanced degrees in order to bill for services and receive funding from programs, such as Medi-Cal in California or the federal Medicaid health care program. Foundations themselves may place whatever stipulations they want in grants, including requiring those who provide services to have advanced degrees, such as a PhD in psychology, even if it's not necessarily needed.

This professionalization creates stratification between nonprofit employees and the clients they serve, as well as among those with and without such degrees within a nonprofit.
A more detailed analysis can be found here by Dylan Rodríguez, The Political Logic of the Non-Profit Industrial Complex.
"Perhaps never before has the struggle to mount viable movements of radical social transformation in the United States been more desperate, urgent, or difficult. In the aftermath of the 1960s mass-movement era, the edifices of state repression have themselves undergone substantive transformation, even as classical techniques of politically formed state violence–colonization and protocolonial occupation, racist policing, assassination, political and mass-based imprisonment–remain fairly constant in the US production of global order."
Snip
In this context, the structural and political limitations of current grassroots and progressive organizing in the United States has become stunningly evident in light of the veritable explosion of private foundations as primary institutions through which to harness and restrict the potentials of US-based progressive activisms. Heavily dependent on the funding of such ostensibly liberal and progressive financial bodies as the Mellon, Ford, and Soros foundations, the very existence of many social justice organizations has often come to rest more on the effectiveness of professional (and amateur) grant writers than on skilled–much less "radical"–political educators and organizers.
The very same things are happening in the Environmental Non-Profit sector!
Just check out Environment Texas, one of the largest "Non-profit" environmental organizations in Texas. The organization's director, Luke Metzger, explains in his 2019 Annual report
To be an environmentalist, you've got to wrestle with a conundrum: We need bold action on a short timeline … with broad public support.
We need to do a lot, quickly, to preserve a livable planet. But progress has to earn and sustain the support of the people in order to last—so progress doesn't often come in one big swooping action. It usually comes one small-ish victory at a time.
(bold emphasis mine)
Right there from the horse's mouth as it were, "It usually comes one small-ish victory at a time", ie incremental change.
I'm sorry, but forming a bucket line, when we have multiple fire engines full of water to douse the flames, is not going to get us there, especially when Texas Carbon emissions are rising so much, it's canceling out the efforts of multiple states, COMBINED!
Look, don't get me wrong, a lot of the work they do is very important. They've had some good victories, BUT, things are not "normal". The "science" informs us, we are in an EMERGENCY to drastically reduce carbon emissions.
Now, I maybe suffering from serious Climate Change PTSD, from being buried in the scientific papers over the last couple of years since I wrote my essay series on Climate Change. I really didn't know shit about bio diversity back then, but I damn sure do now.
Heck, some of those reports about biodiversity loss scare the fuck out of me because we are so damn close to losing it all. Which, if I'm not mistaken, happens with 3C rise, and some places a lot sooner, and others it's already happening big time!
(I'm guessing those people with the Association of Climate Change Officers, do not really realize, what is going to happen with a 4.5C rise in average temperatures to biodiversity across the planet.)

Secondly, I've done my damnedest to get involved, but identity politics has reared it's ugly head and infected the Texas Environmental Movement. In the last 3 years I've learned there are 4 major impediments to being involved in the Climate Change movement, at least in North Texas. If you're male, white, old and ex-military, just take a seat and STFU. ("We do have Starbucks coffee"...)
One organization's national team leaders specifically told me, they wanted a woman or a person of color to lead the city level group. I'm like, ok fine, where the are they? Months pass and still nothing. It's absurd. How are we going to tackle the Climate Crisis breathing down our necks, if we are waiting for young, photogenic people to step up?
Heck, I've even applied for jobs at just about everyone of those environmental groups on the Stakeholders Advisory Committee, and only the TCE responded, and their "opportunity", to me, was a joke, and a bad one at that. Knocking on doors, collecting names and donations, 60% of which goes to pay your own salary, for incremental change legislation, and feel good campaigns. It's absurd.
Some of these environmental organizations have reached out to me, and instead of offering a job, or even a small stipend, they've asked me to travel across the state or multiple states, shoot video at some their public events, produce a video for them, and do it all for free. While at the same time, sending me emails begging for donations. (Talk about feeling insulted!)
And of course not a single one of these "Climate Change / Environmental" non-profit organizations will address the rotten roots of the apple tree, ie Capitalism. All of their "solutions" are based on "market" solutions, ie green capitalism, which is Capitalism.
It's the third rail of the non-profit sector, shhh don't talk about the ills of capitalism, it could hurt our big donor feelings....
I'm just saying... Texas alone has erased reductions from all states in the West and Northeast, combined. Does that not inform you, we're (Texas) NOT doing a very good job of tackling the Climate EMERGENCY, with shallow victories and feel good campaigns?
As much as I hated my wife saying it, she was right, I missed a spot.