Class has never been more important
Submitted by gjohnsit on Sun, 12/15/2019 - 2:17pm
It's no secret that people tend to be more leftist when they are young and more conservative when they are older. The common assumption by the establishment is that it's just a "phase" that people go through before they smarten up.
Which is incredibly patronizing.
"Monsieur, my son is 22 years old. If he had not become a Communist at 22, I would have disowned him. If he is still a Communist at 30, I will do it then."
- Georges Clemenceau
What makes much more sense, and isn't so belittling, is people acting according to class interests and experience.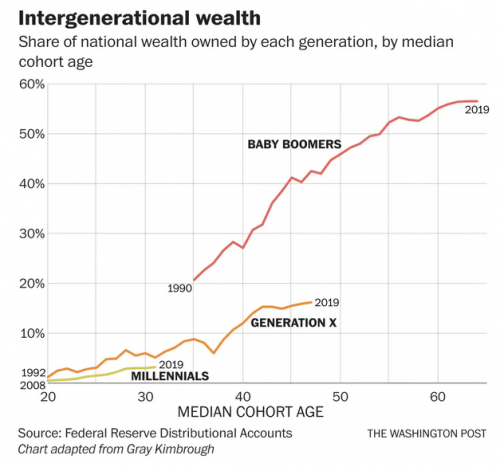 As baby boomers age, their percentage of total US wealth has increased from 20% to nearly 60%.
Gen X and millennials haven't even reached these wealth levels. Thus far, Gen X only comprises about 16% of US wealth. And perhaps most strikingly, the line for millennials is almost completely flat: They've barely seen any increase in net worth, coming in at less than 5% of total US wealth in 2019.
...
That means the wealth gap between older households and younger households has nearly doubled in the past 20 years, climbing from seven to twelve times the net worth. In that time frame, the average net worth for households ages 20 to 35 has declined by $2,600, while households ages 52 to 70 have seen a $452,400 increase in net worth.
Of course as people build wealth that they would be more happy with the status quo.
It isn't a matter of getting smarter. It's self-interest.
That's why the break in generational wealth transfer will have political consequences.
The Democratic establishment shouldn't get too smug about these numbers, though. Millennials may be naturally inclined to lean left. But that doesn't mean that they venerate the party's leaders or are committed to maintaining its organizational status quo.
... In a recent Harvard Institute of Politics poll, 38 percent of young voters (and 48 percent of millennial "Likely Voters") agreed that the Democratic Party "cares about people like me," while 31 percent (and 32 percent of young likely voters) disagree. That's a positive margin, but it's far smaller than the 44-point margin by which House Democrats won young voters in the 2018 midterms, suggesting that young voters prefer Democrats to Republicans but don't deeply love or trust their party.
So seven out of ten Dems under 35 go for either Sanders or Warren. https://t.co/3xqylfcrhR

— Matt Stoller (@matthewstoller) December 10, 2019