The scandal that will finally take Trump down!
Submitted by snoopydawg on Sat, 09/21/2019 - 8:47pm
Here is the new Russian like story that they have come up with now that the Russian spy story fell flat on its face.
Donald Trump Is Asking A Foreign Country To Help Him Win. Again.
The president sought Russian aid in the 2016 election — and got away with it. Now he's asking Ukraine to do the same thing.

President Donald Trump had gotten off scot-free. "A great day for me," he declared on July 24. Former special counsel Robert Mueller's testimony about Trump's alleged obstruction of the investigation into Russian interference in the 2016 election had failed to convince House Speaker Nancy Pelosi ― let alone congressional Republicans ― to impeach him.

With not one member of his circle in prison for attempting to collude with a foreign power, and with the prospect of impeachment rapidly fading thanks to Pelosi's hand-wringing and stonewalling, Trump did what any rational leader would do: He apparently did it again.

The day after Mueller's testimony, Trump called Ukrainian President Volodymyr Zelensky and pressured Zelensky to help him win the 2020 election by investigating former Vice President Joe Biden's son, Hunter, The Wall Street Journal reported Friday. In the weeks that followed, Trump refused to grant Zelensky a meeting at the White House and halted $250 million of congressionally authorized military aid to the country, raising the possibility that the president was, as The Washington Post put it in an unsigned editorial, "not just soliciting Ukraine's help with his presidential campaign" but using U.S. military aid to "extort it."

"That allegation, if true, would unambiguously constitute an impeachable offense," national security expert Benjamin Wittes wrote Friday. "That would be a very big deal indeed."

If the reports are correct, "there is truly no bottom to President Trump's willingness to abuse his power and abase our country," Joe Biden said in a statement released late Friday. "This behavior is particularly abhorrent because it exploits the foreign policy of our country and undermines our national security for political purposes. It means that he used the power and resources of the United States to pressure a sovereign nation… to subvert the rule of law in the express hope of extracting a political favor."

For months, Trump's personal lawyer Rudy Giuliani has been pushing the unfounded theory that Joe Biden, when he was vice president, pressured Ukraine to fire the country's former special prosecutor because Biden was mad the prosecutor was investigating a gas company with ties to his son Hunter. Giuliani's theory is based on a web of misinformation. There's no evidence that Joe Biden knew anything about an investigation into Hunter Biden. And the U.S. government, along with the European Union and the International Monetary Fund, wanted Ukraine to fire the prosecutor. That didn't have anything to do with Hunter Biden. Instead, the U.S. and its allies wanted the prosecutor gone because he wasn't doing enough to investigate corruption in Ukraine.

Those facts didn't stop Trump from pushing for a probe: During a July 25 phone call with Zelensky, Trump urged his Ukrainian counterpart about eight times to help Giuliani investigate the Bidens, according to the Journal. The details of that phone call — first reported Friday by The Wall Street Journal, then confirmed by The Washington Post and The New York Times — are the subject of a still-secret whistleblower complaint the president and his allies are fighting hard to keep out of the hands of lawmakers.
Once again the media come out with a definitive headline, but they then bury the part where they show that they have no proof that he did any such thing. And once again the country thinks that Trump has done something that he didn't and it spends the week on it while ignoring the things that they should be telling us. I don't watch the news so I don't know if the 30 Afghani murders was talked about. Or the flooding in Texas. Or that the Saudis are once again bombing the crap out of Yemen and breaking the latest ceasefire.
Read this again:
During a July 25 phone call with Zelensky, Trump urged his Ukrainian counterpart about eight times to help Giuliani ....
How does anyone know what was discussed then when they still don't know which foreign leader Trump talked to. Who is telling everyone that?
The details of that phone call — first reported Friday by The Wall Street Journal, then confirmed by The Washington Post and The New York Times ...
Okay how do they know? From some anonymous sources I'm betting because that is where every story has come from. Someone close to the investigation that isn't authorized to talk about it. And yet...
Just once I wish the Russia Gaters would look closely at the articles and see how there is no there there. BTW that Russian spy that the CIA had to extradite from Russia because Trump spoke to some Russians in the Oval Office which he had every right to do? He was actually removed from Russia during Obama's tenure. Oh wait... didn't know that? Surprise.
YouTube version
And this folks is how you spread absolutely nothing but propaganda.
Caught: Trump Full Treason Exposed by Intel Whistleblower, this is not a joke!

An intelligence whistleblower, acting within the law, has brought before congress evidence that President Trump made an "offer of service" to a foreign leader, specifically to act as an agent or representative of said government, misusing his power as Commander in Chief to employ the armed forces of the United States for personal gain. This is how it began:

A second accusation says that Trump withheld $250m in aid to Ukraine because they refused to fake evidence Trump could use to get Joseph Biden to drop out of the presidential race. The Washington Post carries this story:

To be clear, this does not involve a diplomatic negotiation involving a potential agreement between the US and a foreign nation but rather a personal offer that goes way beyond violating the emoluments clause of the Constitution.

It involves not just emoluments, payments from a foreign leader, but also the "rental" of the powers of the American presidency.
But here's the kicker:

We are told the report involves Trump and the Ukraine, but our sources say it is Saudi Arabia.

Editor's note: What we are told; that this wasn't only the deal to blackmail Zelensky to fake evidence on Biden but something far worse. Our sources say Trump cut a deal with a foreign leader (Saudi Arabia) to attack Iran based on personal financial dealings and a guarantee of Saudi Arabia financing Trump's re-election campaign.

If there is any substance to the official allegations now before congress, the continuation of the Trump/Pence administration threatens American sovereignty as outlined specifically in the constitution. There is no legal protection against arrest in such a case.

The charge being discussed here is treason. The punishment, execution.
I bolded it like the editor did.
Lmao..okay who are your sources?
Let's put something in to shame Trump while we're at it.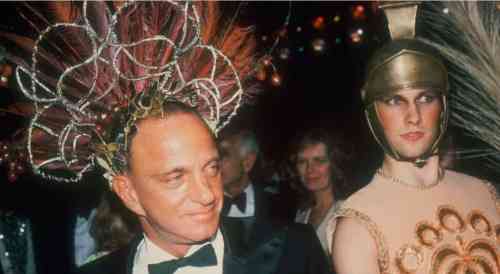 Of course, Donald is fighting back, using the tricks he learned from his very very very close friend, mob boss Roy Cohn (left in photo, Trump on right "in drag")
A tad bit more...
Welcome to Rabbit Hole.

Untrodden territory: The whistleblowing process to report intelligence community employee concerns to Congress is used anywhere from four to 20 times a year, according to official reports. From what little we can tell from those reports, the intelligence community has never faced an issue remotely like the one raised by a complaint against Trump. The complaint, first filed on Aug. 12, reportedly involves Trump's conversations with an unnamed foreign leader about Ukraine, according to The Washington Post."
Oh I don't know. How about when the whistleblower program was weaponized during Obama's tenure and he prosecuted 8 people who had the right to expose blatant corruption and criminal acts by our government? Gee I don't remember Schiff or any other congress critters going on TV to talk about it. Does anyone? My memory is faulty at times. Or how about Trump persecuting Julian Assange for blowing the whistle on not only our war crimes, but other country's too? Adam? Anything to say about this?
There is nothing in this article that is based on facts, but how many people who read it will know that it's a bunch of malarkey? I saw a tweet earlier that I can't find again that says that one media outlet is backing off the original story. But how many people will see it and go on believing that Trump committed treason? Too many I'm afraid. Go ahead and see how much worse it gets...
If you don't watch the videos you won't get the whole story. Especially the one where the media talks about the conflict of interest with
Hunter Biden being ByeDone's son.