The Democratic TriParty (Part 1: The Players)
Submitted by Not Henry Kissinger on Sun, 09/15/2019 - 2:00pm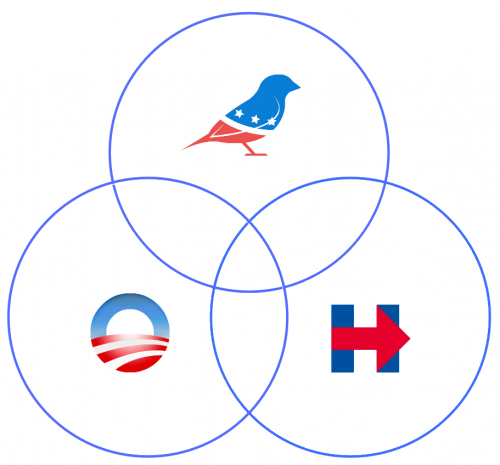 Most of us are used to thinking about the current power dynamic within the Democratic Party in binary terms: Progressive vs Establishment.
Yet in the Byzantine world of big party politics, a dual-faction, 'us vs them' paradigm does a poor job of explaining the reasons for the endless shifting alliances and seemingly contradictory rhetoric of many Democrats.
I argue that instead of two, there are actually three major centers of influence within the Democratic party, and that recognizing the similarities and differences between them is essential to understanding the struggle for control.

THREE DEMOCRATIC PARTY POWER CENTERS
Please note: while I have used the logos of Presidential candidates to represent the various power centers, they are NOT synonymous. The power centers themselves each encompass a much larger group of like minded players whose collective influence is far greater than any single candidate or campaign.

PROGRESSIVE
Messaging: Progressive
Policies: Progressive
Healthcare: Public (M4A)
Financial Reform: Strong Regulation (Glass-Steagall, Anti-Trust)
Environment: Systemic Change (Bernie's GND)
Foreign Policy: Diplomatic
IP: NO
Campaign Funding: Large # of Donors / Small Amounts
Progressive Democrats seek fundamental, systemic reform of institutions, policies, and leadership. Their policies and messaging both reflect that.
Progressives advocate for structural change on issues such as public healthcare, economic inequality, and environmental degradation. Progressives avoid Identity Politics, which they view as divisive and counterproductive. On Foreign Policy, Progressives favor Diplomatic over Militaristic options.
While popular with small dollar campaign donors, Progressive policies and rhetoric are antithetical to the interests of many of the Party's large dollar donors.
REACTIONARY
Messaging: Status Quo
Policies: Retrograde
Issues:
Healthcare: Private
Financial Reform: Laissez Faire
Environment: Drill Baby Drill
Foreign Policy: Militaristic
IP: YES
Campaign Funding: Small # of Donors / Large Amounts
Reactionary Democrats oppose change to the existing societal order, and their messaging reflects that. Reactionaries embrace Identity Politics as a way to distract public attention from popular economic and social policies they would simply rather not talk about or are secretly working to undermine. On Foreign Policy, Reactionaries favor Militaristic over Diplomatic options in almost all circumstances.
Openly contemptuous of the Democrats' small donor base, Reactionaries rely primarily on large donations from corporate institutions and wealthy individuals for campaign funding.

INCREMENTALIST
Messaging: Progressive
Policies: Incrementalist
Campaign Funding: Medium # of Donors / Small + Large Contributions
Issues:
Healthcare: Regulated Private (Obamacare)
Financial Reform: Weak Regulation (Dodd Frank)
Environment: Private Incentives (AOC's GND)
Foreign Policy: Diplomatic (Iran) + Militaristic (pick one)
IP: YES
Incrementalists attempt to ride the fence between Progressives and Reactionaries, providing weak tea reforms sanctioned by their large corporate donors and then promoting them to rank and file voters as great Progressive achievements. IP features prominently in Incrementalist messaging and is often conflated as a substitute for more robust policies in other areas. On Foreign Policy, Incrementalists favor a mix of both Militaristic and Diplomatic options.
As a result of this middling strategy, Incrementalists tend to attract a mix of Big Money donors as well as Small Money donors impressed by what Progressives would consider token policy gestures.
One important note: while outwardly portraying the appearance of reformists, Incrementalists behind the scenes remain fundamentally aligned with Reactionaries in serving Big Money donors' interests over those of rank and file Democratic voters.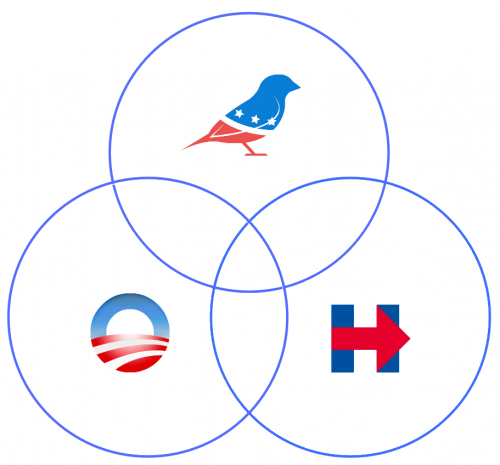 Next Time: The Democratic TriParty (Part 2: Areas of Competition)