Razor Wire on the Wall.
Submitted by Bisbonian on Sat, 02/23/2019 - 12:45pm
I've been arguing with the numbskull Wall Cheerleaders for the last couple of weeks, and finally realized that I haven't posted anything about the situation HERE. My impression is that many of the people across the country don't even know this has happened, so here we go.
Over the last few weeks, the Army has been stringing copious amounts of razor wire around various Points of Entry along the Mexican Border. Nogales first made the news, because their Mayor and City Council passed a resolution condemning it, and demanding its removal.
http://time.com/5523605/nogales-arizona-razor-wire-border/
[Nogales Mayor Arturo] Garino said authorities didn't tell him why more wire was installed. He said he was most concerned that children and others could be injured now that it reaches the ground. The downtown area is also residential, and there are homes that stand a few feet from the border fence.

"Aesthetically pleasing — it's not. It's very bad. It's not good for business, it's not good for what we're trying to create, a business-friendly community here in Nogales," Garino told the AP.
Next, they came to Naco, probably the sleepiest Border Town along the line, (and hence, the location of several of the tunnels that have been discovered). Naco is about 4 miles from the south end of Bisbee. Several of my friends live there, or nearby Bisbee Junction. When I moved here, the fence was three strands of barbed wire, and some noise sensors. Later, a wall about 10 feet high was put up, made from old landing mat panels, left over from Vietnam. I took friends from out of town to see it.
This is the view from the Mexican side. Local artists have been crossing the Border, with paint, and helping the local children to decorate their side of the wall. That lasted about five years, and then it was torn down to put up a new wall.
The new wall is actually two fences...one, about 12 feet tall, of thick steel angle irons, and about 40 feet north of that, another, of tight wire mesh. A no-mans-land has been created between the two. By eminent domain, of course.
That one (Obama's Wall) was good enough, for a few years, but of course Trump had to "improve" it. Enter the Army, and the razor wire. Word went out that they were coming, and the Usual Suspects organized a quick protest, but the Army managed to get three rows of wire up before we even got there.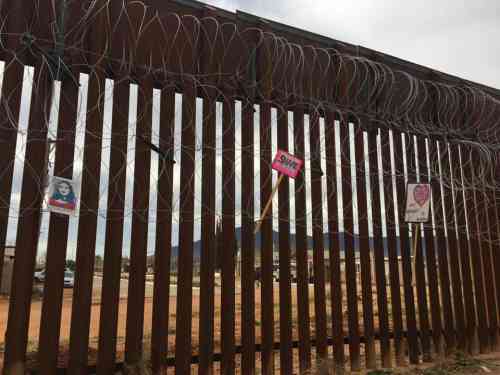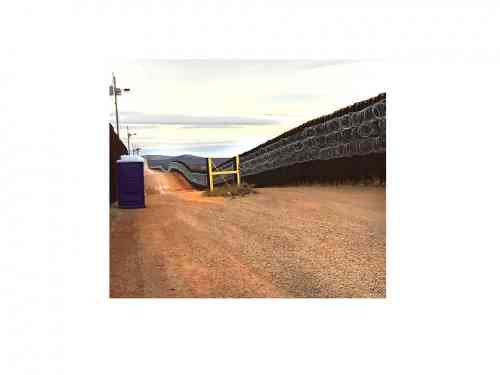 Note that this is not barbed wire, like you would use to fence in your cattle...this is coiled spring metal, with razor sharp edges. Like you would use to surround a base in some other country that you were occupying.
Notice also, that it is on this side of the fence.
The soldiers got two more rows up, the next day, so now we have five. It goes to the San Pedro River to the west (10 miles or so) and to the Douglas Port of Entry to the east, and a little beyond, to the Peloncillo Mountains. (about 30 miles)
The wire is going up only near the Ports of Entry, where there are already the tallest fences, the tallest light poles, the heaviest concentrations of Border Patrol, and roads...the easiest for the news media to get there. Thousands of miles of desert, with little to no roads, no easy access, have only a simple fence. This wire is not to keep anyone out...it is only a photo op, a sop to throw to the Trump supporters. "Hey, he's doing something to keep me SAFE!"
An illusion.